The Effects of a Self-efficacy Perception-promoting Program for Nursing Students on Knowledge about Tobacco and Self-efficacy to Promote Smoking Cessation
Keywords:
Perception of self-efficacy, Knowledge about tobacco, Smoking cessation, Online program
Abstract
This experimental study aimed to test the effects of self-efficacy promotion for nursing students on knowledge about tobacco and self-efficacy regarding smoking cessation. The sample of this study were second-year students from the Faculty of Nursing, Mahasarakham University, who were randomly assigned to a control or experimental group with 30 in each group. The experimental group received the self-efficacy promoting program using Google classroom and Google meet over a 6-week period, and the control group received a normal program of study arranged by the Faculty of Nursing. Instruments for collecting data included 1) the Tobacco Knowledge Testing Form, and 2) the Perception of Self-Efficacy to Promote Smoking Cessation Questionnaire which had reliability of .70 and .91, respectively. Data were analyzed using descriptive statistics and a t-test.
The results of the study showed that, after intervention, the experimental group had statistically significantly higher mean scores of knowledge about tobacco and perception of self-efficacy to promote smoking cessation than before the intervention, and higher than those of the control group (p < .05).
According to these study results, nursing institutions should use this program for increasing knowledge and perceptions of self-efficacy of students so that students can apply their knowledge and skills to motivate their clients to quit tobacco in the future.
Downloads
Download data is not yet available.
References
Bandura, A. (1997). Self-efficacy: The exercise of control. New York: W. H. Freeman and Company.
Center of Disease Control and Prevention. (2020). Youth and Tobacco Use Retrieved from https://www.cdc.gov/tobacco/data_statistics/fact_sheets/youth_data/ tobacco_use/index.htm
Chaiyalap, S., Vongareesawat, V., & Riyaphan, S. (2018). Professional experience promoting activities for enhancing knowledge, attitude and practice skills against harmfulness of tobacco among nursing students. Thai Journal of Nursing, 67(1), 33-39. (in Thai)
Chaiyasung, P., Tana, P., Sridet, R., & Wises, N. (2020). The efficiency of potential development on knowledge and counselling skills on smoking cessation via online in educational institution among nursing student leaders. Thai Journal of Nursing, 69(1), 36-43. (In Thai)
Cohen, J. (1988). Statistical power analysis for the behavioral sciences (2nd ed.). Hillsdale, NJ: Lawrence erlbaum associates.
Crippa, G.; Bergonzi, M.; Bravi, E.; Balordi, V.; Cassi, A. (2018). Effect of electronic on blood pressure in hypertension patients: Evaluation by non-invasive continuous ambulatory blood pressure measurement. Journal of Hypertension, 36(e-Supplement 1), e4. doi: 10.1097/01.hjh. 0000538974. 96760.a3
Damkliang. J., Kritpracha, C. Prasartwanakit, A. & Chinnawong, T. (2018). Nursing students' experiences of using the 5A's model for tobacco control among adult and elderly patients. Songklanagarind. Journal of Nursing, 38 (3), 141-151.
Hongtiyanon, T., Tipawong, A., Yodkolkij, L., & Chaleoykitti, S. (2019). The effectiveness of perceived self-efficacy program for assisting adolescences towards behavioral of avoiding narcotics. Royal Thai Army Medical Journal, 72(1), 33-40. (In Thai)
Junnual, N. & Wilasri, S. (2017). The application of Self-Efficacy Theory in achieving smoking behavior change among police officers at chaiyaphum police station. The Journal of Baromarajonani College of Nusing, Nakhonratchasima, 23(1), 44-58. (In Thai)
National Statistical Office. (2018). The smoking and drinking behavior survey 2017. Bangkok: Pimdeekarnpim Co., Ltd.
Pimroon, S. Pungbangkadee, R., Jewpattanakul, Y., & Chuetaleng, T. (2021).Factors influencing tobacco control practice among the registered nurses who used to attending as a leader of the nursing student smoke-free Thai society club. Journal of The Royal Thai Army Nurses, 22(1), 216-225. (In Thai)
Raksatham, S., Nirotnun, U., & Tirapaiwong, Y. (2019). The current situation of teaching for health promoting smoking prevention and smoking cessation of nursing students at boromarajonani college of nursing, bangkok. Journal of Health and Nursing Research, 35(2) 71-812.
Sanee, A., Pantaewan, P., & Boonrubpayap, B. (2013). A potential developing program for nurse student leaders on knowledge, attitude toward tobacco, and smoke cessation counseling skills in community. Nursing science Journal, 62(1), 22-31. (In Thai)
Tobacco Control Research and Knowledge Management Center. (2020). Tobacco consumption: Thailand report, 2021. Retrieved form https://www.trc.or.th/th/media/attachments/2020/07/19/..-2562.pdf
Waehayee, H., Chaichana, B., & Ruangdej, K. (2013). Effectiveness of a life skill training program on perceived self-efficacy for the prevention of smoking among the first year students at yala rajabhat university. Nursing Journal of the Ministry of Public Health, 22(1), 85-131.
World Health Organization. (2014). Toolkit for delivering the 5A's and 5R's brief tobacco interventions. Geneva: WHO Press.
World Health Organization. (2019). WHO report on the global tobacco epidemic 2019: Offer help to quit tobacco use. Retrieved from https://www.who.int/ publications/i/item/9789241516204
World Health Organization. (2021). WHO report on the global tobacco epidemic 2021: addressing new and emerging products. Retrieved form https://www.who.int/teams/health-promotion/tobacco-control/global-tobacco-report-2021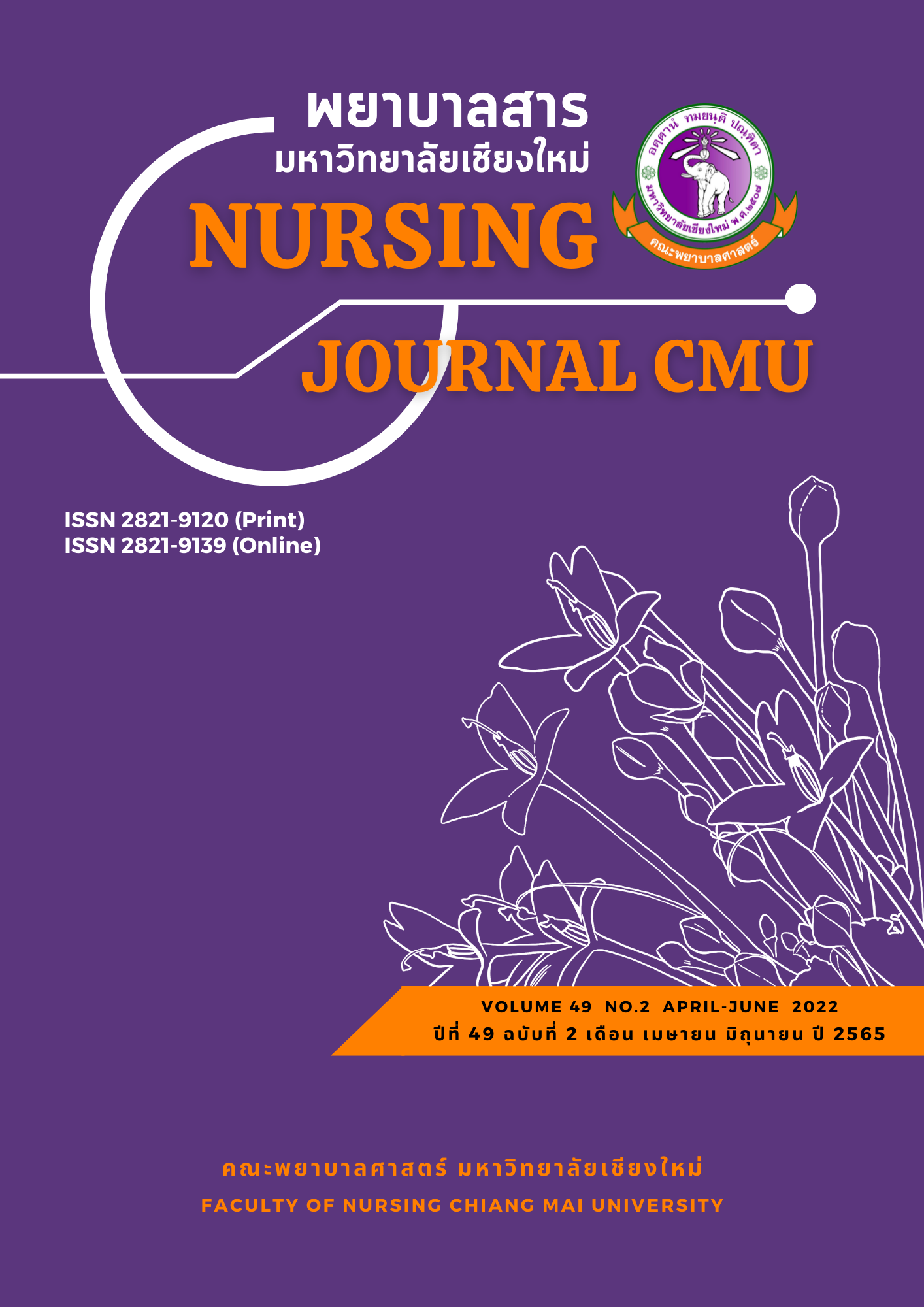 Downloads
License
Copyright (c) 2022 Nursing Journal
This work is licensed under a Creative Commons Attribution-NonCommercial-NoDerivatives 4.0 International License.
บทความที่ได้รับการตีพิมพ์เป็นลิขสิทธิ์ของวารสารพยาบาลสาร
ข้อความที่ปรากฏในบทความแต่ละเรื่องในวารสารวิชาการเล่มนี้เป็นความคิดเห็นส่วนตัวของผู้เขียนแต่ละท่านไม่เกี่ยวข้องกับมหาวิทยาลัยเชียงใหม่ และคณาจารย์ท่านอื่นๆในมหาวิทยาลัยฯ แต่อย่างใด ความรับผิดชอบองค์ประกอบทั้งหมดของบทความแต่ละเรื่องเป็นของผู้เขียนแต่ละท่าน หากมีความผิดพลาดใด ๆ ผู้เขียนแต่ละท่านจะรับผิดชอบบทความของตนเองแต่ผู้เดียว