The Effectiveness of Nursing Program "Rubber Bed Sheet Innovation for Pressure Sore Prevention" in Patients with Pressure Sore Risk
Keywords:
Nursing program, Rubber Bed Sheet Innovation, Patients with Pressure Sore Risk
Abstract
Elderly in dependency groups are at risk of pressure sores, and nursing using the rubber bed sheet innovation can reduce complications. This quasi-experimental research aimed to study the effectiveness of the nursing program "Rubber Bed Sheet Innovation" and to develop an invention called "rubber bed away from pressure sore". The purposive sample were elderly patients in bed with a total assessment score for ADL between 5-11 points, assigned equally into a control and an experimental group with 30 patients in each group. The instrument consisted of the program "Rubber Bed Sheet Innovation" developed by reviewing the literature and through the data collection instruments which obtained information such as personal information of people at risk of pressure sores and personal information of caregivers and practical nurses, as well as using the Braden pressure sores physical risk assessment scale, a record form for pressure sores, and a satisfaction questionnaire. Data were analyzed using descriptive statistics including a paired t-test and an independent t-test. The results of the study revealed the scores for the bodily injury risk assessment according to the Braden risk assessment scale in 6 aspects. Sensory perception, skin moisture, activity, mobility, nutritional status and friction and shear in the experimental group were better than before the program and better than for the comparison group with statistical significance (p ≤ 0.05). The Satisfaction in innovation of patients, relatives/caregivers, and practice nurses overall, the average score was at the highest level. ( = 4.60, S.D = 0.39) The results of the study show that the use of the innovation with generous nursing made the risk groups confident and encouraged them to perform self-care to decrease bed sores.
Downloads
Download data is not yet available.
References
Choobchun, R. (2013). Nursing care in pressure sore. Srinagarind Medical Journal, 28 (supp.), 41-46. (in Thai)
Chuwittayapong, J., (2017). The effect of skin care program combined with water-filled rubber cushion covered with Krajud mat on pressure ulcer prevention in bed ridden older adults. (online). Retrieved from http://kb.psu.ac.th.
Department of health, Ministry of Public Health. (2013). Standards and operations manual of quality elderly clinic. The agricultural cooperative federation of Thailand.
Dongpho, P., (2015). Effectiveness of clinical practice guidelines implementation for pressure sore prevention. Thammasat medical journal, 19(2), 315-323. (in Thai)
Davidson, S. J., & Candy, L. (2016). Teaching evidence-based practice using game-based learning: Improving the student experience. Worldviews for evidence-based nursing, 13(4), 285- 293.
De Oliveira Matos, S. D., Marques Andrade de Souza, A. P., Silva de Aguiar, E. S., Alves da Silva, M., Guimarães Oliveira Soares, M. J., & dos Santos Oliveira, S. H. (2016). Pressure sore prevention: Knowledge of formal caregivers of Institutionalized elderly people. Journal of nursing, 10(11), 3879-3874.
Junkangram, W. (2013). Natural rubber latex protein. Khon Kaen University Research Journal. 18(6), 996-1002. (in Thai)
Jaigad, P. (2018). Quality improvement project Innovation: "3P" protection pressure injury paper. Vajira nursing journal, 20(2), 50-54. (in Thai)
Jarujit, S., Aramsin, R., & Prachanno, W. (2019). Home visit model for bedridden patients based on the problems and needs of caregivers. Journal of Phrapokklao nursing college, 30(1), 54-67. (in Thai)
Kaya, N., Turan, N., & Aydin, G. (2016). Innovation in nursing: A concept analysis. Journal of community & public health nursing, 2(1), 1-4.
Kaewkulvoungchai, Y. (2021). The Development of nursing practice guidelines for prevention of pressure ulcers at Medical intensive care unit in Samutprakarn hospital. Mahidol R2R e-Journal. 8(1) .1-9. (in Thai)
Pattarakantakul, P. (2010). Effects of the Tire-Bed Innovation usage to prevent pressure sore occurrence in at-risk patient. Nursing Journal of the Ministry of Public Health, 22(1), 48-60. (in Thai)
Sareeso,P., Praison P., & Chalermsri A . (2016). Efficacy of a visco-elastic foam mattress and alternating-pressure air mattress in preventing pressure ulcers: A preliminary study. Thai journal of nursing council. 31(3), 83-96. (in Thai)
Sawigamin, P. (2016). Anti-bedsore mattresses produced from continuous ambulatory peritoneal dialysis fluid Bag. Journal of health science, 25(3), 456-63. (in Thai)
Therdyotin, K., Taickoomkao, k., Thedyothin, T. & Loeskhamporn, P. (2018). Efficacy of water mattress for the treatment and prevention of pressure ulcers. Journal of Health Science, 27(1), 128-136. (in Thai)
Usahapiriyakul, S., Changmai, S., & Leehalakul, V. (2019). The effects of caring program on caregiver's operational capabilities of pressure ulcer prevention in dependent older patients at risk group. Burapha University. 27(4), 21-31.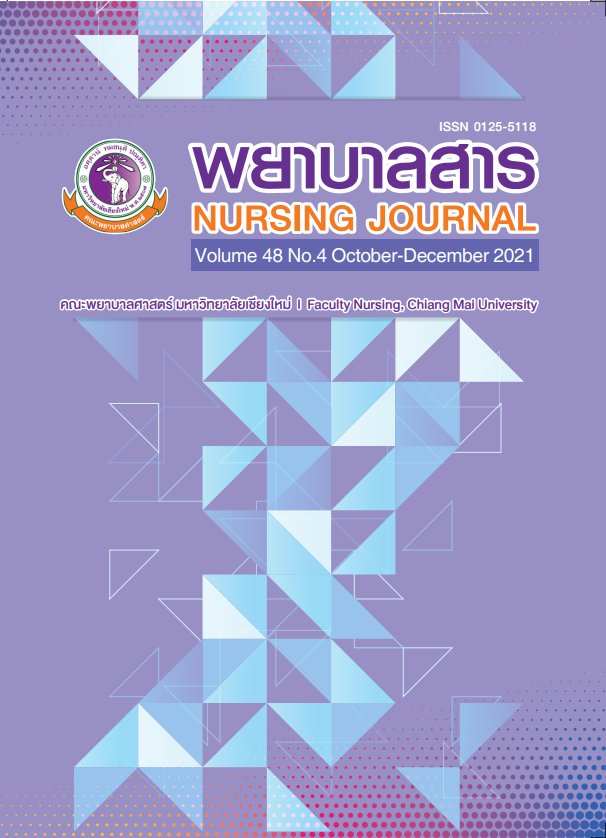 Downloads
License
บทความที่ได้รับการตีพิมพ์เป็นลิขสิทธิ์ของวารสารพยาบาลสาร
ข้อความที่ปรากฏในบทความแต่ละเรื่องในวารสารวิชาการเล่มนี้เป็นความคิดเห็นส่วนตัวของผู้เขียนแต่ละท่านไม่เกี่ยวข้องกับมหาวิทยาลัยเชียงใหม่ และคณาจารย์ท่านอื่นๆในมหาวิทยาลัยฯ แต่อย่างใด ความรับผิดชอบองค์ประกอบทั้งหมดของบทความแต่ละเรื่องเป็นของผู้เขียนแต่ละท่าน หากมีความผิดพลาดใด ๆ ผู้เขียนแต่ละท่านจะรับผิดชอบบทความของตนเองแต่ผู้เดียว