Emotional Labor and Work Engagement of Temporary Nurses in Affiliated Hospitals of Kunming Medical University, The People's Republic of China
Keywords:
Emotional labor, Work engagement, Nurses, The People's Republic of China
Abstract
การศึกษาเชิงพรรณนาแบบหาความสัมพันธ์ครั้งนี้มีเป้าหมายเพื่อศึกษาความสัมพันธ์ระหว่างการแสดงออกทางอารมณ์ขณะทำงานและความผูกพันในงานของพยาบาลในโรงพยาบาลแพทย์คุนหมิง สาธารณรัฐประชาชนจีน กลุ่มตัวอย่างคือพยาบาลที่ปฏิบัติงานใน 3 โรงพยาบาลในเครือของมหาวิทยาลัยการแพทย์คุนหมิงจำนวน 366 ราย เครื่องมือที่ใช้ในการวิจัยประกอบด้วย แบบวัดความผูกพันในงานยูเทรชท์พัฒนาโดยสกอฟเฟลี่และแบคเกอร์ (Schaufeli & Bakker, 2003) และแบบวัดการแสดงออกทางอารมณ์ขณะทำงานพัฒนาโดยไดเฟนดอร์ฟและคณะ (Diefendorff et al., 2005) ค่าสัมประสิทธิ์แอลฟ่าของครอนบาคของแบบวัดความผูกพันในงานยูเทรชท์ และทั้งสามรูปแบบของการแสดงออกทางอารมณ์ขณะทำงานเท่ากับ เท่ากับ .81, .83, .58 และ .92 ตามลำดับ วิเคราะห์ข้อมูลด้วยสถิติเชิงพรรณนาและสัมประสิทธิ์สหสัมพันธ์แบบลำดับที่ของสเปียร์แมน ผลการศึกษาพบว่า พยาบาลในโรงพยาบาลในเครือของมหาวิทยาลัยการแพทย์คุนหมิง สาธารณรัฐประชาชนจีนแสดงอารมณ์ขณะทำงานแบบการแสดงออกจากอารมณ์ที่แท้จริง (`x = 3.59, SD = .75) และแบบการปรับความรู้สึกภายในให้สอดคล้องกับการแสดงออกภายนอก (`x = 3.56, SD = .68) บ่อยครั้งกว่าแบบการแสร้งแสดงความรู้สึก(`x = 2.86, SD = 0.71)   พยาบาลรับรู้ความผูกพันในงานในระดับต่ำ (`x = 2.80, SD = 1.04) ความผูกพันในงานมีความสัมพันธ์ในทางบวกอย่างมีนัยสำคัญทางสถิติกับการแสดงออกอารมณ์ขณะทำงานแบบการแสดงออกจากอารมณ์ที่แท้จริง (rs=.36, p < .01) และแบบการปรับความรู้สึกภายในให้สอดคล้องกับการแสดงออกภายนอก (rs=.42, p < .01) ผลการศึกษานี้สามารถใช้เป็นข้อมูลพื้นฐานสำหรับผู้บริหารทางการพยาบาลในการกำหนดโปรแกรมในการอบรมพยาบาลในการแสดงออกทางอารมณ์ที่เหมาะสมที่จะช่วยปรับปรุงความผูกพันในงานของพยาบาลให้ดีขึ้น
Downloads
Download data is not yet available.
References
Adeniji, O. G., Akanni, A. A., & Ekundayo, O. O. (2015). Gender difference in emotional labor among nurses in Osun State. Nigeria Gender & Behaviour, 13 (2), 6789-6794.
Aiken, L. H., Sermeus, W., Heede, K.V., Sloane, D. M., Busse, R., McKee, M., ... & Kutnet-Lee, A. (2012). Patient safety, satisfaction and quality of hospital care: Cross sectional surveys of nurses and patients in 12 countries in Europe and in the United States. British Medical Journal, 344, e1717.
Ashforth, B. E., & Humphrey, R. H. (1993). Emotional labor in service roles: The influence of identity. Academy of Management Review, 18 (1), 88–155.
Bae, S. H., Mark, B., & Fried, B. (2010). Use of temporary nurses and nurse and patient safety outcomes in acute care hospital units. Health Care Management Review, 35 (4), 333-344.
Bakker, A.B., & Demerouti, E. (2007). The job demands-resources model: State of the art. Journal of Managerial Psychology, 22 (3), 309–328.
Best, J. W., & Kahn, J. V. (2003). Research in education (9th ed.). Boston: Pearson Education.
Brotheridge, C. M., & Lee, R. T. (2002). Testing a conservation of resources model of the dynamics of emotional labor. Journal of Occupational Health Psychology, 7, 57-67.
Carstensen, L. L., Isaacowitz, D. M., & Charles, S. T. (1999). Taking time seriously: A theory of socioemotional selectivity. American psychologist, 54(3), 165.
Chen, Y. P., & Wang, F. (2014). Nurse' emotional labor and job burnout: Interpersonal and intrapersonal mechanisms Chinese Journal of Clinical Psychology, 22(5), 873-876. (in Chinese)
Cheung, F. T. L., & Lun, M. (2015). Relation between emotional labor and organizational citizenship behavior: An investigation among Chinese teaching professionals. The Journal of General Psychology,142(4), 253–272.
China Social Welfare Foundation. (2017). Investigation report on the development status of Chinese nurse. (in Chinese) Retrieved from
http://news.xinhuanet.com/gongyi/2017-05/11/c_129601688.htm
De Castro, A. B., Agnew, J., & Fitzgerald, S. T. (2004). Emotional labor: Relevant theory for occupational health practice in post-industrial America. AAOHN journal, 52(3), 109-115.
Demerouti, E., Bakker, A. B., Nachreiner, F., & Schaufeli, W. B. (2001). The job demand-resource model of burnout. Journal of Applied Psychology, 86 (3), 499-512.
Demir, A., Ulusoy, M., & Ulusoy, M. F. (2003). Investigation of factors influencing burnout levels in the professional and private lives of nurses. International Journal of Nursing Studies, 40, 807-827.
De Raeve, L. (2002) The modification of emotional responses: A problem for trust in nurse-patient relationships? Nursing Ethics, 9, 465–471.
Diefendorff, J. M., Croyle, M. H., & Gosserand, R. H. (2005). The dimensionality and antecedents of emotional labor strategies. Journal of Vocational Behavior, 66, 339–357.
Feng, L, P., Akkadechanunts, T., & Chontawan, R. (2012) Perceived organizational support and work engagement among nurses in university hospitals of Kunming Medical University, The People's Republic of China.Chinese and Foreign Medical Research,10 (30), 49-50. (in Chinese)
Geurts, S. A., Schaufeli, W. B., & Rutte, C. G. (1999). Absenteeism, turnover intention and inequity in the employment relationship. Work & Stress,13, 253–267.
Good, C. D., Johnsrude, I., Ashburner, J., Henson, R. N., Friston, K. J., & Frackowiak, R. S. (2001). Cerebral asymmetry and the effects of sex and handedness on brain structure: A voxel-based morphometric analysis of 465 normal adult human brains. Neuroimage, 14(3), 685-700.
Grandey, A. A. (2000). Emotion regulation in the workplace: A new way to conceptualize emotional labor. Journal of Occupational Health Psychology, 5 (1), 95–110.
Guptav, Agarwal, U. A., & Khatri, N. (2016). The relationships between perceived organizational support, affective commitment, psychological contract breach, organizational citizenship behaviour and work engagement. Journal of Advanced Nursing, 72(11), 2806-2817.
Hammarström, L., Häggström, M., Devik, S. A., & Hellzen, O. (2019). Controlling emotions—nurses' lived experiences caring for patients in forensic psychiatry. International journal of qualitative studies on health and well-being, 14(1), 1682911.
Hochschild, A. (1983). The managed heart: Commercialization of human feeling. Berkeley, CA: University of California Press.
Huang, J., Qin, J., Li, X., Rui, D., Mao, L., & Tang, J. (2012). The current situation and correlation analysis of work engagement and job characteristics between doctors and nurses. The Chinese Health Service Management, 29, 579–590.
Hulsheger, U., & Schewe, A. (2011). On the costs and benefits of emotional labor: A meta-analysis of three decades research. Journal of Occupational Health Psychology, 16 (3), 361–389.
International Council of Nurses. (2006). The global shortage of registered nurses: An overview of issues and actions. Retrieved from
http://www.icn.ch/images/stories/documents/publications/GNRI/Global_Shortage_of_Registered_Nurses_Executive_summary.pdf
Izard, C. E. (2009). Emotion theory and research: Highlights, unanswered questions, and emerging issues. Annual Review of Psychology, 60, 1-25.
Johnstone, T., Van Reekum, C. M., Urry, H. L., Kalin, N. H., & Davidson, R. J. (2007). Failure to regulate: Counterproductive recruitment of top-down prefrontal-subcortical circuitry in major depression. Journal of Neuroscience, 27(33), 8877-8884.
LePine, J. A., Podsakoff, N. P., & LePine, M. A. (2005). A meta-analytic test of the challenge stressor-hindrance stressor framework: An explanation for inconsistent relationships among stressors and performance. Academy of Management Journal, 48, 764–775.
Li, L., Yan, P., Yang, Y. & Wu, X. J. (2016). Current situation and influencing factors of nurses' emotional labor. .Journal of Nursing Science, 31(20), 60-62. (in Chinese).
Mann, S. (2005). A health‐care model of emotional labor: An evaluation of the literature and development of a model. Journal of Health Organization and Management, 19 (45), 304-317.
Martinez-Inigo, D., Totterdell, P., Alcover, C. M., & Holman, D. (2007). Emotional labor and emotional exhaustion: Interpersonal and intrapersonal mechanisms. Work & Stress, 21, 30–47.
Mikolajczak, M., Menil, C., & Luminet, O. (2007). Explaining the protective effect of trait emotional intelligence regarding occupational stress: Exploration of emotional labor processes. Journal of Research in personality, 41(5), 1107-1117.
Mroz, J., & Kaleta, K. (2016). Relationships between personality, emotional labor, work engagement and job satisfaction in service profession. International Journal of Occupational Medicine and Environmental Health, 29(5),767-782.
Nahrgang, J. D., Morgeson, F. P., & Hofmann, D. A. (2011). Safety at work: A meta-analytic investigation of the link between job demands, job resources, burnout, engagement, and safety outcomes. Journal of Applied Psychology, 96, 71–94.
Pelphrey, K. A., & Carter, E. J. (2008). Brain mechanisms for social perception: Lessons from autism and typical development. Annals of the New York Academy of Sciences, 1145, 283-299.
Robinson, J. L., & Demaree, H. A. (2007). Physiological and cognitive effects of expressive dissonance. Brain and Cognition, 63 (1), 70–78.
Sarti, D. (2014) Job resources as antecedents of engagement at work: Evidence from a long-term care setting. Human Resource Development Quarterly, 25(2), 213-237.
Schaufeli, W. B., Salanova, M., Gonz´alez-rom´a, V., & Bakker, A. B. (2001). The measurement of engagement and burnout: A two sample confirmatory factor analytic approach. Journal of Happiness Studies, 3 (1), 71–92.
Schaufeli, W. B., & Bakker, A. B. (2003). Test manual for the Utrecht Work Engagement Scale. Unpublished manuscript. Retrieved from http://www.schaufeli.com
Schmidt, K. H., & Diestel, S. (2015). Are emotional labor strategies by nurses associated with psychological costs? A cross-sectional survey. International Journal of Nursing Studies, 51,1450–1461.
Shahpouri, S., Namdari, K., & Abedi, A. (2015). Mediating role of work engagement in the relationship between job resources and personal resources with turnover intention among female nurses. Applied Nursing Research, 30, 216–221.
Shao, R. Y., Feng Z. X., Huang L. H., Shao, L. W., Zhang, M. Y., Xu, H., . . . Liang, Y. J. (2016). Analysis on correlation between present situation of emotional labor, job satisfaction and turnover intention for nurses in Zhejiang Province. Nursing and Recovery, 15(1), 18-21.
Sohu net. (2020). Contract nurses are too "cheap"? How big is the difference between career management and contract nurses? Retrieved from https://www.sohu.com/a/436962260_377319
The First Affiliated Hospital of KMU. (2017). Hospital information. Retrieved from http://www.ydyy.cn/Subject/YYJJ/Index.htm. (in Chinese)
Totterdell, P., & Parkinson, B. (1999). Use and effectiveness of self-regulation strategies for improving mood in a group of trainee teachers. Journal of Occupational Health Psychology, 4 (3), 219-232.
Veitamana, E., Abhicharttibutra, K., & Wichaickhum, O. (2017) Leader empowering behaviors and work engagement among nurses in divisional hospitals, The Republic of the Fiji Islands. Nursing Journal, 44(3), 153-164.
Wang, X. X., Liu, L., Zou, F. T., Hao, J. H., & Wu, H. (2017). Associations of occupational stressors, perceived organizational support, and psychological capital with work engagement among Chinese female nurses. BioMed Research International, 1, 1-11.
Wolkomir, M. & Powers, J. (2007). Helping women and protecting the self: The challenge of emotional labor in an abortion clinic. Qualitative Sociology, 30 (2), 153–169.
World Health Organization. (2020). State of the world's nursing 2020: Investing in education, jobs and leadership. Web Annex. Nursing roles in 21st-century health systems. Geneva: World health organization.
Xinhua net. (2021). There will be 3.8 nurses per thousand population. In the next five years, how to expand the nurses' team? Retrieved from http://www.xinhuanet.com/2021-03/26/c_1127260066.htm
Yamane, T. (1973). Statistics: An introductory analysis. Tokyo: Harper international.
Yoon, S. L., & Kim, J. H. (2013). Job-related stress, emotional labor, and depressive symptoms among Korean nurses. Journal of Nursing Scholarship, 45(2), 169-176.
Yoo, J. J., & Arnold, T. J. (2014). Customer orientation, engagement, and developing positive emotional labor. The Service Industries Journal, 34(16),1272-1288.
Yun, H., Jie, S., & Anli, J. (2010). Nursing shortage in China: State, causes, and strategy. Nursing Outlook, 58 (3), 122–128.
Zeng, Y. (2009). Review of work-related stress in mainland Chinese nurses. Nursing and Health Sciences, 11 (1), 90–97.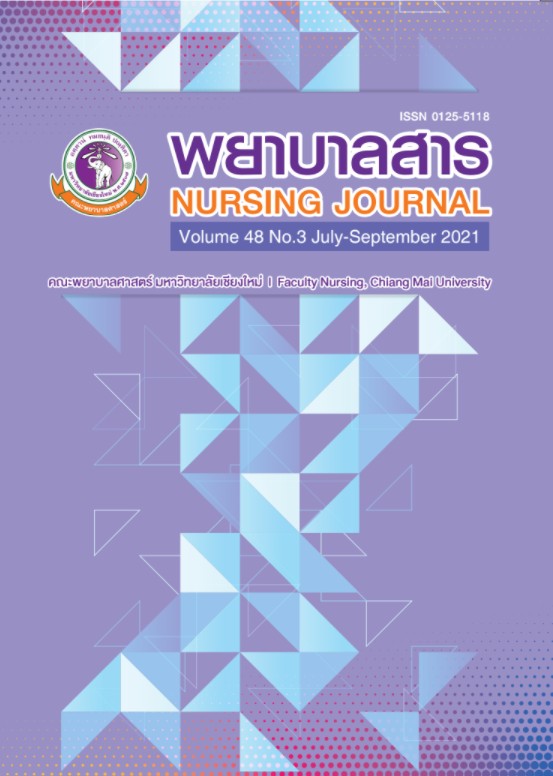 Downloads
License
บทความที่ได้รับการตีพิมพ์เป็นลิขสิทธิ์ของวารสารพยาบาลสาร
ข้อความที่ปรากฏในบทความแต่ละเรื่องในวารสารวิชาการเล่มนี้เป็นความคิดเห็นส่วนตัวของผู้เขียนแต่ละท่านไม่เกี่ยวข้องกับมหาวิทยาลัยเชียงใหม่ และคณาจารย์ท่านอื่นๆในมหาวิทยาลัยฯ แต่อย่างใด ความรับผิดชอบองค์ประกอบทั้งหมดของบทความแต่ละเรื่องเป็นของผู้เขียนแต่ละท่าน หากมีความผิดพลาดใด ๆ ผู้เขียนแต่ละท่านจะรับผิดชอบบทความของตนเองแต่ผู้เดียว