Effects of Enhancing Volunteers as Caregivers for Elderly People with Chronic Disease using Knowledge Sharing Reflection Method Focusing on Spiritual Wellbeing
Keywords:
Spiritual wellbeing, Elderly, Chronic illness, Volunteer, knowledge sharing reflection
Abstract
Thailand has now become the completed aged society. A number of elderly people have chronic diseases that affect their physical, mental, social, spiritual and dependency dimension. Therefore, those elderly people need volunteers to help providing cares for them, especially for the spiritual dimension.  As spiritual well-being is important for the elderly people with chronic illnesses to cope with, recover from, or adapt themselves to the illnesses, it gives hope and power for the wellbeing living to the elderly people. To develop the volunteer potential, it is necessary to use the KM with spiritual Reflection or Soft KM model. The purpose of this quasi-experimental research was to study the effects of enhancing volunteers as caregivers for elderly people using knowledge sharing reflection method. The samples were 34 elderly people with chronic diseases in the Mae Ngern Municipality area Chiang Saen District Chiang Rai Province.  Purposive sampling method was used to select the samples and each sample were randomly assigned to the experimental group and the control group, 17 cases for each group. Cases in the experimental group were given cares by volunteer participants in the potential development program using knowledge management reflected spiritual thinking for 4 times whereas the control group received regular cares. Data were collected by using personal information interviews and the spiritual well-being assessment. The research was conducted according to the Enhancing Volunteer Spirit Program. Data were analyzed by using Independent t-test            The results revealed that the mean scores of spiritual well-being of the elderly people with chronic diseases in the community in the experimental group who received cares from volunteers ( = 124.65) were higher than those who received regular care ( = 118.88). There was no statistically significance. The volunteers who gave cares to the elderly people must passed the 6 process of Soft KM: 1) Spiritual knowledge and value searching, 2) Knowledge creating and finding, 3) learning and practicing, 4) systematic knowledge management, 5) knowledge screening and processing, 6) knowledge sharing
Downloads
Download data is not yet available.
References
Jaiwongpab, S., Soivong, P., Sittisombut, S., & Somrarnyart. M. (2017). Spiritual health among relatives of critically ill patients. Nursing Journal, 44(4) 36-48. (in Thai)
Loskultong, P., & Sritanyarat, W. (2013). Development of long term care service system for community older persons in the context of a secondary carehospital. Journal of Nursing Science & Health,37(2), 128-139. (in Thai)
Mongkhonittivech, N., & Yaemmisri, W. (2016). Factors predicting spiritual well-being among the elderly with chronic illness in Maeyeang municipality, Mueang District, Chiang Rai Province. Journal of Nursing Science & Health,39 (2), 1-11. (in Thai)
Matrakul, M., & Mongkhonittivech, N. (2018). Situation analysis of care by volunteers for elders with chronic diseases in Mae-Ngoen municipality, Chiang Saen District, Chiang Rai Province. Journal of Nursing Science & Health,41(2),69-79.
National Statistical office Thailand. (2014). Census. Retrieved from http://www.nso.go.th/sites
Narin, R., & Meephan, R. (2015). Community health care management innovation: 'Ar Sa Pun Suk' (happiness sharing volunteer). Nursing Journal, 42(4), 1-11. (in Thai)
Polit, D. F., & Hungler, B. P. (1999). Nursing research: Principles and methods (6th ed.). Philadelphia: Lippincott.
Prasatkul, P. (2014). Annual Report, Situation of the Thai Elderly, 2013. Nonthaburi: Thai Elderly Research and Development Institute Foundation. (in Thai)
Panphadung, S., Nilmanat, K., & Kitrungrote, L. (2016). Impact of a Buddhism-Based spiritual wellbeing promotion programme on the spiritual wellbeing of family caretakers responsible for hospitalized advanced gynaecological cancer patients. Thai Journal of Nursing Council, 30(1), 16-28.
Promkeawngam, S., & Namwong, A. (2017). The spiritual well-being of community-dwelling Thai older people with chronic illness. Journal of Nursing and Health Care, 35(3), 204-213. (in Thai)
Siripanit, B. (2009). Thai elderly situation. Presented in an academic conference Thai Elderly care Bangkok: Ministry of Public Health.
Sawilo, P. (2007). Fill your life with volunteering. Bangkok: Buddhika network. (in Thai)
Saengsakorn, P. (2011). Synthesis of knowledge about spiritual health in the context of Thai society. Bangkok: Srinakharinwirot University.
Sangchart, B. (2014). Spiritual well-being and good death. Journal of Nursing Science & Health,37(1), 147-156. (in Thai)
Sihapark, S., Chuengsatiansup, K., & Tengrang, K. (2014). The effects and caregiving burdens of older persons in long-term care based on Thai culture. Health system research institute. Retrieved from https://www.hsri.or.th/researcher/research/new-release/detail/5535. (in Thai)
Wirojratana, V., Amnatsatsue, K., Sasat, S. & Malathum, P. (2014). Improvement of healthcare services for dependent elders. Thai Journal of Nursing Council, 29(3), 104-115. (in Thai)
World health organization. (2015). Definition of an older or elderly person. Retrieved from http://www.who.int/healthinfo/survey/ageingdefnolder/en/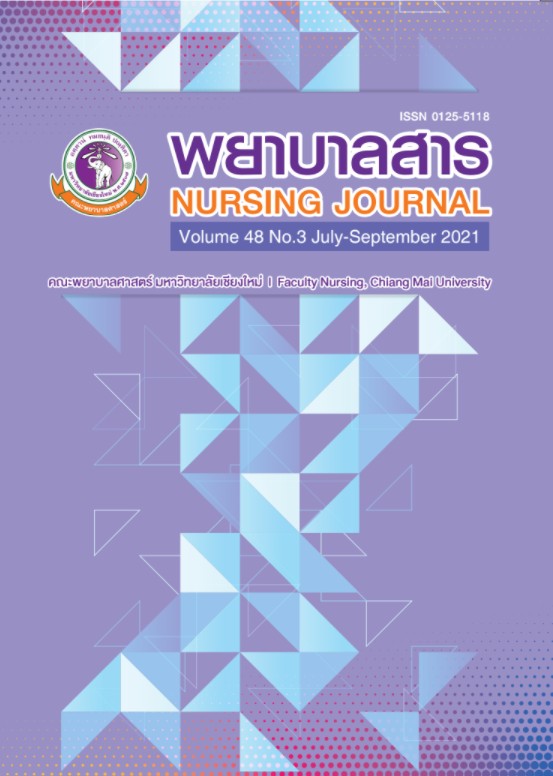 Downloads
License
บทความที่ได้รับการตีพิมพ์เป็นลิขสิทธิ์ของวารสารพยาบาลสาร
ข้อความที่ปรากฏในบทความแต่ละเรื่องในวารสารวิชาการเล่มนี้เป็นความคิดเห็นส่วนตัวของผู้เขียนแต่ละท่านไม่เกี่ยวข้องกับมหาวิทยาลัยเชียงใหม่ และคณาจารย์ท่านอื่นๆในมหาวิทยาลัยฯ แต่อย่างใด ความรับผิดชอบองค์ประกอบทั้งหมดของบทความแต่ละเรื่องเป็นของผู้เขียนแต่ละท่าน หากมีความผิดพลาดใด ๆ ผู้เขียนแต่ละท่านจะรับผิดชอบบทความของตนเองแต่ผู้เดียว