Structural Empowerment and Moral Distress of Nurses in Private Hospitals
Keywords:
Structural Empowerment, Moral Distress, Nurses in Private Hospitals
Abstract
          Structural empowerment is one of the factors that will assist nurses to perceive their self-efficacy, to be able to control their work and to face ethical situations. The purpose of this study was to examine the structural empowerment and moral distress of nurses, and their relationship. The study sample was comprised of 266 nurses who were working in Chiang Mai private hospitals and who were randomly selected using multistage random sampling. The research instruments consisted of 3 parts: 1) Demographic form, 2) Moral Distress for Healthcare Professionals: MMD-HP (Epstein et al., 2019), and 3) The Conditions for Work Effectiveness Questionnaire II: CWEQ-II (Laschinger et al., 2001 as cited in Laschinger, 2012) which was translated into Thai by Nuchpong (2019). The reliability of the second and third parts of the instruments were .96 and .85, respectively. Data were analyzed using descriptive statistics and Spearman's rank correlation analysis.
The results of the study revealed that the nurses in this study had a moderate level of moral distress ( =74.96, SD =67.88) and perceived structural empowerment at a moderate level ( = 22.58, SD = 3.50). The findings also showed that structural empowerment was negatively statistically correlated with the moral distress of nurses (r = 0.148, p-value = .016).
Based on the findings of this study, it is recommended that structural empowerment is one approach to reduce moral distress of nurses in private hospitals. Therefore, nurse administrators should create work structures which could enhance nurses'empowerment,
in order to handle morally distressing situations.
Downloads
Download data is not yet available.
References
Burn, N., & Grove, S. K. (2005). The practice of nursing research: Conduct, critique & utilization (5thed.). Philadelphia: W. B. Saunders.
Boonkhaew, P., Rabob, C. & Vanakul, P., (2021). The Expectations of service recipient towards service quality in hospital front office department. UMT-Poly Journal, 18(2), 62-71.
De Villers, M. J., & DeVon, H. A. (2013). Moral distress and avoidance behavior in nurses working in critical care and noncritical care units. Nursing Ethics, 20(5), 589-603.
Department of Business Development, (2020). Hospital business and nursing home. (in Thai). Retrieved from https://www.dbd.go.th/download/document_file/Statisic/2562/T26/T26_ 201903.pdf.php.
Elpern, E. H., Covert, B., & Kleinpell, R. (2005). Moral distress of staff nurses in a medical intensive care unit. American Journal of Critical Care, 14(6), 523-530.
Epstein, E. G., Whitehead, P. B., Prompahakul, C., Thacker, L. R., & Hamric, A. B. (2019). Enhancing understanding of moral distress: The measure of moral distress for health care professionals. AJOB empirical bioethics, 10(2), 113-124.
Ganz, F. D., Raanan, O., Khalaila, R., Bennaroch, K., Scherman, S., Bruttin, M., ... Benbenishty, J. (2013). Moral distress and structural empowerment among a national sample of Israeli intensive care nurses. Journal of Advanced Nursing, 69(2), 415-424.
Hamric, A. B., Borchers, C. T., & Epstein, E. G. (2012). Development and testing of an instrument to measure moral distress in healthcare professionals. AJOB Primary Research, 3(2), 1-9.
Jalali, K., Tabari-Khomeiran, R., Asgari, F., Sedghi-Sabet, M., & Kazemnejad, E. (2019). Moral distress and related factors among emergency department nurses. Eurasian Journal of Emergency Medicine, 18(1), 23.
Laschinger, H. (2012). Conditions for work effectiveness questionnaire i and ii user manual.Retrieved from http://medpr.imp.lodz.pl/Adaptacja-Kwestionariusza-warunkow-efektywnosci-pracy-II-w-grupie-polskich-pielegniarek,89625,0,2.html
Ledoux, K. (2015). Moral distress: A study of personal and organizational factors. (Doctor of Philosophy Thesis). The University of Western Ontario: Canada.
Nuchpong, N. (2019). Factors predicting innovative behaviors of nurses in government university hospitals. (Master's thesis). Chiang Mai University, Thailand. (in Thai)
Nunil, S.(2016). Governance in private organizations: Service sector business. Silpakorn University Journal, 36(2), 57-76. (in Thai)
Nursing Department. (2018). The role of nurse. Nonthaburi: Tawan media. (in Thai).
Ohnishi, K.,Ohgushi, Y., Nakano, M., Fujii, H., Tanaka, H., Kitaoka, K., ... Narita, Y. (2010). Moral distress experienced by psychiatric nurses in Japan. Nursing ethics, 17(6), 726-740.
Saenprasarn, P., Suthipong, N., Srihawech, T. & Chooha, U. (2017). Ethical decision-making in nursing care at high risk for ethical complaints of professional nurses in private hospitals. Kuakarun Journal of Nursing, 24(2), 113-129. (in Thai).
Sirilai, S.(2012). Ethics for nurses. (12thed.). Bangkok: Chulalongkorn University Printing House.(in Thai)
Srithammanit, T. & Chompuming, P. (2018). Effective human resource management of major private hospital network in Bangkok and Chiang Mai Province. Journal of Sakon Nakhon Hospital, 21(3), 118-128. (in Thai)
Sirintarangkoon, W. (2014). Moral distress of registered nurses in caring for psychiatric patients in psychiatric hospital, southern Thailand. (Master's thesis). Prince of Songkla University, Thailand. (in Thai)
Songsraboon, R. (2014). Model of an excellent service of private hospitals in Thailand. Journal of Graduate School of Commerce Burapha Review, 2(9), 54-67. (in Thai)
Laschinger, H. K., Sabiston, J. A., & Kutszcher, L. (1997). Empowerment and staff nurse decision involvement in nursing work environments: Testing Kanter's theory of structural power in organizations. Research in Nursing & Health, 20(4), 341-352.
Thato R. (2018). Nursing research: Concepts to appication (3rd Ed.). Bangkok : Chulalongkorn University Printing House. (in Thai).
The Private Hospital Association Thailand. (2022). Nursing standards. Retrieved from https://www.tnmc.or.th/news/124. (in Thai)
Trotochaud, K., Coleman, J. R., Krawiecki, N., & McCracken, C. (2015). Moral distress in pediatric healthcare providers. Journal of Pediatric Nursing, 30(6), 908-914.
Vetayavetin, S. (2011). Relationships between empowerment, work itself, and work engagement of professional nurses, private hospitals. (Master's thesis). Chulalongkorn University, Thailand. (in Thai)
Widianti, E., Arinda, R., & Prawesti, A. (2019). Nurses' moral distress in the emergency department. Journal of Nursing Care, 2(3). doi:10.24198/jnc.v2i3.21374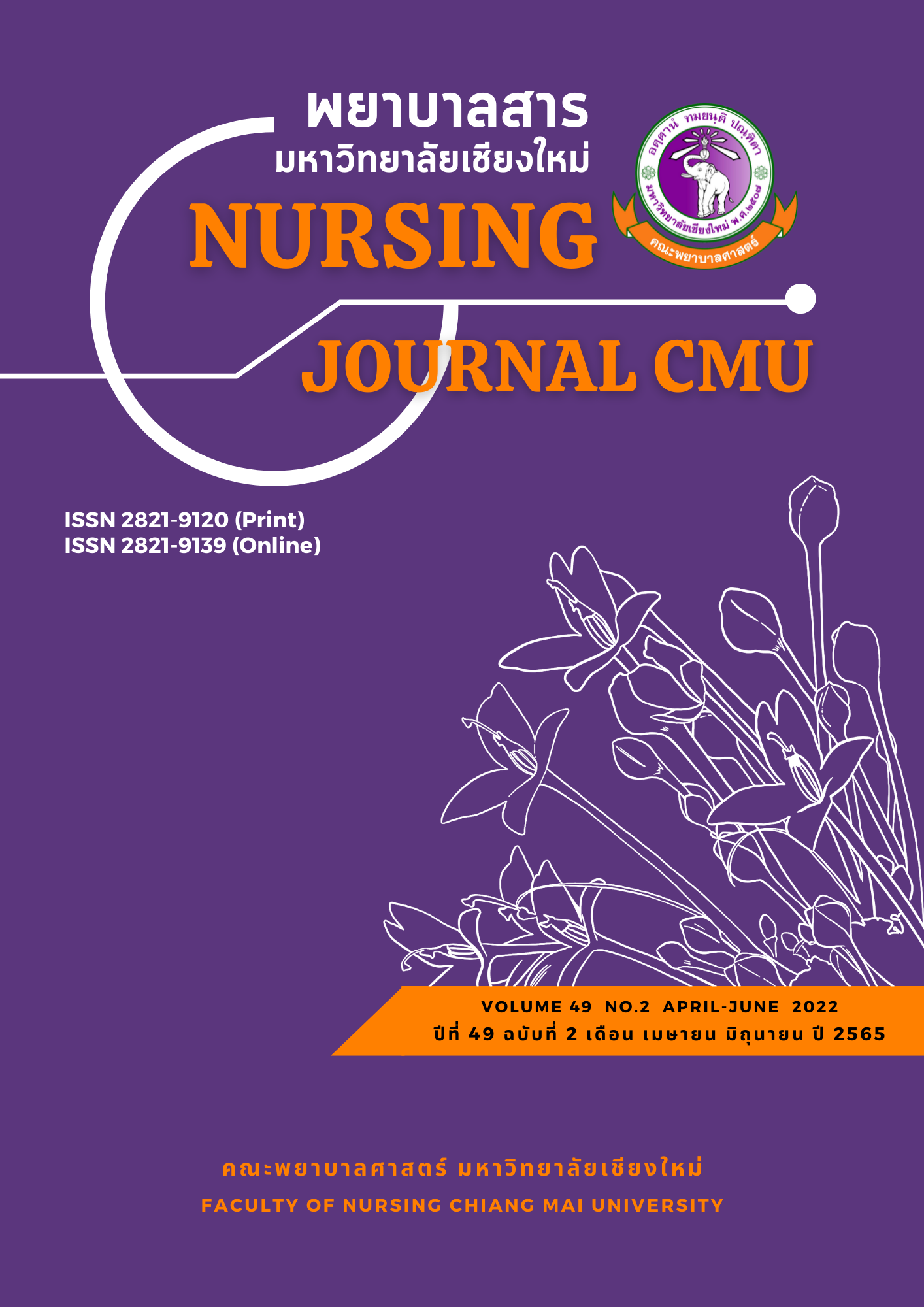 Downloads
License
Copyright (c) 2022 Nursing Journal
This work is licensed under a Creative Commons Attribution-NonCommercial-NoDerivatives 4.0 International License.
บทความที่ได้รับการตีพิมพ์เป็นลิขสิทธิ์ของวารสารพยาบาลสาร
ข้อความที่ปรากฏในบทความแต่ละเรื่องในวารสารวิชาการเล่มนี้เป็นความคิดเห็นส่วนตัวของผู้เขียนแต่ละท่านไม่เกี่ยวข้องกับมหาวิทยาลัยเชียงใหม่ และคณาจารย์ท่านอื่นๆในมหาวิทยาลัยฯ แต่อย่างใด ความรับผิดชอบองค์ประกอบทั้งหมดของบทความแต่ละเรื่องเป็นของผู้เขียนแต่ละท่าน หากมีความผิดพลาดใด ๆ ผู้เขียนแต่ละท่านจะรับผิดชอบบทความของตนเองแต่ผู้เดียว