Factors Related to Quality of Life Among Psoriasis Patients at Out Patient Department, Maharaj Nakorn Chiang Mai Hospital
Keywords:
Quality of life, Psoriasis, Factor related
Abstract
 Psoriasis is a chronic inflammatory skin disease. Patients with psoriasis have flaky skin on their arms and legs, which affects their body image. It also causes the patient to have stress, depression, social isolation and deteriorate their quality of life. A descriptive correlational study was to examine quality of life and factors related to quality of life among psoriasis patients.  The sample were 110 psoriasis patients who were diagnosed severity of psoriasis rash by physicians at Maharaj Nakorn Chiang Mai Hospital. The instruments consisted of 1) the demographic data record form, 2)  A self-esteem questionnaire with reliability of .73, 3) A body image questionnaire of (Hopwood, Fletcher, Lee, & Ghazal 2001) had reliability of .84, 4) A Psoriasis knowledge practice questionnaire had reliability of .7, and 5) the Thai version of psoriasis patients' quality of life from Chularojanamontri, Suthipinittharm, & Kulthanan (2009) had reliability of .82. Data were analyzed using descriptive statistics and Pearson Product-moment Correlation.
The results revealed that, 67.01 % of sample had good quality of life. Age was moderate negatively correlated with quality of life (r =-.464, p < .001). Marital status was low negatively correlated with quality of life (r =-.236, p < .001). Education level was low negatively correlated low with quality of life (r= .247, p=.015). For PASI score's factors and body surface area were moderately positive correlated with quality of life with a statistical significance at p < .001 (r = .481 and .469), respectively. The perceived impact of image was high positively correlated with quality of life (r=.784, P<.001) and Self-esteem was moderately negatively associated with quality of life among psoriasis patients (r=-.505, P<.001).
The results of this study indicate that promoting self-esteem and body image in psoriasis patients may promote their good quality of life.
Downloads
Download data is not yet available.
References
Cash, T. F. (2011). Cognitive-behavioral perspectives on body image. In T. F. Cash & L. Smolak (Eds.), Body image: A hand book of science, practice, and prevention (2nd ed.). New York: Guilford.
Cheewapoonpol, B. (2006). Relationship between personal factors, fear of reaction of significant persons, coping strategies, social support, and body image of post mastectomy patients. Kuakarun Journal of Nursing, 13(2), 9-12. (in Thai)
Chularojanamontri, L., Suthipinittharm, P., & Kulthanan K. (2009). The validity and reliability of psoriasis disability index (PDI). Thai Journal of Dermatology, 25(1), 141-52. (in Thai)
Finlay, A. Y., Khan, G. K., Luscombe, D. K., Salek, M. S. (1990). Validation of sickness impact profile and psoriasis disability index in psoriasis. British Journal of Dermatology, 1237, 51-56.
Hopwood, P., Fletcher, I., Lee, A., & Ghazal, S. A. (2001). A body image scale for use with cancer patients. European Journal of Cancer, 37(2), 189-97.
Innog, C. (1997). Self-care behavior and quality of life of the elderly in North Eastern Thailand, (Master's thesis in Community Health Nursing). Mahidol University, Thailand.
Lauithaisong, N. (2011). Stress, impact assessment, and stress coping methods among psoriasis patients. Journal of Information and Learning, 22(3), 84-96.
Medical Records and Statistics Section, Maharaj Nakorn Chiang Mai Hospital. (2020). Statistics of dermatology patients at Maharaj Nakorn Chiang Mai Hospital. Chiang Mai: Author.
Pattamadilok, B. (2018). Psoriasis. Bangkok: Institute of Dermatology.
Polit, D. F., & Beck, C. T. (2004). Nursing research principle and methods (7th ed.). Philadelphia: Lippincott Williams & Wilkins.
Prasunnakarn, P. (2017). Prevalence and incidence of psoriasis in Udonthani Hospital. Udonthani Hospital Medical Journal, 25(2), 143-150.
Promjan, S., Wiriyapongsukit, S., Boonsoh, R., & Khongsin, N. (2017). Predictive power of self-esteem on quality of life among disabled people. The Southern College Network Journal of Nursing and Public Health, 4(1), 47-59.
Rojtrakul, P., Yamphak, R. & Inpaen, C. (2008). Clinical nursing practice guideline. (1st ed.). Bangkok: Queen Graphic & Printing Center.
Rosenberg, M., & Pearlin, L. (1978). Social class and self-esteem among children and adults. American Journal of Sociology, 84(1), 53-77.
Rosenberg, M. (1979). Conceiving the self. New York: Basic Books.
Seawthaweesin, K. (2018). Quality of life of psoriasis and family participation, Vachira Phuket Hospital. Region 11 Medical Journal, 32(3), 1069-1088.
Taejarernwiriyakul, O., Thongdonmuan, T., Prasanworakijkul, T., Buppan, P. & Sommatas, A. (2019). Factors related to quality of life in patients with psoriasis at hospitals located in Nakhon Nayok Province. Journal of Nursing and Health Care. 37(2), 143-147.
Thakolwiboon, S., Upala, S., Geeratragool, T., Benjatiku,l N., Uathaya, M., Tripipitsiriwat, A., … Jiamton, S.,(2013). The factors affecting quality of life in Thai psoriasis patients. The Journal of Medical Association of Thailand, 96(10), 1344-1349.
Yang, H. & Yang, K. (2015). Impact of psoriasis on quality of life in Taiwan. Dermatologica Sinica, 33(1), 146-150.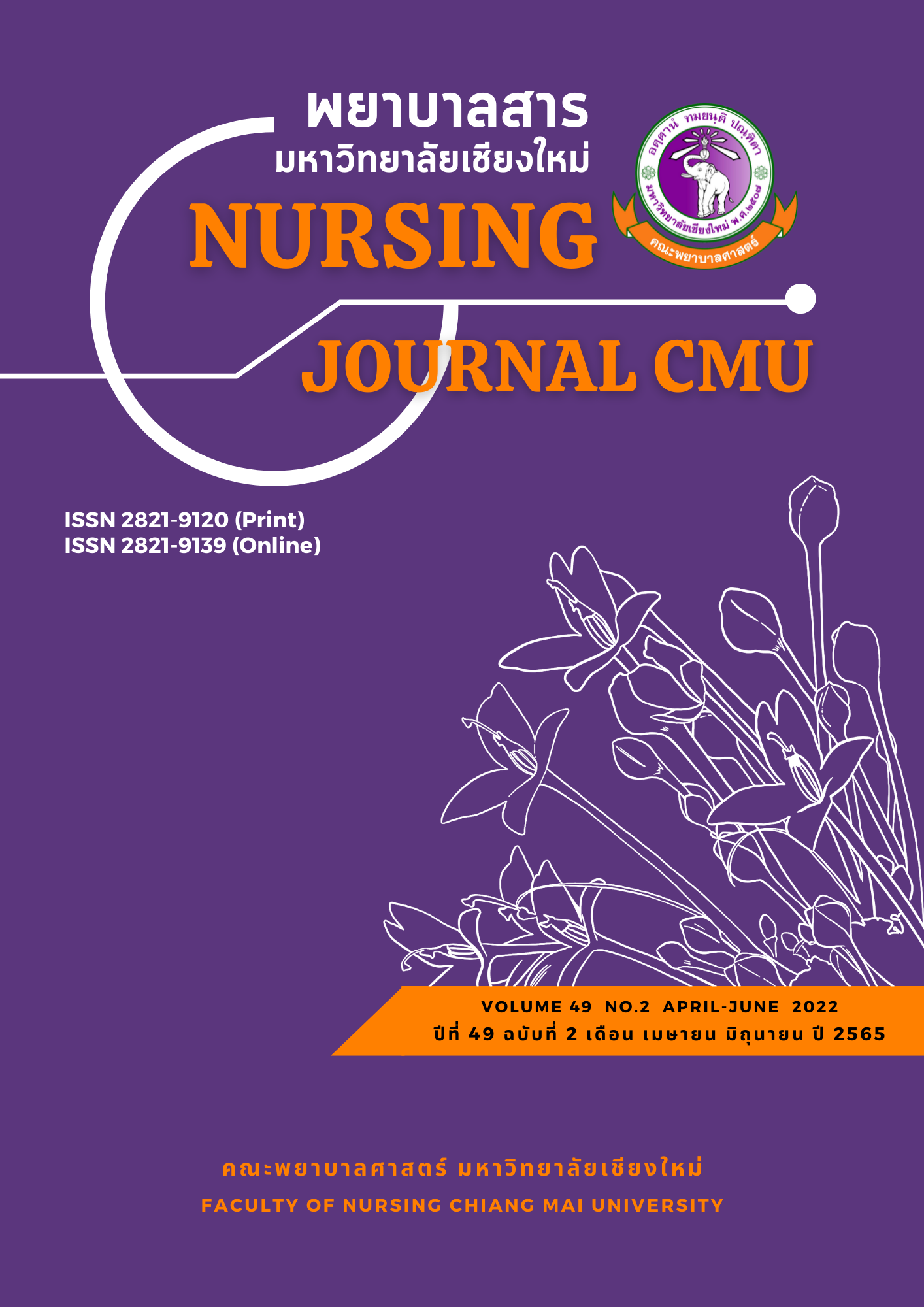 Downloads
License
Copyright (c) 2022 Nursing Journal
This work is licensed under a Creative Commons Attribution-NonCommercial-NoDerivatives 4.0 International License.
บทความที่ได้รับการตีพิมพ์เป็นลิขสิทธิ์ของวารสารพยาบาลสาร
ข้อความที่ปรากฏในบทความแต่ละเรื่องในวารสารวิชาการเล่มนี้เป็นความคิดเห็นส่วนตัวของผู้เขียนแต่ละท่านไม่เกี่ยวข้องกับมหาวิทยาลัยเชียงใหม่ และคณาจารย์ท่านอื่นๆในมหาวิทยาลัยฯ แต่อย่างใด ความรับผิดชอบองค์ประกอบทั้งหมดของบทความแต่ละเรื่องเป็นของผู้เขียนแต่ละท่าน หากมีความผิดพลาดใด ๆ ผู้เขียนแต่ละท่านจะรับผิดชอบบทความของตนเองแต่ผู้เดียว