The Development of a Bachelor of Nursing Science Outcome-Based Education Program: Faculty of Nursing, Chiang Rai College
Keywords:
Curriculum development, Outcome-based education, Bachelor's degree of nursing, Chiang Rai College
Abstract
The changes in social, economic and health problems require a change in strategies in order to obtain graduates with appropriate competencies. Outcome-based education is a teaching method that focuses on the outcomes of graduated nurses based on curriculum objectives. In addition, it is responsive to stakeholders and social needs. This article's objective is to develop a Bachelor of Nursing Science outcome-based education program at the Faculty of Nursing, Chiang Rai College. Outcome-based education involves a key step: identification of graduates' characteristics or qualifications, which are informed by analysis of stakeholder preferences and needs, as well as the vision, mission, and philosophy of the College and Faculty of Nursing, which define course objectives, learning outcomes, and expected learning outcomes. Another important step considers the management of teaching and learning activities that will enable students to achieve the desired outcomes in addition to the measurement of achievement in which each process must have a corresponding connection in order to obtain graduates with competencies that meet the requirements of the institution.
Downloads
Download data is not yet available.
References
Chiang Rai College. (2022). Nursing curriculum (Unpublished). Chiang Rai: Faculty of Nursing, Chiang Rai college.
Gurukkal, R. (2020). Outcome- based education: An open framework. Higher Education for the Future, 7(1), 1-4. doi:10.1177/2347631119886402
Jinruang, S., Naraphong, W., & Nithitanitwat, P. (2018). Outcome-based education in nursing science. Journal of Pharapokklao Nursing College, 29(2), 207- 216.
Kaewsarn, P., Tubtheing, W., & Thongkumrod, R. (2016). Distance Learning System of Nursing Education and Thai Qualification for Higher Education (TQF: HEd). Journal of the Association of Researchers, 21(2), 123- 134.
Khanna, R., & Mehrotra, D. (2019). The road for quality improvement from traditional through competency based (CBE) towards outcome-based education (OBE) in dentistry. Journal of Oral Biology and Craniofacial Research, 9, 139- 142.
Office of the National Economic and Social Development Council. (2019). Report on population projections of Thailand 2010-2040 (Rev. ed.). Bangkok: Office of the Pattanakarn Council National Economy and Society.
Premalatha, K. (2019). Course and program outcomes assessment methods in outcome-based education: A review. Journal of Education, 199(3), 111-127.
Sawaengdee, K. (2017). Crisis of nursing shortage in health service facilities under office of permanent secretary, Ministry of Public Health: Policy recommendation. Journal of Health Science, 26, 456- 468.
Singh, M., & Ramya, K. R. (2011). Outcome based education. International Journal of Nursing Education, 3(2), 87- 91.
Tan, K., Chan, C.M., Subramanuam, P., & Ping, W. L. (2018). The effectiveness of outcome based education on the competencies of nursing students: A systematic review. Nurse Education Today, 64, 180- 189. doi: 10.1016/j.nedt.2017.12.030
Thadakant, S. (2020). Outcome based education and AUN- QA. In T. Thongswas (Chair), OBE Workshop (Symposium). Chiang Rai College.
Thailand Nursing and Midwifery Council. (2021). Accreditation guide for professional education institutions of nursing and midwifery (Rev. ed.). Nonthaburi: Golden Point.
Tyler, R. W. (1949). Basic principles of curriculum and instruction. Chicago: The University of Chicago press.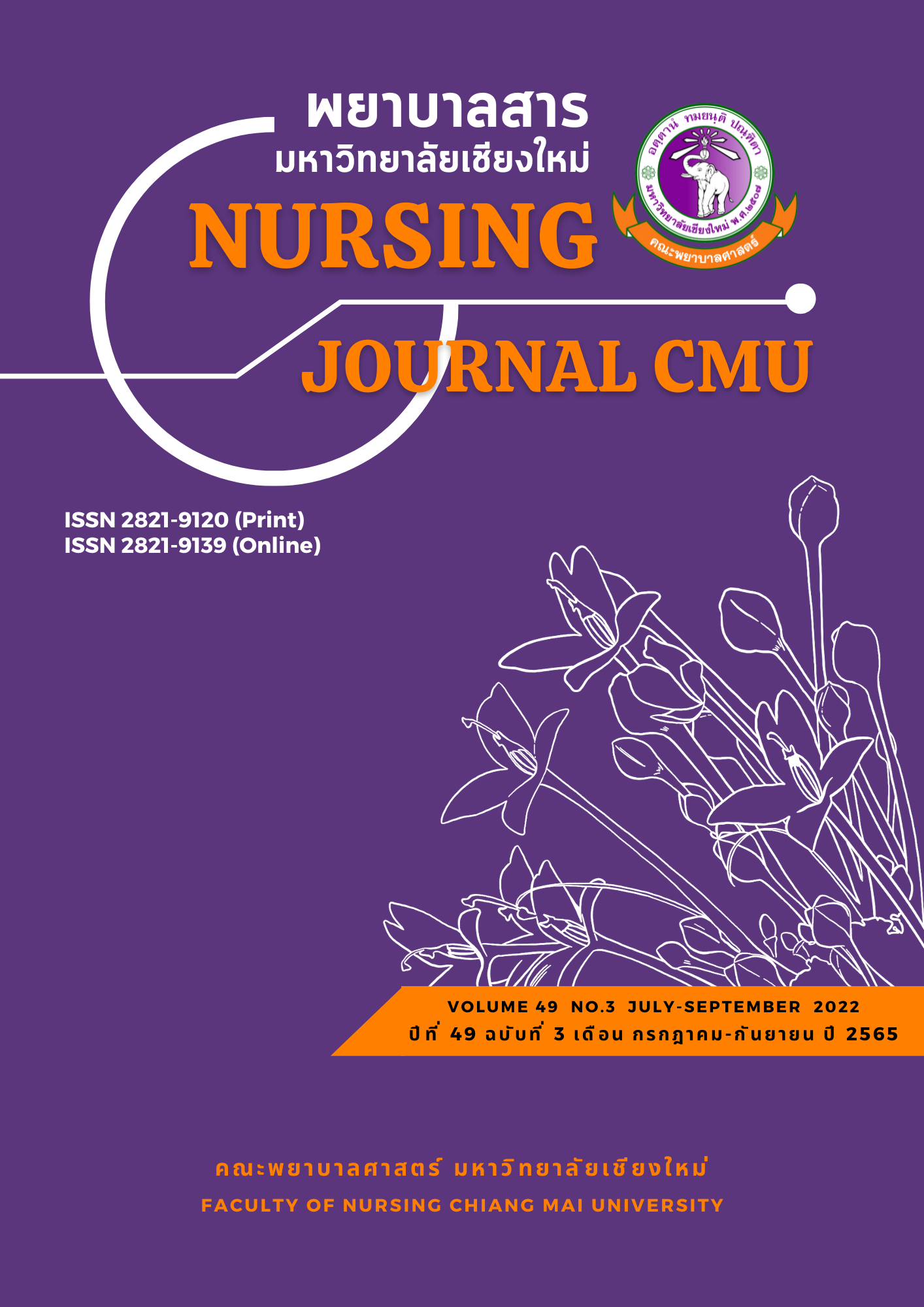 Downloads
License
Copyright (c) 2022 Nursing Journal
This work is licensed under a Creative Commons Attribution-NonCommercial-NoDerivatives 4.0 International License.
บทความที่ได้รับการตีพิมพ์เป็นลิขสิทธิ์ของวารสารพยาบาลสาร
ข้อความที่ปรากฏในบทความแต่ละเรื่องในวารสารวิชาการเล่มนี้เป็นความคิดเห็นส่วนตัวของผู้เขียนแต่ละท่านไม่เกี่ยวข้องกับมหาวิทยาลัยเชียงใหม่ และคณาจารย์ท่านอื่นๆในมหาวิทยาลัยฯ แต่อย่างใด ความรับผิดชอบองค์ประกอบทั้งหมดของบทความแต่ละเรื่องเป็นของผู้เขียนแต่ละท่าน หากมีความผิดพลาดใด ๆ ผู้เขียนแต่ละท่านจะรับผิดชอบบทความของตนเองแต่ผู้เดียว