Health Literacy and Self-Management Among Older Monks with Multimorbidity
Keywords:
Health Literacy, Self-Management, Older Monks, Multimorbidity
Abstract
Health literacy is a factor that helps people with multiple chronic diseases to manage themselves more effectively. This correlational descriptive research aimed to investigate health literacy, self-management, and the association between health literacy and self-management among older monks with multimorbidity. The study participants were older monks with multimorbidity attending the outpatient department of priest hospitals in Bangkok province. The 88 participants were selected using purposive sampling. The research instruments used in this study consisted of a demographic and illness data recording form, and interview questionnaires for health literacy and self-management of older monks with multimorbidity. Data were analyzed using descriptive statistics and Pearson's product-moment correlation.
The results showed that older monks with multimorbidity had a high level of health literacy and self-management. Health literacy was statistically correlated with
self-management at a high level (r = .76, p < .01).
The results of this study can be used as database information for health care professionals who look after older monks with multimorbidity to support their
self-management through enhancing health literacy.
Downloads
Download data is not yet available.
References
Aramsin, R., Kerdku, P., Jarujit, S., & Prachanno, W. (2018). Self-management behaviors among patients with hypertension in Mueang District, Chanthaburi Province. Journal of Phrapokklao Nursing College, 29(1), 68-71. (in Thai)
Anuruang, S. (2017). Multimorbidity in older persons: Situation, challenge issues, and care management. Journal of Nursing Science Chulalongkorn University, 29(2), 1-14. (in Thai)
Chaidej, K. (2020). Health literacy and self-management among older monks with type 2 diabetes mellitus. (Master's thesis). Chiang Mai University.
Chiang Mai Province public health Office. (2018). Handbook of DMS aging screening. Retrieved from https://www.chiangmaihealth .go.th/cmpho_web/main_section.php?info_id=4197 (in Thai)
Codrington, S., Panuthai, S., & Khampolsiri, T. (2021). Health literacy and self-management among elderly monks with hypertension. Nursing Journal, 18(4), 268-280. (in Thai)
Department of Medical Sciences (2014). Screening/Assessment manual for the elderly. Nonthaburi: Office of the Veterans Organization. (in Thai)
Geboers, B., de Winter, A. F., Spoorenberg, S. L., Wynia, K., & Reijneveld, S. A. (2016). The association between health literacy and self-management abilities in adults aged 75 and older, and its moderators. Quality of Life Research, 25(11), 2869-2877.
Haseen, F., Adhikari, R., & Soonthorndhada, K. (2010). Self-assessed health among Thai elderly. BMC Geriatrics, 10(1), 30. doi:10.1186/1471-2318-10-30
Jandeekaewsakul, P., Watthayu, N., & Suwonnaroop, N. (2018). Factors predicting self-management behavior among patients with uncontrolled essential hypertension. Journal of Nursing Science, 36(1), 31-43. (in Thai)
Kobayashi, I., Kobayashi-Sun, J., Kim, A. D., Pouget, C., Fujita, N., Suda, T., & Traver, D. (2014). Jam1a-Jam2a interactions regulate haematopoietic stem cell fate through Notch signaling. Nature, 512, 319-323. doi:10.1038/nature13623
Lai, M. C., Lombardo, M. V., Suckling, J., Ruigrok, A. N., Chakrabarti, B., Ecker, C., … Baron-Cohen, S. (2013). Biological sex affects the neurobiology of autism. Brain, 136(9), 2799-2815. doi:10.1093/brain/awt216
Lorig, K. R., & Holman, H. R. (2003). Self-management education, history, definition, outcomes, and mechanism. Annals of Behavioral Medicine, 26(1), 1-7.
MGR Online. (2019). Health crisis, hundreds of thousands of Thai monks are suffering from chronic non-communicable diseases. Bangkok: MGR Online. (in Thai)
Nilnate, W. (2014). Health literacy in Thai elders in senior citizens club of Bangkok. (Doctoral dissertation). Chulalongkorn University. (in Thai)
Nutbeam, D. (2000). Health literacy as a public health goal: A challenge for contemporary health education and communication strategies into the 21st century. Health Promotion International, 15(3), 259-267. doi: 10.1093/heapro/15.3.259
Panurat, S., Bhoosahas, P., Thutsaringkarnsakul, S., Krachangpho, P., Thuratham, W. & Natetipawan, P. (2019). Factors related to health literacy among the elderly in Pak Phli District, Nakhon Nayok Province. Journal of the Police Nurses, 11(1), 86-94. (in Thai)
Pfeiffer, E. (1975). A short portable mental status questionnaire for the assessment of organic brain deficit in elderly patients. Journal of the American Geriatrics Society, 23(10), 433-441. doi:10.1111/j.1532-5415.1975.tb00927.x
Polit, D. F., & Beck, C. T. (2008). Nursing research: Generating and assessing evidence for nursing practice (8th ed.). Philadelphia: Wolters Kluwer.
Pornprasert, P., Praneart, K., Pornprasert, A., (2016). Quality of life of the Thai buddhist monks with chronic illnesses at Chaloemphrakiat 60 phansa Nawamintarachini Hospital Ubonrat-Chatani Province. Humanities Social Sciences Journal, 7(1), 89-100. (in Thai)
Qin, L., & Xu, H. (2016). A cross-sectional study of the effect of health literacy on diabetes prevention and control among elderly individuals with prediabetes in rural China. BMJ Open, 6(5). doi:10.1136/bmjopen-2016-011077
Shaw, S. J., Armin, J., Torres, C. H., Orzech, K. M., & Vivian, J. (2012). Chronic disease self-management and health literacy in four ethnic groups. Journal Health Community, 17(Suppl. 3), 67-81. doi: 10.1080/10810730.2012.712623
Sihapark, S., Kuhirunyaratn, P., & Chen, H. (2014). Severe disability among elderly community dwellers in rural Thailand: Prevalence and associated factors. Ageing International, 39(3), 210-220. doi:10.1007/s12126-013-9190-7
Somroop, P. S., Chimhad, P., & Khaenamkhaew, D. (2022). A holistic health care to the monks in the area of Nabon District, Nakhon Si ThammaraT Province. Journal of MCU Nakhondhat 9(5), 226-239
Wolf, M. S., Gazmararian, J. A., & Baker, D. W. (2005). Health literacy and functional health status among older adults. Archives of Internal Medicine, 165(17), 1946-1952. doi:10.1001/archinte.165.17.1946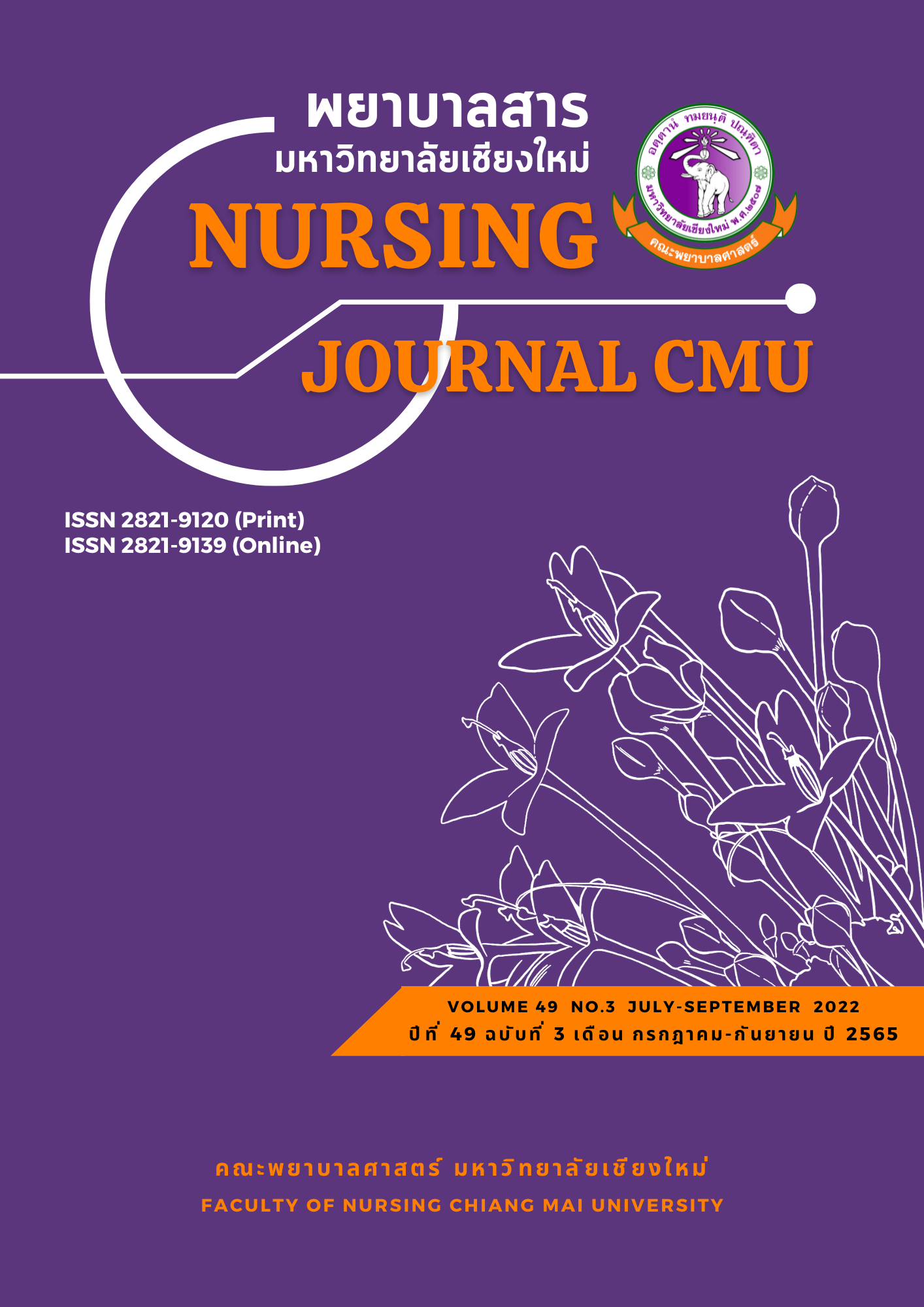 Downloads
License
Copyright (c) 2022 Nursing Journal
This work is licensed under a Creative Commons Attribution-NonCommercial-NoDerivatives 4.0 International License.
บทความที่ได้รับการตีพิมพ์เป็นลิขสิทธิ์ของวารสารพยาบาลสาร
ข้อความที่ปรากฏในบทความแต่ละเรื่องในวารสารวิชาการเล่มนี้เป็นความคิดเห็นส่วนตัวของผู้เขียนแต่ละท่านไม่เกี่ยวข้องกับมหาวิทยาลัยเชียงใหม่ และคณาจารย์ท่านอื่นๆในมหาวิทยาลัยฯ แต่อย่างใด ความรับผิดชอบองค์ประกอบทั้งหมดของบทความแต่ละเรื่องเป็นของผู้เขียนแต่ละท่าน หากมีความผิดพลาดใด ๆ ผู้เขียนแต่ละท่านจะรับผิดชอบบทความของตนเองแต่ผู้เดียว