Health Literacy and Self-Management Behaviors in Persons with Prostate Cancer After Surgery
Keywords:
Health Literacy, Self-Management Behaviors, Persons with Prostate Cancer After Surgery
Abstract
People with prostate cancer who have had a radical prostatectomy need appropriate self-management behaviors to control the disease symptoms and prevent possible complications. Health literacy is an important factor affecting self-management. This correlative descriptive research aimed to explore health literacy, self-management behaviors and the association between health literacy and self-management behaviors in persons with prostate cancer after surgery. The 85 participants were persons with prostate cancer after radical prostatectomy who visited the urological surgery outpatient unit of two tertiary hospitals. The research instrument was a set of questionnaires, which included a Demographic Data Questionnaire, the Health Literacy Questionnaire, and the Self-management Behaviors Questionnaire for persons with prostate cancer after radical prostatectomy. Data were analyzed using descriptive statistics and Spearman's rank correlation coefficient test.
          The results revealed that 1) the participants had a high level of overall health literacy. Considering each aspect, functional literacy and interactive literacy were at a high level, while critical literacy was at a moderate level, 2) the participants had a high level of both overall self-management behaviors, in each aspect, and 3) the health literacy had a positive correlation with self-management behaviors in persons with prostate cancer after radical prostatectomy surgery at a moderate level with statistical significance (r = .566, p < .01).
          The results of this research can be used as guidelines for health literacy enhancement, especially on the critical literacy aspect, in persons with prostate cancer after radical prostatectomy to promote appropriate self-management behaviors.
Downloads
Download data is not yet available.
References
Bray, F., Ferlay, J., Soerjomataram, I., Siegel, R. L., Torre, L. A., & Jemal, A. (2018). Global cancer statistics 2018: GLOBOCAN estimates of incidence and mortality worldwide for 36 cancers in 185 countries. Cancer Journal for Clinicians, 68(6), 394- 424.
Clarke, N., Dunne, S., Coffey, L., Sharp, L., Desmond, D., O'Conner, J., . . . Gallagher, P. (2021). Health literacy impacts self-management, quality of life and fear of recurrence in head and neck cancer survivors. Journal of Cancer Survivorship, 15(6), 855-865.
Fervaha, G., Izard, J., Tripp, D., Rajan, S., Leong, D., & Siemens, D. (2019). Depression and prostate
cancer: A focused review for the clinician. Urologic Oncology: Seminars and Original Investigations, 37(4), 1-7.
Ginggeaw, S., & Prasertsri, N. (2016). The relationship between health literacy and health behaviors of the elderly with multiple chronic diseases. Nursing Journal of the Ministry of Public Health. 25(3), 43-54. (in Thai)
Gordon, G. L., Walker, S. M., Mervin, M. C., Lowe, A., Smith, D. P., Gardiner, R. A., & Chambers, S. K. (2017). Financial toxicity: A potential side effect of prostate cancer treatment among Australian men. European Journal of Cancer Care, 26, e12392.
Ishikawa, H., Takeuchi, T., & Yano, E. (2008). Measuring functional, communicative, and critical health literacy among diabetic patients. Diabetes Care, 31, 874-879.
Jovic-Vranes, A., Bjegovic-Mikanovic, V., & Marinkovic, J. (2009). Functional health literacy among primary health-care patients: Data from the Belgrade pilot study. Journal of Public Health, 31(4), 490-495.
Kahn, R. L., Goldfarb, A. I., Pollack, M., & Peck, A. (1960). Brief objective measure for the determination of mental status in the aged. American Journal of Psychiatry, 177(4), 326-328.
Klinklom, S., Panuthai, S., & Nanasilp, P. (2017). Self-management behaviors and related factors among older persons with benign prostatic hyperplasia. Nursing Journal, 44(3), 52-64. (in Thai)
Klett, D. (2014). A review of the psychological and emotional issues in men with prostate cancer and their partners. Medical Student Research Journal, 4, 4-7.
Lorig, K. R., & Holman, H. (2003). Self-management education: History, definition, outcomes, and mechanism. The Society of Bhavioral Medicine, 26(1), 1-7.
Maneesriwongul, W. (2012). Assessment of care needs among HIV-positive patients Receiving Antiretroviral Therapy (Research report). Bangkok: Faculty of Medicine Ramathibodi Hospital, Mahidol University. (in Thai)
Moungchoung, W., & Ua-Kit, N. (2014). Predicting factors of quality of life in valvular heart replacement patients. Thai Journal of Cardio-Thoracic Nursing, 25(2), 62-76. (in Thai)
Namyotha, L., Danaidutsadeekul, S., Wongkongkam, K., & Wongwanit, C. (2021). Factors related to quality of life among patients after revascularization of peripheral artery disease within 6 months. Nursing Science Journal of Thailand, 39(2), 64- 76. (in Thai)
National Cancer Institute. (2018). Cancer in Thailand vol. 9, 2013-2015. Bangkok: New Thammada.
Noppakun, L., & Vuttanon, N. (2019). Supportive care needs among persons with prostate
cancer. Nursing Journal, 46(Supplement), 49-58. (in Thai)
Nutbeam, D. (1998). Health promotion glossary. Health Promotion International, 13(4), 349-364.
Nutbeam, D. (2000) . Health literacy as a public health goal: A challenge for contemporary health education and communication strategies into the 21st century. Health Promotion International, 15(3), 259-267.
Papadakos, J. K., Hasan, S. M., Barnsley, J., Berta, W., Fazelzad, R., Papadakos, C. J., … Howell, D. (2018). Health literacy and cancer self-management behaviors: A scoping review. Cancer, 124, 4202-4210.
Polit, D. F. (2010). Statistics and data analysis for nursing research (2nd ed.). New Jersey: Pearson Education.
Schulman-Green, D., Jaser, S. S., Park, C., & Whittemore, R. (2016). A meta synthesis of factors
affecting self-management of chronic illness. Journal of Advanced Nursing, 72(7), 1469–1489.
Stallard, J. (2015). Prostate surgery complications: What patients should know. Retrieved from https://www.mskcc.org/blog/prostate-surgery-complications-what-patients-should-know
Suka, M., Odajima, T., Okamoto. M., Sumitani, M., Igarashi, A., Ishikawa. H., . . . Sugimori, H. (2015). Relationship between health literacy, health information access, health behavior, and health status in Japanese people. Patient Education and Counseling, 98(5), 660-688.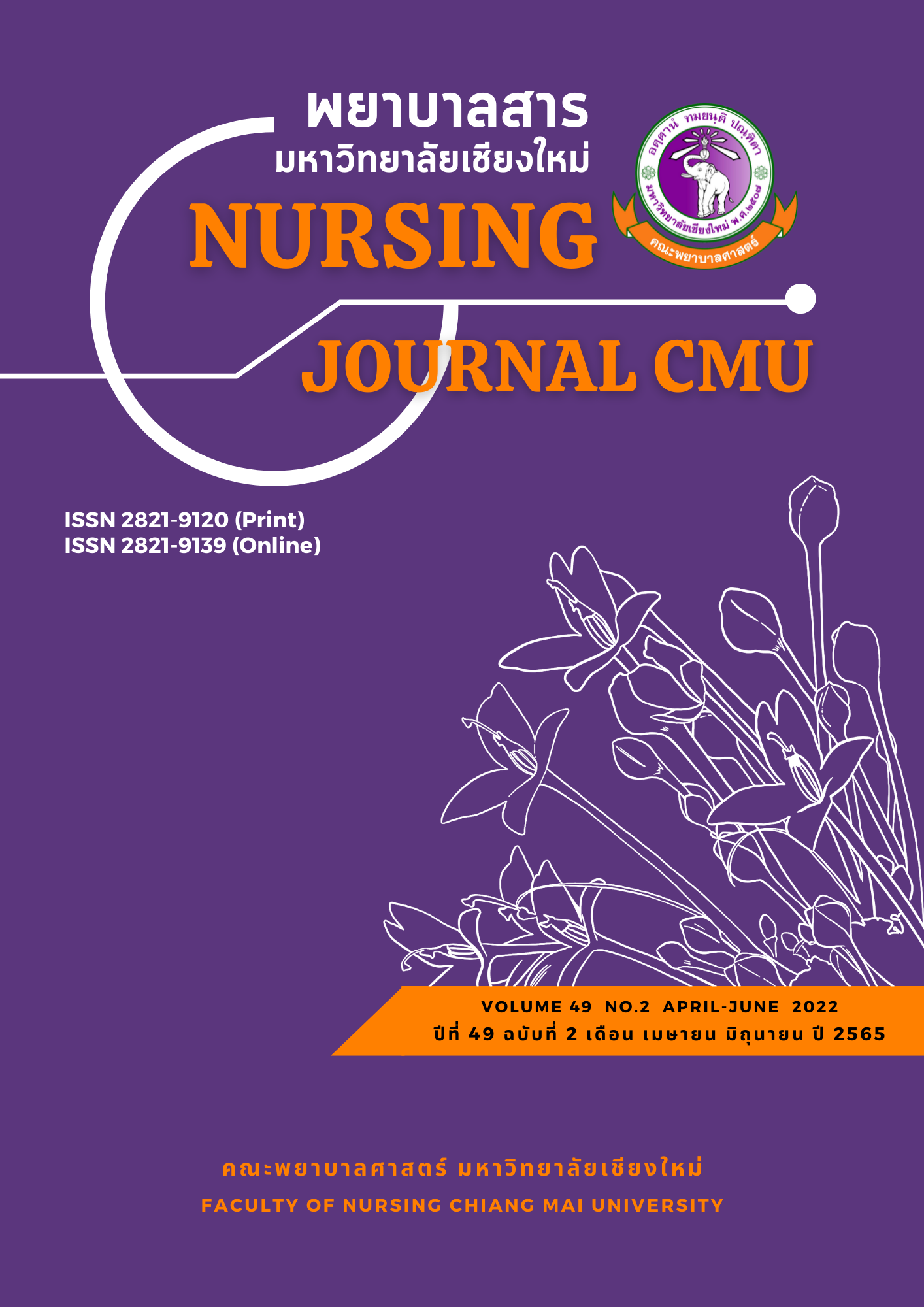 Downloads
License
Copyright (c) 2022 Nursing Journal
This work is licensed under a Creative Commons Attribution-NonCommercial-NoDerivatives 4.0 International License.
บทความที่ได้รับการตีพิมพ์เป็นลิขสิทธิ์ของวารสารพยาบาลสาร
ข้อความที่ปรากฏในบทความแต่ละเรื่องในวารสารวิชาการเล่มนี้เป็นความคิดเห็นส่วนตัวของผู้เขียนแต่ละท่านไม่เกี่ยวข้องกับมหาวิทยาลัยเชียงใหม่ และคณาจารย์ท่านอื่นๆในมหาวิทยาลัยฯ แต่อย่างใด ความรับผิดชอบองค์ประกอบทั้งหมดของบทความแต่ละเรื่องเป็นของผู้เขียนแต่ละท่าน หากมีความผิดพลาดใด ๆ ผู้เขียนแต่ละท่านจะรับผิดชอบบทความของตนเองแต่ผู้เดียว