Guidance to Ensure the Safe Handling of Oral Hazardous Agents
Keywords:
Anticancer drug, occupational risk , hazardous drug
Abstract
ABSTRACT
The hospital pharmacy professional standards have designated the compounding of sterile chemotherapy as the major responsibility of pharmacists. Over the last few decades, the use of oral hazardous drugs (HD) has increased, constituting a risk to occupational health. Hazardous drugs maybe exposed to healthcare workers throughout several stages of the work process, including preparation, administration, transportation, disposal, and storage, if they are not well handled. The likelihood
that HDs pose an occupational risk depends on a number of variables, such as the route of exposure, drug strength, drug toxicity, and drug formulation. However, the risk of contamination and exposure associated with the oral tablet form is often related to the drug's propensity to emit dust particles. Plain crushed pills, coated tablets (e.g., film-coated tablets), and capsules have varying degrees of exposure risk. Generally, coated tablets and capsules seldom generate dust during medication administration
unless an accident happens or the product is deliberately crushed. Nonetheless, a variety of situations may necessitate the cutting or crushing of medications. Consequently, oral HDs must have a suitable step-by-step procedure to ensure safe handling throughout all processes. As a result, this article presents an overview of several aspects and is a guide for proper management of oral HDs.
Keywords: Anticancer drug, hazardous drug, occupational risk
Downloads
Download data is not yet available.
References
International Agency Research of Cancer. IARC MONOGRAPHS ON THE IDENTIFICATION OF CARCINOGENIC HAZARDS TO HUMANS [Internet] World health Organization. 2020. [cited 20 June 2022]. Available from: https://monographs.iarc.fr/ENG/Classification/index.php
Connor TH, MacKenzie BA, DeBord DG, Trout DB, O'Callaghan JP, Ovesen JL, Whittaker C. NIOSH list of hazardous drugs in healthcare settings 2020. [Internet] Cincinnati, OH: U.S. Department of Health and Human Services, Centers for Disease Control and Prevention, National Institute for Occupational Safety and Health, DHHS (NIOSH). 2020 [cited 20 June 2022]. Available from: https://www.cdc.gov/niosh/docket/review/docket233c/pdfs/DRAFT-NIOSH-Hazardous-Drugs-List-2020.pdf
American Society of Clinical Oncology. Safe storage and disposal of cancer medications. [Internet] 2019. Chicago: USA; [cited 20 Jun 2022]. Available from https://www.cancer.net/navigating-cancer-care/managing-your-care/safe-storage-and-disposal-cancer-medications
Goodin, S., Griffith, N., Chen, B., Chuk, K., Daouphars, M., Doreau, C., Meier, K. Safe handling of oral chemotherapeutic agents in clinical practice: Recommendations from an international pharmacy panel. Journal of Oncology Practice 2011; 7:7–12.
ASHP Guidelines on Handling Hazardous Drugs. [Internet] 2011. USA; [cited 20 June 2022]. Available from:https://www.ashp.org/-/media/assets/policy-guidelines/docs/guidelines/handling-hazardous-drugs.ashx
USP General Chapter Hazardous Drugs – Handling in Healthcare Settings. [Internet] 2018. USA; [cited 20 June 2022]. Available from: https://www.usp.org/sites/default/files/usp/document/our-work/healthcare-quality-safety/general-chapter-800.pdf
Pediatric oncology group of Ontorio. Administration of Oral Hazardous Drugs. [Internet] 2020. Canada;[cited 20 June 2022]. Available from: https://www.pogo.ca/satellite-manual/3-0-chemotherapy-administration/3-1-safe-handling-administration-and-disposalof-chemotherapy-agents/3-1-4-administration-of-oralhazardous-drugs/
National Community Oncology Dispensing Association. Oral chemotherapy education. [Internet] 2017. New York: USA; [cited 20 Jun 2022]. Available from:https://www.oralchemoedsheets.com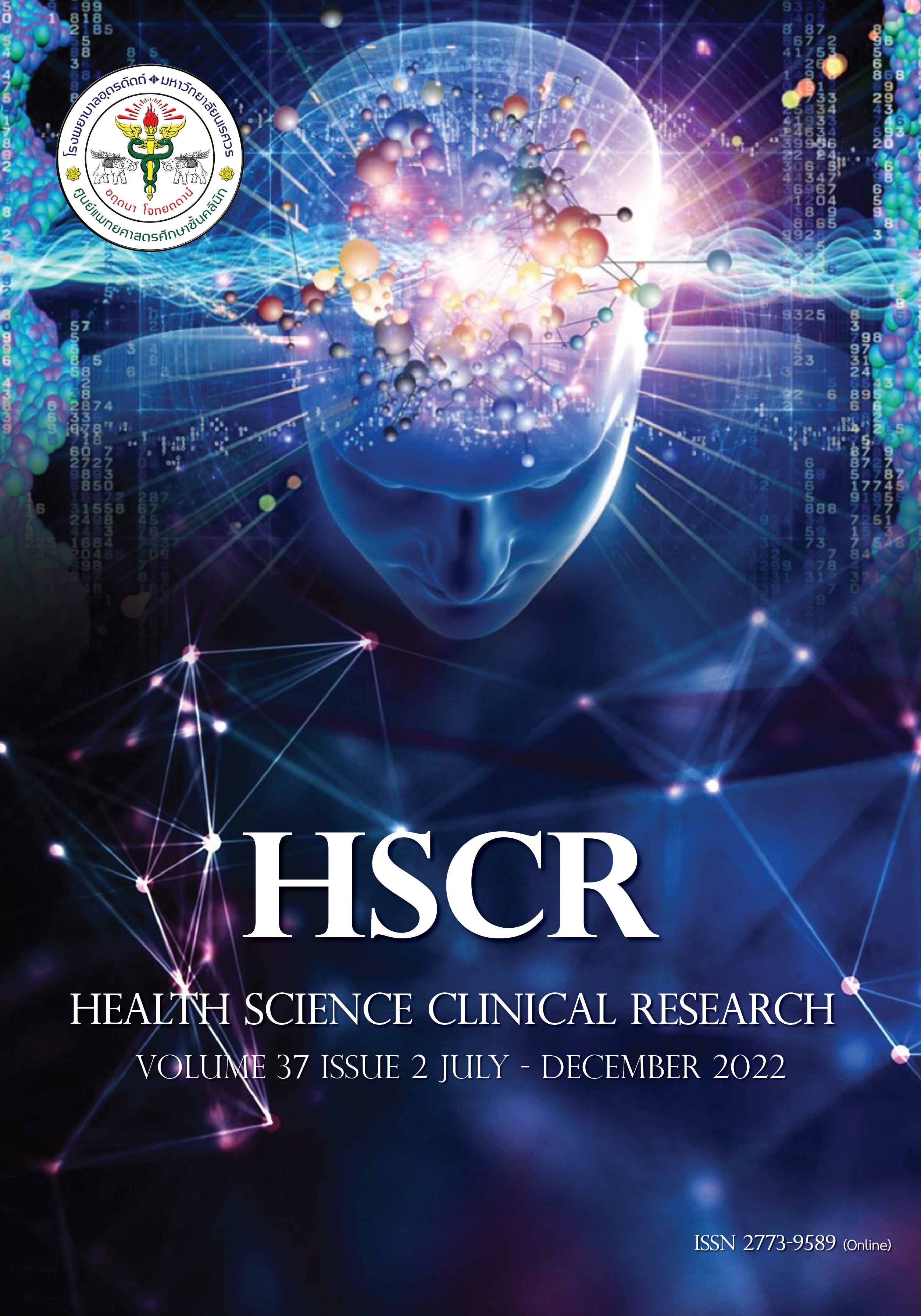 Downloads
How to Cite
1.
Meanwatthana J. Guidance to Ensure the Safe Handling of Oral Hazardous Agents. HSCR [Internet]. 2022 Dec. 30 [cited 2023 Dec. 11];37(2):87-9. Available from: https://he02.tci-thaijo.org/index.php/hscr/article/view/259117
Section
Review Article (ปฎิทัศน์)
License
Copyright (c) 2022 Health Science Clinical Research
This work is licensed under a Creative Commons Attribution-NonCommercial-NoDerivatives 4.0 International License.
The names and email addresses entered in this journal site will be used exclusively for the stated purposes of this journal and will not be made available for any other purpose or to any other party.