The effects of a stroke prevention program on knowledge, health behaviors, and blood pressure in patients with hypertension
Keywords:
stroke prevention program, hypertension, health behaviors, blood pressure
Abstract
     This quasi-experimental two-group pretest-posttest design aimed to examine the effect of a stroke prevention program on knowledge, health behaviors, and blood pressure in patients with hypertension. Sixty patients were purposely recruited and assigned into two groups, 30 each in the experimental and comparative group respectively. Those in an experimental group received a stroke prevention program developed based on a health belief model. While a comparative group received routine health care from a health-promoting hospital. The research instruments were used to collect the data including the personal data, the knowledge test, and the health behaviors questionnaire. The data was analyzed using descriptive statistics with Wilcoxon signed ranks test, Mann-Whitney U test, and Chi-square test.
     The results showed that after completion of the program, the experimental group had scores for knowledge and health behaviors significantly higher than before receiving the program and higher than the comparative group (p-value = .000). Moreover, the participants in the experimental group were able to control their blood pressure within the accepted range (< 140/90 mmHg) when compared with the control group and their blood pressure before completing the program with statistical significance (p-value = .000).
     The results suggested that the health-promoting program may lead to controllable blood pressure and reduce a risk of having cerebrovascular disease.
Downloads
Download data is not yet available.
References
Prasat Neurological Institute. Care map for hemorrhagic stroke. Wang Thonglang (BKK): Tanapress Printing; 2019. (in Thai).
The Policy and Strategy Section, Bureau of Non-Communicable Disease, Ministry of Public Health. 5-Year National of non-communicable disease prevention and control strategic and action plan (2017- 2021). Bangkok: Emotion Art Printing; 2017. (in Thai).
Sinsap N, Jankra J, Jaiman B. Hypertension in elderly: silence killer should be aware. Journal of Phrapokklao Nursing College. 2017; 28(1): 100-111. (in Thai).
Department of Disease Control. Non-communicable diseases. [Internet]. 2018. [cited 2020 June 1]. Available from: http://www.thaincd.com/2016/mission/documents-detail.php?id=13684&tid=32& gid=1-020. (in Thai).
Chareonsin S. Factors affecting Stroke prevention behavior in ypertention Patients, Mueang District, Nakhon Sawan Province [Master of Public Health]. Phitsanulok :Naresuan University; 2021. (in Thai).
Kongvivat K, Lemsawasdikul W, Nuysri M. Effects of preventive behavior developing program for patients with cerebrovascular disease risk at Kanchanaburi province. Journal of Nursing and Health Care. 2017; 35(3): 129-137. (in Thai).
Thongbu P, Potisupsuk C, Nontasawatsr S. Effects of a self-health promotion program for elderly patients with uncontrolled hypertension in Tambon Laoluang, Kasetwisai District, Roi-Et Province. Thai Journal of Nursing. 2019; 68(4): 1-10. (in Thai).
Siriraj Stroke Center. How is cerebrovascular disease treated? [Internet]. 2020 [cited 2020 June 5]. Available from: https://www.si. mahidol. ac.th/center/sirirajstrokecenter/TH/StrokeContent/content/people/cure- stroke.aspx. (in Thai).
Bunset P, Piyabanditkul L. Effectiveness of Stroke prevention program for high risk group at Hoiybong sub-district, Muang district, Chaiyaphum province. Journal of Sakon Nakhon Hospital. 2018; 21(2), 28-41. (in Thai).
Klinsakorn C, Saetan S. Factors related to self-protective behavior of stroke with controlled hypertention patients who live in Danchang district, Suphanburi province. Journal of Council of Community Public Health. 2020; 2(2): 62-77. (in Thai).
Goldmann E, Jacoby R. Finfer E, Appleton N, Parikh NS, Roberts ET, et al. Positive health beliefs and blood pressure reduction in the DESERVE Study. J Am Heart Assoc. 2020; 9(9), 424-28.
Phetphum Ch. Health behaviors concepts theories and applications. 3th ed. Phitsanulok: Naresuan University; 2019. (in Thai).
Hirungerd S, Vutiso P, Srimongkol M. The effects of health belief model program on knowledge, Stroke prevention behavior and blood pressure levels in hypertensive patients the responsibility area of Kaeng Khro hospital, Chaiyaphum province. Journal of The Royal Thai Army Nurses. 2021; 22(1): 478-87. (in Thai).
Miao J, Wang H, Liu N. The evaluation of a nurse-led hypertension management model in an urban community healthcare. Medicine (Baltimore). 2020; 99(27): e20967.
Sompol Ch, Rawiworakul Th, Kirdmongkol P. Effects of a Stroke prevention program for older adults with hypertension. Journal of Public Health Nursing. 2017;31(special): 57-73. (in Thai).
H Song, K.A. Nam. Effectiveness of a Stroke risk self-management intervention for adults with prehypertension. Asian Nurs Res. 2015;9: 328-35.
Bang Phun 1,2 Health Promoting Hospital. Statistical data of patients with hypertension. (June 1-30. 2020). Pathum Thani ;2020
Murdaugh CL, Parsons MA, Pender NJ. Health promotion in nursing practice. 8th ed. New York: Pearson; 2019.
Kawthaisong C, Dungsong R. Effects of behavioral development program for Stroke prevention among hypertensive patients in Chumpuang hospital, Chumpuang district, Nakhon Ratchasima province. Srinagarind Medical Journal. 2014; 29(3): 295-303. (in Thai).
Nualnetr N, Srikha D. Knowledge on the stroke and behaviors to reduce the risk of stroke among risk persons in Samliam community, Muang district, Khon Kaen province. Journal of Medical Technology and Physical Therapy. 2012; 24(3): 318-26. (in Thai).
Goodfriend LN. The effect of hypertension education on knowledge, lifestyle behaviors and blood pressure management among parishioners in a faith-based setting. Health Sciences Research Commons. [Internet]. 2020 [cited 2020 June 5]. Available from: https://hsrc.himmelfarb.gwu.edu/cgi/viewcontent.cgi?article=1074&context=son_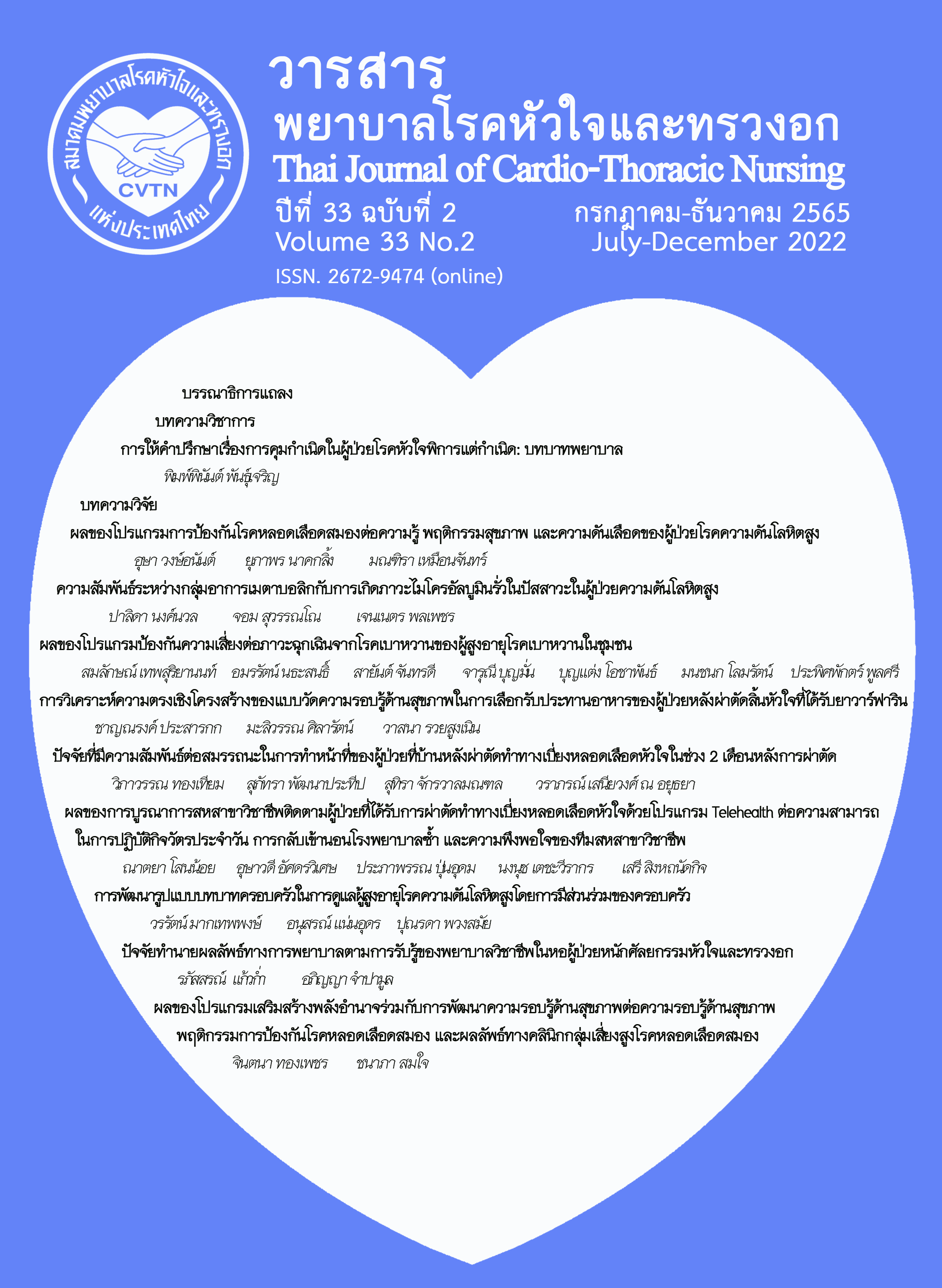 Downloads
Section
Research Articles
License
Copyright (c) 2023 Thai Journal of Cardio-Thoracic Nursing
This work is licensed under a Creative Commons Attribution-NonCommercial-NoDerivatives 4.0 International License.
บทความนี้ยังไม่เคยตีพิมพ์หรืออยู่ในระหว่างส่งไปตีพิมพ์ในวารสารอื่นๆ มาก่อน และกองบรรณาธิการขอสงวนสิทธิ์ในการตรวจทาน และแก้ไขต้นฉบับตามเกณฑ์ของวารสาร ในกรณีที่เรื่องของท่านได้ได้รับการตีพิมพ์ในวารสารฉบับนี้ถือว่าเป็น ลิขสิทธิ์ของวารสารพยาบาลโรคหัวใจและทรวงอก