The effect of the enhancing empowerment and health literacy developing program on health literacy, Stroke prevention behaviors and clinical outcomes among the stroke high-risk group
Keywords:
empowerment, health literacy, stroke prevention behavior, stroke risk group
Abstract
     The purpose of the experimental study was to examine the effect of the Enhancing Empowerment and Health Literacy Development Program. The participants consisted of 84 patients with a high stroke risk who were randomly assigned to the experimental group and the control group, with 42 participants in each group. Participants in the experimental group received a Health Literacy Developing and Enhancing Empowerment Program, while those in the control group received routine medical care. Health literacy and stroke prevention behavior questionnaires were used as research instruments. Data were analyzed using descriptive statistics, independent t-tests, and paired t-tests.
     The results revealed that after enrolling in the Enhancing Empowerment and Health literacy Developing Program, the experimental group had significantly lower systolic and diastolic blood pressure levels, lower body mass index, and lower waist circumference than before receiving the program and lower than the control group (p<0.001). The Health literacy, and stroke prevention behaviors scores of the experimental group after receiving the program were significantly higher than before receiving the program and higher than the control group (p<.001).
     Conclusion and recommendation: According to the findings, the Health Literacy Developing and Enhancing Empowerment Program among Stroke High-Risk Groups yielded desired clinical outcomes. Therefore, nurses and healthcare professionals can apply this program to those in the stroke risk group and encourage risk groups to have appropriate self-management behaviors. in order to reduce the risk of further complications.
Downloads
Download data is not yet available.
References
Lindsay MP, Norrving B, Sacco RL, Brainin M, Hacke W, Martins S, Pandian J, Feigin V. World Stroke Organization (WSO): Global stroke fact sheet 2019. Int J Stroke. 2019 Oct;14(8):806-817. doi: 10.1177/174749 3019881353. PMID: 31658892.
The Policy and Strategy Section, Bureau of Non-Communicable Disease. 5-year national ncds prevention and control strategic and action plan (2017- 2021). 2017. Ministry of Public Health Nonthaburi. [ document on the Internet].2022. [ cited 2022 April 20] Available from: https://www.who.int/docs/default-source /thailand/ncds/national-ncd-prevention-and-control-plan-2017-2021-eng.pdf (in Thai)
Permata EN, Irawati D. The appropriate intervention to improve patient outcome among stroke patients: a literature review. Int J Nurs Stud. 2019;2(2):75-81.
United Nations. Sustainable development goals. [ homepage on the Internet].2022. [ cited 2022 April 20] Available from: https://www.un. org/ sustainabledevelopment/ sustainable-development-goals/.
Nutbeam D. The evolving concept of health literacy. Soc. Sci. Med. 2008; 67(12):2072-8.
Hosseinzadeh N, Ala A, Rahnemayan S, Sadeghi-Hokmabadi E, Milani AG, Asenjan MR, Vahdati SS. Demographic information and risk factors of stroke patients younger than 65 years old. Front. Med. 2022;6(1):e4-e4.
Hirunchunha S, Tubtheing W, Thongtumlueng M, Sureeluangkhajorn O, Balthip K. The empowerment of family and community participation model for health behavioral modification to prevent cerebrovascular disease among at risk group: a case study at Ban Phrao Sub-district, Pa Phayom District, Phatthalung Province. Songklanagarind J Nurs. 2021; 41(1):115-27. (in Thai).
Gibson, C. H.The process of empowerment in mothers chronically ill children. J Adv Nurs. 1995; 21(6): 1201-10.
Faculty of Medicine Ramathibodi Hospital, Mahidol University Cardiovascular and Metabolic Center Ramathibodi Hospital. Thai CV risk sore.2016. [ document on the Internet].2022. [ cited 2022 March 20] Available from: https://med.mahidol.ac.th/ cvmc/thaicv. (in Thai).
Hemrungrojn S, Tangwongchai S, Charoenboon T, Panasawat M, Supasitthumrong T, Chaipresertsud P, Maleevach P, Likitjaroen Y, Phanthumchinda K, Maes M. Use of the Montreal cognitive assessment Thai version to discriminate amnestic mild cognitive impairment from Alzheimer's disease and healthy controls: machine learning results. Dement Geriatr Cogn. 2021;50(2):183-94.
Sterne JAC, Savovic J, Page MJ, Elbers RG, Blencowe NS, Boutron I, et al. RoB 2: a revised tool for assessing risk of bias in randomised trials. BMJ.2019; 366: l4898.
Clark L, Fairhurst C, Torgerson DJ. Allocation concealment in randomized controlled trials: Are we getting better? BMJ.2016; 355:1–5.
Cohen J..Quantitative methods in psychology: a power primer. Psychol Bull.1992;112 (1): 155-9.
Dwan K, Li T, Altman D G, Elbourne D. CONSORT 2010 statement: extension to randomised crossover trials BMJ. 2019; 366: l4378.
Roma W, Thanasukan C, Thipmongkolkul M, Aimyung N, Nilaprijit N, Somnunklang M, et al. National health literacy survey project for Thai people aged 15 years and above A.D. 2017 (phase 1). Bangkok: Health Systems Research Institute. 2018. (in Thai).
Chen X, Zhao X, Xu F, Guo M, Yang Y, Zhong L, Weng X, Liu X. A systematic review and meta-analysis comparing FAST and BEFAST in acute Stroke patients. Front Neurol. 2022; 28(12):765069.
Slark J, Honey M, Elysabeth Tuty Arna Uly Tarihoran D. Educational strategies for secondary Stroke prevention: an integrative literature review. Am. J Health Educ.2021; 15(1): 1-12.
Walters R, Leslie SJ, Polson R, Cusack T, Gorely T. Establishing the efficacy of interventions to improve health literacy and health behaviours: a systematic review. BMC public health. 2020 ;20(1):1-7.
Edwards Jr DB. Shifting the perspective on community-based management of education: From systems theory to social capital and community empowerment. Int J Educ Dev. 2019; 64 (1):17-26.
Heine M, Lategan F, Erasmus M, Lombaard CM, Mc Carthy N, Olivier J, van Niekerk M, Hanekom S. Health education interventions to promote health literacy in adults with selected non‐communicable diseases living in low‐to‐middle income countries: A systematic review and meta‐analysis. J Eval Clin Pract. 2021;27(6):1417-28.
Thongsuk W, Tipwareerom W, Supametaporn P. Effects of empowerment program on health behaviors, body mass index and blood pressure levels in patients with uncontrolled hypertension. Nurs J. 2020;47(4):229-41.
Lambert CM, Olulana O, Bailey-Davis L, Abedi V, Zand R. "Lessons learned" preventing recurrent ischemic strokes through secondary prevention programs: a systematic review. J Clin Med. 2021;10(18):4209. https://doi.org/10.3390/jcm10184209
Friend ML, Sieloff CL. Empowerment in nursing literature: an update and look to the future. Nurs. Sci. Q. 2018; 31(4):355-61.
Melo P, Alves O. Community empowerment and community partnerships in nursing decision-making. Healthcare. 2019;7(2):76-83.
Pekonen A, Eloranta S, Stolt M, Virolainen P, Leino-Kilpi H. Measuring patient empowerment–a systematic review. Patient Educ. Couns. 2020;103(4):777-87.
Commodore-Mensah Y, Turkson-Ocran RA, Himmelfarb CR. Empowering nurses to lead efforts to reduce cardiovascular disease and stroke risk: tools for global impact. J Cardiovasc Nurs. 2019;34(5):357-60.
Grillo A, Salvi L, Coruzzi P, Salvi P, Parati G. Sodium intake and hypertension. Nutrients. 2019;11(9):1970.
Tomitani N, Kanegae H, Kario K. Self-monitoring of psychological stress-induced blood pressure in daily life using a wearable watch-type oscillometric device in working individuals with hypertension. Hypertens Res. 2022;7(45):1531-1537.
Shi L, Zhang D, Wang L, Zhuang J, Cook R, Chen L. Meditation and blood pressure: a meta-analysis of randomized clinical trials. J. hypertens. 2017; 35(4):696-706.
Hayes P, Ferrara A, Keating A, McKnight K, O'Regan A. Physical activity and hypertension. Rev Cardiovasc Med. 2022;23(9):302.
Holwerda SW, Luehrs RE, DuBose L, Collins MT, Wooldridge NA, Stroud AK, et al. Elevated muscle sympathetic nerve activity contributes to central artery stiffness in young and middle-age/older adults. Hypertens. 2019;73(5):1025-35.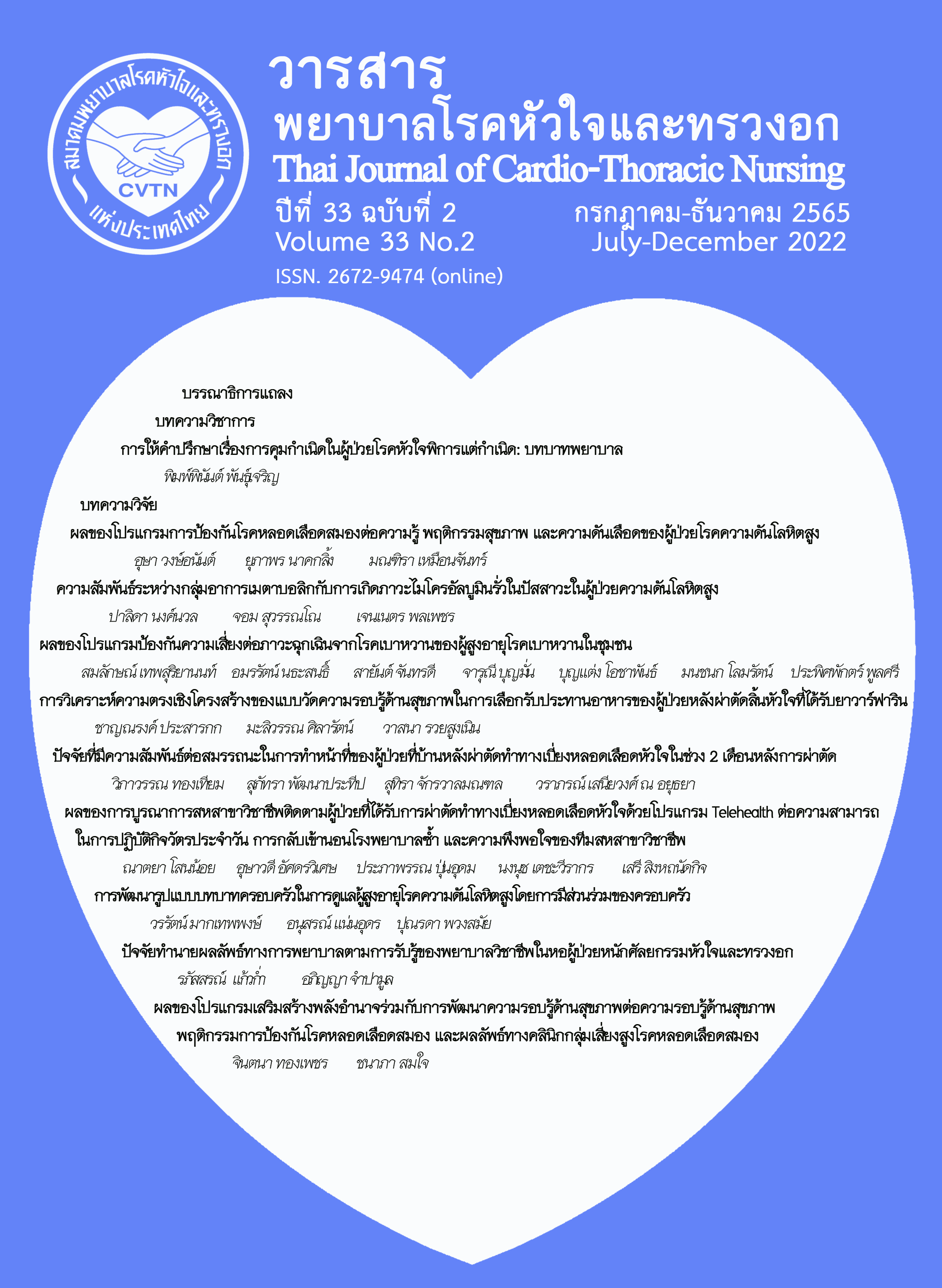 Downloads
Section
Research Articles
License
Copyright (c) 2023 Thai Journal of Cardio-Thoracic Nursing
This work is licensed under a Creative Commons Attribution-NonCommercial-NoDerivatives 4.0 International License.
บทความนี้ยังไม่เคยตีพิมพ์หรืออยู่ในระหว่างส่งไปตีพิมพ์ในวารสารอื่นๆ มาก่อน และกองบรรณาธิการขอสงวนสิทธิ์ในการตรวจทาน และแก้ไขต้นฉบับตามเกณฑ์ของวารสาร ในกรณีที่เรื่องของท่านได้ได้รับการตีพิมพ์ในวารสารฉบับนี้ถือว่าเป็น ลิขสิทธิ์ของวารสารพยาบาลโรคหัวใจและทรวงอก