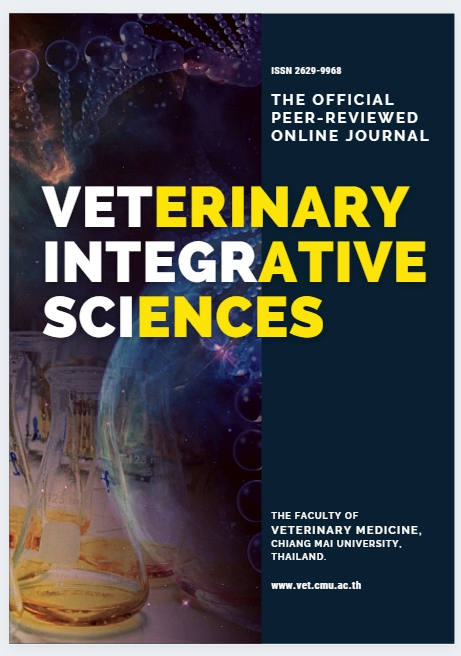 "Veterinary Integrative Sciences" (Vet. Integr. Sci.) is an open access journal indexed in Scopus. This journal is the official peer-reviewed online journal of the Faculty of Veterinary Medicine, Chiang Mai University, Thailand. The aim of the journal is to facilitate the publication of a wide range of high quality academic journals with an integration of various areas of animal and veterinary sciences including;
Animal sciences (Animal production, Animal biotechnology, Animal husbandry, Livestock industry)
Biology of animals (Biology, Ecology, Nutrition and Genetics)
Structure and function of animals (Biochemistry, Physiology, Anatomy and Histology)
Pathogen and pathology in animal disease (Microbiology, Immunology, and Pathology)
Veterinary medicine (Internal Medicine, Surgery, Obstetrics, Pharmacology and Epidemiology)
Veterinary Integrated Sciences is an open access journal committed to ensuring that all submitted manuscripts are representative of ethical, transparent and peer-reviewed research work. Articles that are published in our journal are double-blind, peer-reviewed by at least two experts. Notably, the opinions of each author may not be agreed upon by the editorial board.
2021-09-07
The last issue of this year, 2021 was released, total of 20 articles were published in this issue.
"Veterinary Integrative Sciences" (Vet Integr Sci) was established in 2003. For 15 years, we have published scientific journal articles under the name "Chiang Mai Veterinary Journal" before officially changing over to an electronic platform that was established in the year 2018. Our current an open access journal.
2003-2018 (volume 16, number 1) as the "Chiang Mai Veterinary Journal" (ISSN-print as 1685-9502 and ISSN-online as 2465-4604)
2018-present, the "Veterinary Integrative Sciences" (ISSN 2629-9968), beginning with volume 16, number 2 onward.
Thank you for your interest in Veterinary Integrative Sciences. Note that submission implies that the content has not been published or submitted for publication elsewhere except as a brief abstract in the proceedings of a scientific meeting at an educational symposium.
Once you have prepared your submission in accordance with the relevant guidelines, manuscripts should be submitted online at: " www.tci-thaijo.org/index.php/vis/about/submissions"
For help with submissions, please contact: cmuvetj@gmail.com
We look forward to receiving your submission.
-----------------------------------------------------------------------------------------------------------
Note;
Reviewed process; Double-blind peer review process
Language; English
Publication Frequency; Three issues per year as follows; 1st issue: January-April, 2nd issue: May-August, 3rd issue: September-December.
Publication fee; None