Analysis of Accidental Causes among Container Trucks, Forklifts and Heavy Equipment Drivers in A Logistics Industry, Suratthani Province
Keywords:
Accident, Container Trucks, Forklifts, Heavy Equipment, Fault Tree Analysis
Abstract
This study is a survey research. The aim of this study is to analyze the causes of accidents among 55 container drivers, forklifts, and heavy equipment by using questionnaires and fault tree analysis (FTA) as research instruments. Descriptive statistics were used to explain frequency and percentage of root causes of accident. The result found that 1 of 3 workers has had an accident and almost half of the workers have had a near miss experience. There were severe, minor injuries and property damage. The overall safety behaviors and knowledge on driving safety were very good but they still have some safety behavior and knowledge on safety related to the accident experience of workers such as observing the irregularities of the conditions or environment regularly and machinery with protective equipment which can remove the device due to inconvenience in working or obstructing work. The study revealed the causes of accident can be classified into 3 groups including 1) operation of workers, 2) condition of the container trucks, forklift, heavy equipment and 3) environment. Therefore, the company needs to maintain work accident prevention measures in order to prevent and to control the driving safety of workers. Promoting driving safety and stimulating workers to observe abnormal things/unsafe practices before, during and after work and using the machinery tools or cars safely were consistent and crucial to reduce accidents and impact on life and properties.
Downloads
Download data is not yet available.
References
1. The Office of Transport and Traffic Policy and Planning. (2018). Road accident situation analysis report of the Ministry of Transport 2018.Retrieved from: http://www.otp.go.th/uploads/tiny_uploads/PDF/2562-09/25620916Accident%20report2561%20_OTP.pdf
2. Siricharoonwong U. (2012). Fault Tree Analysis: Hazard Identification Techniques for Preventing Work Accidents. HCU Journal of Health Science. Vol. 15 No. 30 (2012): January - June 2019. (In Thai)
3. Nansaarng S.,et al. Factor affecting accidents from transfer goods of porter in port authority of Thailand. Proceedings of 47th Kasetsart University Annual Conference: Architecture and Engineering. 17-20 March 2009, Thailand.
4. Sonsong N. and Suttisong S., (2017). Factors Affecting Accidents of the Ground Equipment Service Employees at the Apron Area of Donmuang International Airport. EAU Heritage Journal Science and Technology. Vol. 11 No. 2 May-August 2017. (In Thai)
5. Onnongplong B., (2015). Factors Influencing Accident Among Vehicle in Forklift Operators Warehouse: A Case Study of Logistics Company Bangpa-in Industrial Estate, Phra Nakhon Si Ayutthaya Province. An exploratory study (Master degree). Thammasat university. (In Thai)
6. Sirijaroonwong U. and Boonruksa P. (2018). Causal Analysis of Over 3-Day Injury at Work Using Fault Tree Analysis: A Case Study of 17 Manufacturers in Samut Prakarn Province. Journal of Safety and Health : Vol. 1 No. 2 July - September 2007. (In Thai)
7. K. Landay et al. (2020). Relationships between personality facets and accident involvement among truck drivers. Journal of Research in Personality 84 (2020).
8. W.Hao et el. (2016). Driver injury severity study for truck involved accidents at highway-rail grade crossings in the United States. Transportation Research Part F 43 (2016).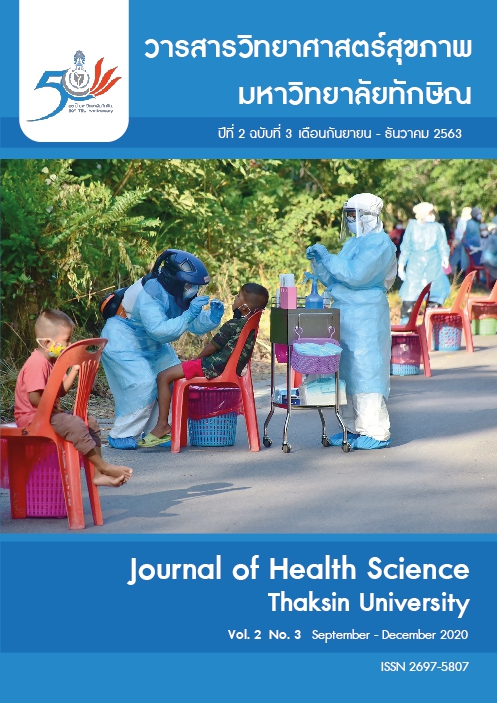 Downloads
How to Cite
1.
Thasai S, na Songkhla T, Inraksa S. Analysis of Accidental Causes among Container Trucks, Forklifts and Heavy Equipment Drivers in A Logistics Industry, Suratthani Province. Health Sci J Thai [Internet]. 2020 Dec. 22 [cited 2023 Dec. 5];2(3):48-60. Available from: https://he02.tci-thaijo.org/index.php/HSJT/article/view/240448
Section
Original articles