Research of Quality of Health Service Data Development in Pattani Province in 2018 - 2019
Keywords:
QQuality of medical records, Primary service unit
Abstract
This operation research aim to 1) to develop the quality of medical records of primary service. 2) to investigate the quality of medical records of primary service. This operational research is divided into 3 steps (1) Analyze the situation in outer patients' medical records of primary service (2) Operate the quality of medical records development (3) Evaluate the results of medical records. Collect data with a comprehensive evaluation form and the attitude of medical records. Record form of complete medical records by the checking standard of quality of medical records, and group discussion. Information sender is an officer in primary service unit and Amphoe public health officer that take responsibilities in medical records in 3 sample Amphoe, consisting of big Amphoe, medium Amphoe, and small Amphoe. Analyze data with descriptive statistics. The result of the study finds that the quality of medical records development that uses a collaborative process from collaborative planning, the operation of plans, observation and following, and reflection of the result of following, for collaborative adjustment, causing the increase in quality of medical records. The important factor is the good attitude for medical records and primary knowledge in the standard criteria of medical records, is the basic important factor. It needs to have support system using technology assistant to investigate and friendly follow with users, to reduce time span, causing basic self-following, and following system from external for regulating the quality by the specified standard. The quality of medical records after development finds that small Amphoe has medical records quality at 97.31 percent. Then, following by medium Amphoe at 90.10 percent, and big Amphoe at 85.56 percent.
Downloads
Download data is not yet available.
References
Ministry of Public Health, Indicators of the Ministry of Public Health. Fiscal Year 2017.[Internet] 2018 [Cited in 30 July 2018]. Available from: http://dmsic.moph.go.th/index/detail/6785.
Pattani Provincial Public Health Office. Public Health Strategy Development Group Information work. Quality of medical records. Pattani; 2018.
Kitpreedaborisuth, B. Research Methodology in Social Sciences (the 7th edition) Bangkok; Charoen Phon Printing House Co. Ltd.; 1997.
Srisa-ard, B. Preliminary research. Bangkok; Suweriyasas Co. Ltd.; 2002
Danile,W. A foundation of analysis in the health science (the 6th edition) Singapore: John with & Sons: 1995.
Kuder, Frederic G. and M.W. Richardson. The Theory of the Estimation of Test Reliability. Psychometrika: 1937.
Conbach, L. (1984). Essential of Psychology and Education. New York: Mc–Graw Hill: 1984.
William, D. Quality management cycle (PDCA: Deming Cycle). [Internet] 2018 [Cited in 3 June 2018]. Available from; http://adisony.blogspot.com/2012/10/edward-deming.html.
Mongkolkasem, S. Behavior of information exposure, knowledge, attitude and behavior. The driver of the car seat belt in Bangkok. [dissertation]. Bangkok: Chulalongkorn University: 1996.
Puttaraksa, K. Effect of Knowledge Management Program on the Competency of the Multidisciplinary Team for Patient Medical Record in Muak Lek Hospital. Saraburi Province. [dissertation]. Mahasarakham: Mahasarakham University: 2010.
Kotamee, U. Development of records of a multidisciplinary team Chai Wan Hospital, Chai Wan District, Udon Thani Province. Journal of Public Health, Burapha University 2017; 12 (2): 1-12. (In Thai)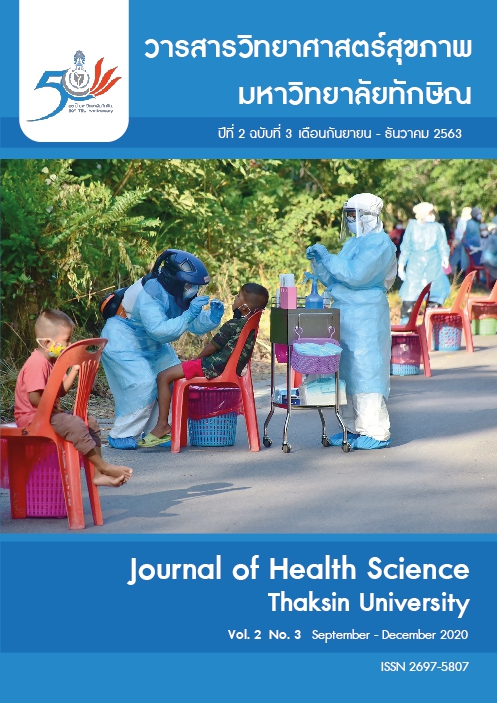 Downloads
How to Cite
1.
Hongampai P, Domang R, Numuang S. Research of Quality of Health Service Data Development in Pattani Province in 2018 - 2019. Health Sci J Thai [Internet]. 2020 Dec. 22 [cited 2023 Dec. 1];2(3):61-72. Available from: https://he02.tci-thaijo.org/index.php/HSJT/article/view/246615
Section
Original articles