Development of Health Literacy of the Elderly at Khamkrang Sub-district, Detudom District, Ubon Ratchathani Province
Keywords:
Health literacy, elderly people
Abstract
The purpose of this action research was to enhance the health literacy of the elderly in Khamkhrang Sub-District, Detudom District, Ubon Ratchathani Province. There were 795 participants participated in this study. The data were collected using interviews between June and August 2020. The data were analyzed using descriptive statistics and paired t-test to compare the mean of health literacy before and after conducting research. The result found that the level of adequate health literacy increased from 11.4% to 22.8%. The health literacy among elderly people increased in all aspects; cognitive (95% CI = 1.21-1.27), information access (95% CI = 0.99-1.00), communication (95% CI = 1.21-1.27), decision-making (95% CI = 1.17-1.23), self-management (95% CI = 1.31-1.33) and media literacy (95% CI = 1.13-1.23). It was statistically significant (p-value <0.001). The processes of this study consisted of varieties of activities which was consistent to the community contexts, in addition, the performance of setting goals, giving a praise and reward assists elderly people to increase theirs knowledge and skills.
Downloads
Download data is not yet available.
References
Department of Older Persons. Statistics of the elderly in Thailand.Bangkok:Ministry of Development Social and human security; 2019. [Internet] [Cited in 22 April, 2020. Available from:] http://www.dop.go.th/th/know/side/1/1/275.
Sookpool, A., Kingma, C.,Pangsuk, P.,Yeanyoun, T.,Wongmun. W. The effect of Health Literacy and health behavior development program of working people. Journal of Health Science. 2019; 29(3): 419-429. (In Thai)
World Health Organization. Ageing and health 2020 [Internet].2018 [Cited in 22 April, 2020. Available from: https://www.who.int/news-room/fact-sheets/detail/ageing-and-health.
Health Education Division. Enhancing and Assessment of Knowledge of Health and Health Behavior. [Internet]. Bangkok: Department of Health Service Support Ministry of Health; 2018 [Cited In 25 June 2020]. Available from: http://www.hed.go.th/linkhed/file/575.
Berkman, N.D., Davis, T.C. McCormack, L. Health Literacy: What Is It? Journal of Health Communication. 2010: 15: 9-19.
Kaeowdamkoeng, K., Thammakul, D. Health literacy promoting in aging population. Journal of Health Science Research.2018; 9(2): 1-8. (In Thai)
Kongsaenkham, W., Chumphan, A. Health Literacy of Elderly in Kham Pom Sub-district, Khemarat District, Ubon Ratchathani Province. Public Health Research. College of Medicine and Public Health. 2020 (In Thai)
Meebunmak, Y., Intana, J., Kijnopakieat, K., Khamthana, P., Rungnoei N. Health Literacy among Older Adults in a Semi-Urban Community in Ratchaburi Province. The Southern College Network Journal of Nursing and Public Health.2019. 6(special issue). 129-141.
Singhasem, P., Krinara, P., Tiparat, W., Sukkum, W . The Action Research for Enhancing Health Literacy among Elderly in Nongtrud Sub-district, Trang Province.Journal of Heath Science. 2020; 29(5): 790-802. (In Thai)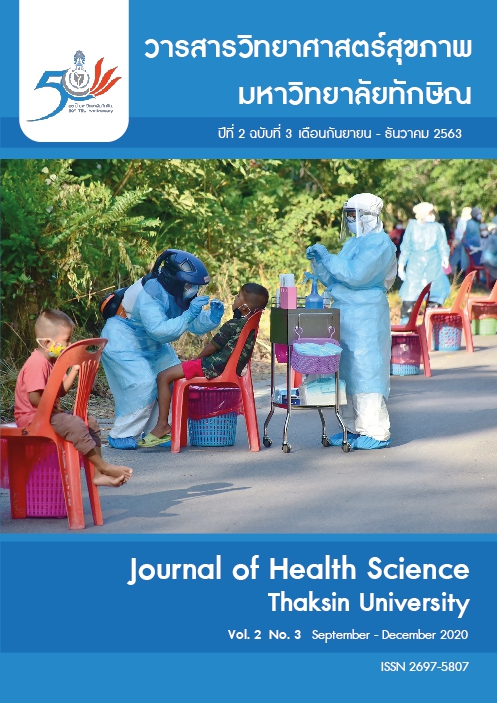 Downloads
How to Cite
1.
Chaiyanukool T. Development of Health Literacy of the Elderly at Khamkrang Sub-district, Detudom District, Ubon Ratchathani Province. Health Sci J Thai [Internet]. 2020 Dec. 22 [cited 2023 Dec. 9];2(3):73-9. Available from: https://he02.tci-thaijo.org/index.php/HSJT/article/view/247666
Section
Original articles