Patients' Warfarin Knowledge, Medication Adherence and Anticoagulation Control at Warfarin Clinic, Phatthalung Hospital
Keywords:
Warfarin knowledge, Medication adherence, Anticoagulation control, Warfarin
Abstract
This cross-sectional study aimed to (i) assess warfarin knowledge and medication adherence (ii) investigate the factors affected on warfarin knowledge, medication adherence and anticoagulation control and (iii) investigate the association between warfarin knowledge, medication adherence and anticoagulation control. The 159 patients who visited warfarin clinic and take warfarin were recruited into the study through simple random sampling. The 3 research instruments comprised of the questionnaire modified from oral anticoagulation knowledge test (OAK), medication adherence scale in Thais (MAST) and measurement of INR presented as the percent time in therapeutic range (%TTR). Result: of 159 patients interviewed, patients with the "passing" knowledge score were 34.59%, the medication adherence was rated at good level at 93.71% and good INR control at 59.75%. Patient's age, education and duration of warfarin used were statistically associated with warfarin knowledge (p<0.05). The total polypharmacy was statistically associated with anticoagulation control (p<0.05).
Downloads
Download data is not yet available.
References
Saokaew S, Permsuwan U, Chaiyakunpruk N, Nathisuwan S, Sukonthasarn A. Effectiveness
of pharmacist-participated warfarin therapy management: a systematic review and meta-analysis. J Thromb Haemost 2010; 8: 2418-2427.
Tang EO, Lai CS, Lee KK, Wong RS, Cheng G, Chan TY. Relationship between patients' warfarin knowledge and anticoagulation control . Ann Pharmacother 2003; 37(1): 34-39.
Loharattanakong P, Ritthiboon P, Hongrinya Y, Chaichun M, Taksinachanekij S, Uchaipichat V. Warfarin using knowledge and international normalized ratio goal control in outpatients of Queen Sirikit Heart Center of the northeast. Srinagarind Med J 2016; 31(3): 257-265. (In Thai)
Shrestha S, Sapkota B, Kumpakha A, Acharya U,Sharma R. Evaluation of patients' knowledge on warfarin in outpatient pharmacy of a tertiary care cardiac center. BMC Res Notes 2015; 8: 1-5.
Rahmani P, Guzman C, Kezouh A, Blostein M, Kahn SR. Association between patient knowledge of anticoagulation, INR control and warfarin-related adverse events. J Pharm Technol 2016; 32(4): 150-159.
Boonyapipat T, Wattanasombat S, Warfarin clinic management. Bangkok: O-Vit Co.Ltd.; 2015. (In Thai)
Zeolla MM, Brodeur MR, Dominelli A, Haines ST, Allie ND. Development and validation of an instrument to determine patient knowledge: the oral anticoagulation knowledge test. Ann Pharmcother 2006; 40(4): 633-638.
Jongwilaikasem K. Development of a measure for Medication Adherence Scale in Thais. [master thesis]. Songkhla: Prince of Songkha University; 2018.
Suphachamroon, A. Lerkiatbundit, S. Saengcharoen, W. Validity and reliability of the medication adherence scale in Thais (MAST): Testing in diabetes patients. Thai journal of Pharmacy Practice 2018; 10(2): 607-619. (In Thai)
Saengsuwan S, Tongbai S, Kangkan P, Apisakulroj S, Saramunee K, Phimarn W. Factors affecting INR level control and efficacy of Pill Boxes on medication adherence and INR level control in warfarin receiving patients. Thai journal of Pharmacy Practice 2020; 11(1): 50-60. (In Thai)
Ruangritchankul S. Polypharmacy in the elderly. Ramathibody Medication Journal 2018; 41(1): 95-104. (In Thai)
Li X, Sun S, Wang Q, Chen B, Zhao Z, Xu X. Assessment of patients'warfarin knowledge
and anticoagulation control at a joint physician and pharmacist managed clinic in China. Patient Prefer Adherence 2018; 12: 783-791.
Matalqah LM, Radaideh KM, Sulaiman SAS, Hassali MA, Kader MASK. Relationship between
patients' warfarin knowledge and anticoagulation control: results of a validated tool in Malaysia. J Pharm Biomed Sci 2013; 30(30): 967-974.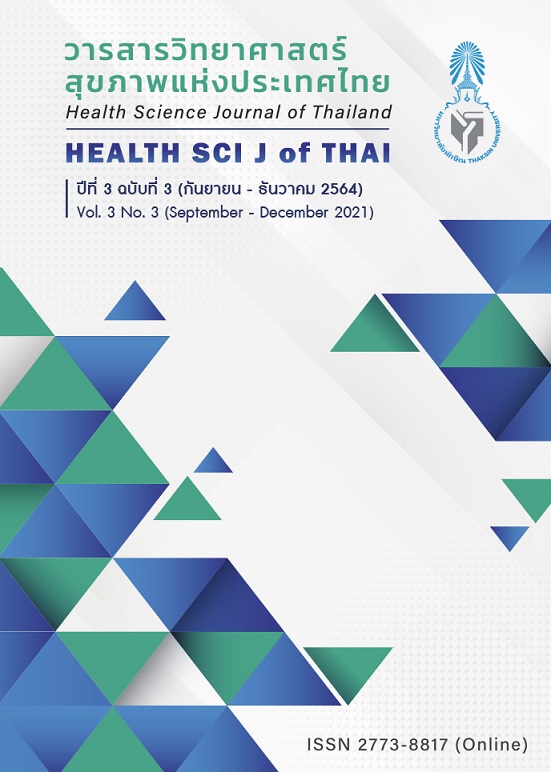 Downloads
How to Cite
1.
Khunphrom P. Patients' Warfarin Knowledge, Medication Adherence and Anticoagulation Control at Warfarin Clinic, Phatthalung Hospital. Health Sci J Thai [Internet]. 2021 Sep. 13 [cited 2023 Dec. 8];3(3):28-3. Available from: https://he02.tci-thaijo.org/index.php/HSJT/article/view/251014
Section
Original articles