Factors Related to the Risk of Falls among Elderly at Mae Tha district, Lampang Province
Keywords:
Fall, Elderly, Environment
Abstract
The purposes of this research were to study health literacy, living environment, and factors related to the risk of falls among the elderly at Ban Mae Tha Luang community, Mae Tha district, Lampang Province. Data were collected from a sample of 96 people. The fall prediction factors questionnaire was used, which consisted of personal information, health literacy of falls, living environment, and fall risk assessment to prevent of falls. Data were analyzed by frequency, percentage, and logistic regression analysis. The results showed that most of elderly were knowledgeable at a high level, 97.92 %, 63.54%, had a cautious living environment, and 81.25% were at risk of falling. The associated factors for fall were medication history (ORadj. = 6.19, 95% CI = 1.76-21.76), living environment (ORadj =4.48, 95%CI = 1.18-16.98), and activity participation (ORadj = 0.28, 95% CI = 0.08 - 0.98). Public health staff should have monitor for falls among the elderly, education on environmental management and encouraging for the elderly to frequently participate in health promotion activities.
Downloads
Download data is not yet available.
References
Pianmanakit S, Puttaruksa P, Sarika S, Kuptniratsaiku V. Balance ability of the community-based elders in Amphawa district. Thai J Phys Ther. 2017; 39(2): 52-62. (in Thai).
Phongphanngam S, Nawai A. Falls, Fear of falling, and activity avoidance due to fear of falling among Thai community-dwelling older adults living in suburban Chiang Mai Thailand. Journal of Health and Nursing Research. 2020; 36(1): 22-38. (in Thai).
Muangsiri K, Maharachpong N, Rodjarkpai Y. Factors relating the behavior of fall prevention among elderly in Chonburi province. Naresuan University Journal. 2017; (25)4: 23-33. (in Thai).
Sarapun A, Sirisopon N, Kainaka P, Onsiri S, Outayanik B, Threrawachjareanchai S. Factors related to a fall prevention behavior of elderly. Journal of The Royal Thai Army Nurses. 2017; 18: 215-222. (in Thai).
Boonpleng W, Sriwongwan W, Sattawatcharawani P. Rate and associated factors for falls among elderly people: Chaopraya waterfront community in Nonthaburi province. Nurs Sci J Thai. 2015; 33(3): 74-86. (in Thai).
Thiamwong L, Suwanno J. Risk factors related to balance impairment among rural community-dwelling older adults. Journal of The Police Nurses. 2014; 6(2): 55-69. (in Thai).
Rongmuang D, Nakchattri C, Tongdee J, Sombutboon J. Incidence and factors associated with fall among the community-dwelling elderly, Surat Thani. The Journal of Prapokklao Hospital Clinical Medical Education Center. 2016; 27(1): 123-138. (in Thai).
Jalayondeja C. Falls screening by timed up and go (TUG). Journal of Medical and Physical Therapy. 2014; 26(1): 5-16.
Lampang Public Health. Health Data Center [internet]. 2021 [cited 2022 Jan 7]. Available from: https://lpg.hdc.moph.go.th/hdc/main/index.php. (in Thai).
Krejcie RV, Morgan DW. Determining sample sizes for research activities. Education and Psychological Measurement. 1970; 30(3): 607-610.
Bloom BS. Mastery learning. UCLA–CSEIP Evaluation Comment. Los Angeles. 1968.
Sangwongcharoen C. The house is safe and not at risk to fall. (in Thai). Bangkok: Thammasat university; 2020.
Ministry of public health. Assess the severity of osteoarthritis. (in Thai). Nonthaburi: Department of Health; 2014.
Panel on Prevention of Falls in Older Persons, American Geriatrics Society and British Geriatrics Society. Summary of the updated American Geriatrics Society/British Geriatrics Society clinical practice guideline for prevention of falls in older persons. J Am Geriatr Soc. 2011; 59(1), 148-157.
Teranishi T, Kondo I, Sonoda S. Validity study of the standing test for imbalance and disequilibrium (SIDE): Is the amount of body sway in adopted postures consistent with item order. Gait & Posture. 2011; 34(3): 295-299.
Phelan E, Mahoney J, Voit J, Stevens, J. Assessment and management of fall risk in primary care settings. Med Clin North Am. 2015; 99(2): 281-293.
Tami R, Chaipibansarit P, Apiraknaphanon P. Relationship between the selected factors and inpatient fall in private hospital. The Journal of Prapokklao Hospital Clinical Medical Education Center. 2018; 20(1): 12-26. (in Thai).
Wongsawang N, Jeenkhowkhum D, Boonsiri C, Melarplont S, Somboonsit J, Khamthana P. Home environmental risks for falls and indecent of falls in older adults. Veridian E-Journal, Silpakorn University. 2017; 10(3): 2492-2506. (in Thai).
Noopud P, Phromn D, Woradet S, Chaimay B. Prevalence of fall risk and factors associated with fall risk among elderly people. J Sports Sci Technol. 2020; 21(1): 125-137. (in Thai).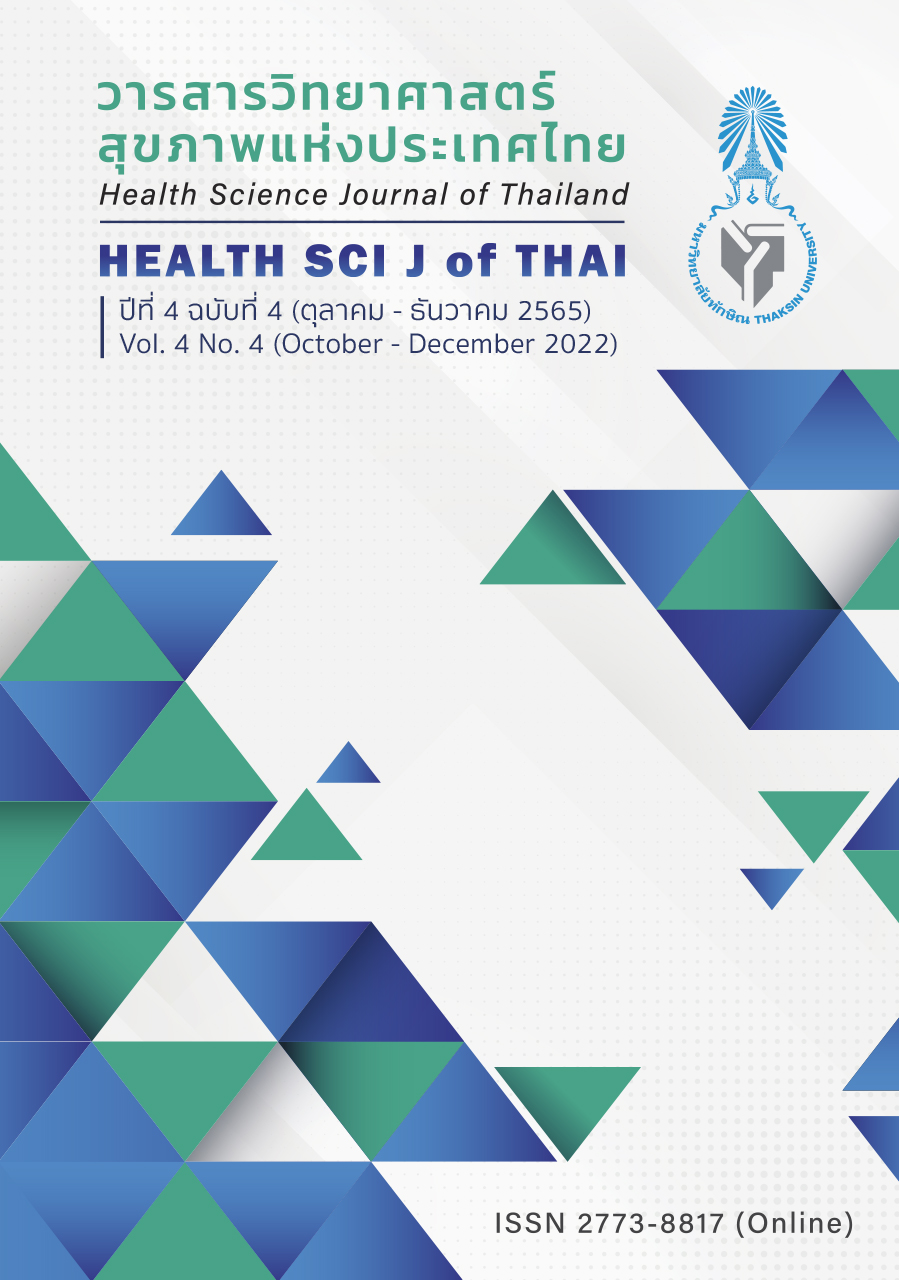 Downloads
How to Cite
1.
Mata C, Tachaiwong K, Moolsri L, Tatiya R, Supa W. Factors Related to the Risk of Falls among Elderly at Mae Tha district, Lampang Province. Health Sci J Thai [Internet]. 2022 Sep. 27 [cited 2023 Nov. 30];4(4):79-86. Available from: https://he02.tci-thaijo.org/index.php/HSJT/article/view/257407
Section
Original articles
License
Copyright (c) 2022 Health Science Journal of Thailand
This work is licensed under a Creative Commons Attribution-NonCommercial-NoDerivatives 4.0 International License.