Antioxidant Activities of Perennial Plant Extracts for Preventing Skin Infection of the Elderly, Pathum Thani Province
Keywords:
Antioxidant activity, Skin Infections, Elderly
Abstract
This research studied the antioxidant activity of perennial plant extracts for preventing skin infection in the elderly, Pathum Thani province. The purposes of this research were to study antioxidant activity from plant extracts, to develop products that are effective to prevent on skin infection in the elderly, to study irritation in volunteers, and to study the efficacy of the products from a perennial plant extract which is the quasi-experimental research model. In the research methodology, the leaves and pods of the Ratchaphruek tree were extracted substances from with 99% ethanol and antioxidant activity was analyzed by the DPPH method. Then, the extracts were used to develop products with good stability for studying irritation by the closed patch test method, the efficiency in increasing strength of protective barrier skin and increasing moisture of the skin. The results showed that Ratchaphruek extracts had an antioxidant activity with an IC50 value of 165.69 µg/ml. The researcher has developed a formula at various concentrations and testing for stability, it was found that all 4 formula were smooth opaque white, odorless, had viscosity, and the pH was stable both room temperature conditions and under accelerated conditions and both exposed to light and without exposure, from 30 volunteers aged 60 years and over. All 4 formulas haven't found irritation. When using the product for 4 weeks, all formulas are effective in increasing the strength of protective barrier.
Downloads
Download data is not yet available.
References
National Association Neonatal Nurses. Neonatal skin care: Guidelines for practice. Petaluma, CA: Author. (1997).
Wangtaweesup T. The truth of the product. Help the skin to slow down aging...that you Women should know. Chemical and biological analysis laboratories. Material Characterization Unit National Metal and Materials Technology Center(2016).January - March 2016.22-26. (in Thai)
Klongpittayapong P., Timmanee I., Jariksakulchai J., Sillaprasamee S. Safety Study and the effectiveness of product formulations that contain Rice bran oil containing 18,000 ppm gamma oryzanol. Academic Journal of Eastern Asia University Science and Technology.(2020) Issue, 14(2) 291-307. (in Thai)
Thadanukulwattana M. The development of anti-aging cosmetic products containing Ratchaphruek flower extracts. (2009). (in Thai)
Bahorun T., Bahorun T. Phytochemical constituents of Cassia fistula. AFRICAN JOURNAL OF BIOTECHNOLOGY (2006). 4(13):1530-1540
Sharma A., Kumar A., Jaitak V. Pharmacological and chemical potential of Cassia fistula L- a critical review. Journal of Herbal Medicine .(2020).Volume 26, April 2021, 100407
Dilip Kumar Sharma. Enumerations on phytochemical, pharmacological and ethnobotanical properties of Cassia fistula Linn: yellow shower. The Journal of Phytopharmacology 2017; 6(5): 300-306
Duraipandiyanab V., AlbertBaskarc A., Ignacimuthub S., Muthukumara C, NAAl-Harbi.Anticancer activity of Rhein isolated from Cassia fistula L. flower. Asian Pacific Journal of Tropical Disease. Volume 2, Supplement 1, 2012, Pages S517-S523
Luximon-Ramma A., Bahorun T., Mohammed A. and Okezie I. Antioxidant Activities of Phenolic, Proanthocyanidin, and Flavonoid Components in Extracts of Cassia fistula. J. Agric. Food Chem. (2002). 5042–5047.
Aramaki J.,Kawana, S., Effendy I., Happle R., & LÖffler, H. Differences of skin irritation between Japanese and European women. British Journal of Dermatology, (2002) 146(6), 1052-1056. Available from: https://doi.org/10.1046/j.1365-2133.2002.04509.
Cosmetic Toiletry, and Fragrance Association (CTFA) (currently known as PCPC) Safety Evaluation Guidelines, 2007.
Hetrakul T. Evaluation of the irritation potentials of 4 topical products using occlusive patch test method (References of products Ellgy H2O extra gentle cleanser, Ezerra cream, Ezeshield cream, Ezetect cream) Hoe Pharmaceuticals. (2007). SDN Confidential study report Ref D06-6Q02-HE-MI07. Malaysia: Hoe Pharmaceuticals Sdn., Bhd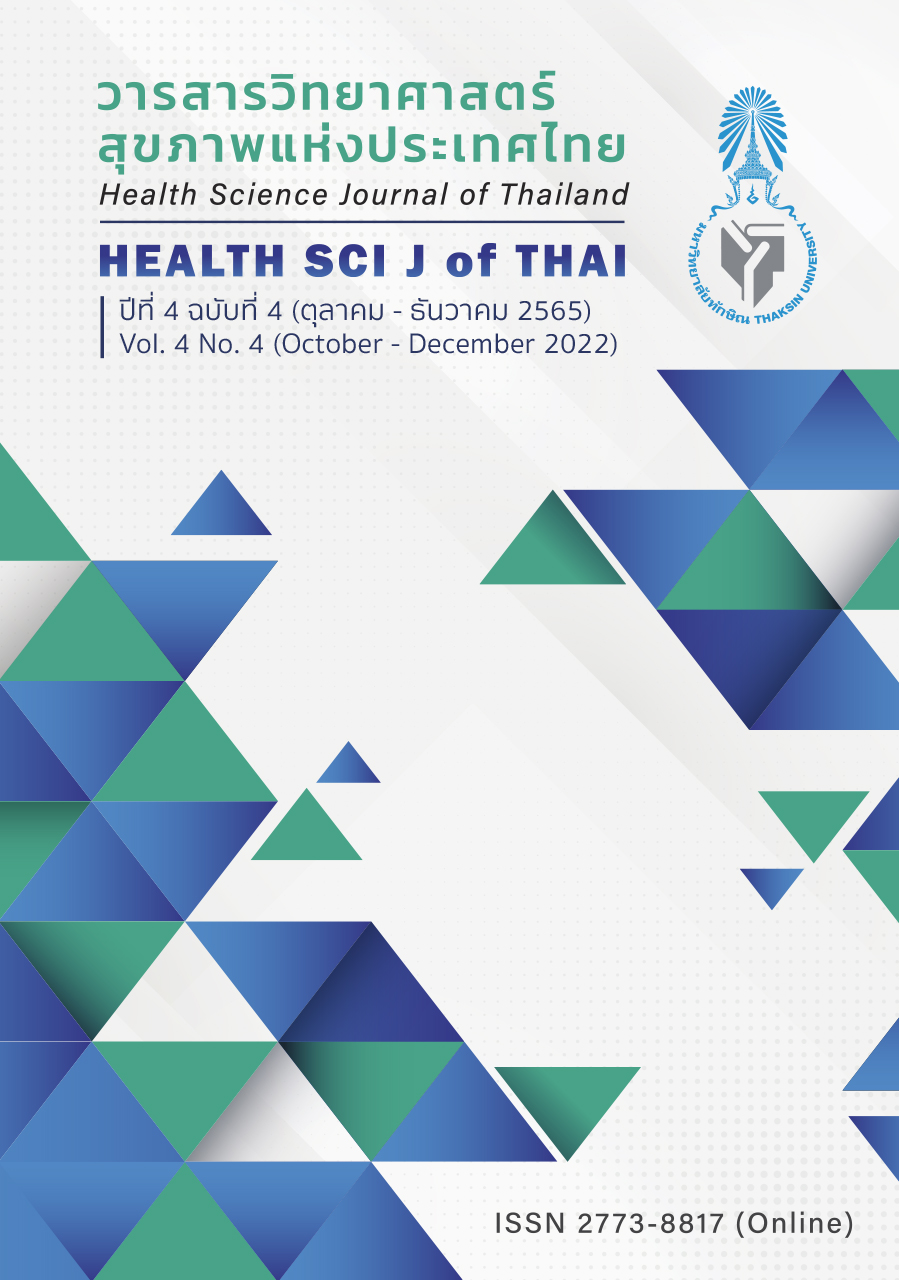 Downloads
How to Cite
1.
Jaricksakulchai J, Silaparassamee R. Antioxidant Activities of Perennial Plant Extracts for Preventing Skin Infection of the Elderly, Pathum Thani Province. Health Sci J Thai [Internet]. 2022 Sep. 30 [cited 2023 Dec. 5];4(4):72-8. Available from: https://he02.tci-thaijo.org/index.php/HSJT/article/view/257789
Section
Original articles
License
Copyright (c) 2022 Health Science Journal of Thailand
This work is licensed under a Creative Commons Attribution-NonCommercial-NoDerivatives 4.0 International License.