Antioxidant and Anti-inflammatory Activities of Arundina graminifolia Leaf Extract
Keywords:
Anti-inflammatory, Antioxidant, Arundina graminifolia, Free radicals
Abstract
Arundina graminifolia (D.Don) Hochr. has been used as a traditional medicine for detoxification, anti-arthritis, and antidote for many years. This study aimed to determine the biological property of Arundina graminifolia leaf extract (ALE) for antioxidant and anti-inflammatory activities. Arundina graminifolia leaves were extracted with 70% ethanol, and antioxidant activity was evaluated by DPPH and ABTS assay. The iron-binding capacity of ALE was measured by spectrophotometric technique. Lipid peroxidation assay was determined using the thiocyanate method. Moreover, the production of TNF-α and IL-6 was measured by an ELISA kit. Our results showed that ALE containing total phenolic and flavonoid contents exhibited antioxidant activity by scavenging free radicals. The IC50 values of ALE by DPPH and ABTS radical scavenging assay were 155.17±3.61 and 13.82±0.38 µg/mL, respectively. Furthermore, ALE could inhibit free radical production via the Fenton reaction by complex formation with Fe3+-NTA. The scavenging activity of ALE in hemoglobin-induced lipid peroxidation resulted in 42% inhibition. Besides, ALE significantly inhibited LPS-induced pro-inflammatory mediators, including the production of NO and IL-6. These findings suggest that ALE could be used as a functional food or pharmaceutical product containing antioxidant and anti-inflammatory activities and providing therapeutic potential for treating inflammatory diseases.
Downloads
Download data is not yet available.
References
Hu QF, Zhou B, Huang JM, Gao XM, Shu LD, Yang GY, Che CT. Antiviral phenolic compounds from Arundina gramnifolia. J Nat Prod 2013; 76(2): 292-296.
Bimal D, Dipan S, Chiranjit P, Amal D. Arundina graminifolia (D.Don) Hochr (Orchidaceae)-a new addition to the Flora of Tripura. Asian J Plant Sci Res 2016; 6(3): 28-31.
Liu MF, Han Y, Xing DM, Shi Y, Xu LZ, Du LJ, Ding Y. A new stilbenoid from Arundina Graminifolia. J Asian Nat Prod Res 2004; 6(3): 229-232.
Yinke L, Liying Y, Lidang S, Yanqiong S, Qiufen H, Zhangyuan X. Flavonoid compounds from Arundina graminifolia. Asian J Chem 2013; 25(9): 4922-4924.
Yin-Ke L, Bin Z, Yan-Qing Y, Gang D, De-Yun N, Chun-Yang M, Xue-Mei G, Qiu-Fen H. Two new diphenylethylenes from Arundina graminifolia and their cytotoxicity. Bull Korean Chem Soc 2013; 34(11): 3257-3260.
Qingqing L, Huiting W, Fankai L, Rongji D, Deng LY, Fang L. Study on the structures and anti-hepatic fibrosis activity of stilbenoids from Arundina graminifolia (D. Don) Hochr. IOP Conference Series: Mater Sci Eng 2017; 274(2017): 1-7.
Pintha K, Tantipaiboonwong P, Yodkeeree S, Chaiwangyen W, Chumphukam O, Khantamat O, Khanaree C, Kangwan N, Thongchuai B, Suttajit M. Thai perilla (Perilla frutescens) leaf extract inhibits human breast cancer invasion and migration. Maejo Int J Sci Technol 2018; 12(02): 112-123.
Tipsuwan W, Chaiwangyen W. Preventive effects of polyphenol-rich perilla leaves on oxidative stress and haemolysis. ScienceAsia 2018; 44(2018): 162-169.
Intayoung P, Limtrakul P, Yodkeeree S. Anti-inflammatory activities of crebanine by inhibition of NF-kB and AP-1 activation through suppressing MAPKs and Akt signaling in LPS-induced RAW264.7 macrophages. Biol Pharm Bull 2016; 39(1): 54-61.
Sharone GE, Chithra DBS. Bioactivity of endemic orchids of western ghats; Pholidota pallid lindl and Arundina graminifolia (D. Don) Hochr. Plant Arch 2021; 21(1): 1214-1220.
Li C, Eom T, Jeong Y. Glycyrrhiza glabra L. extract inhibits LPS-induced inflammation in RAW macrophages. J Nutr Sci Vitaminol (Tokyo) 2015; 61(5): 375-381.
Pizzino G, Irrera N, Cucinotta MG, Mannino F, Arcoraci V, Squadrito F, Altavilla D, Bitto A. Oxidative stress: Harms and benefits for human health. Oxid Med Cell Longe 2017; 2017: 1-13.
Lobo V, Patil A, Phatak A, Chandra N. Free radicals, antioxidants and functional foods: Impact on human health. Phcog Rev 2010; 4(8): 118–126.
Pham-Huy LA, He H, Pham-Huy C. Free radicals, antioxidants in disease and health. Int J Biomed Sci 2008; 4(2): 89-96.
Baron CP, Andersen HJ. Myoglobin-induced lipid oxidation. A review. J Agric Food Chem 2002; 50(14): 3887-3897.
Duh PD, Tu YY, Yen GC. Antioxidant activity of water extract of Harng Jyur (Chrysanthemum morifolium Ramat). LWT - Food Sci Technol 1999; 32(5): 269-277.
Shampa C. Chapter two - Oxidative stress, inflammation, and disease. In: Owen C, editor. Oxidative Stress and Biomaterials. Ky, USA: Joe Hayton; 2016. p.35-58.
Sharma JN, Al-Omran A, Parvathy SS. Role of nitric oxide in inflammatory diseases. Inflammopharmacology 2007; 15(6): 252-259.
Toshio H. IL-6 in inflammation, autoimmunity and cancer. Int Immunol 2021; 33(3): 127-148.
Ikeda Y, Murakami A, Ohigashi H. Ursolic acid: an anti- and pro-inflammatory triterpenoid. Mol Nutr Food Res 2008; 52(1): 26-42.
do Nascimento PG, Lemos TL, Bizerra AM, Arriaga ÂM, Ferreira DA, Santiago GM, Braz-Filho R, Costa JG. Antibacterial and antioxidant activities of ursolic acid and derivatives. Molecules 2014; 19(1): 1317-1327.
Saide A, Lauritano C, Ianora A. Pheophorbide a: state of the art. Mar Drugs 2020; 18(5): 1-13.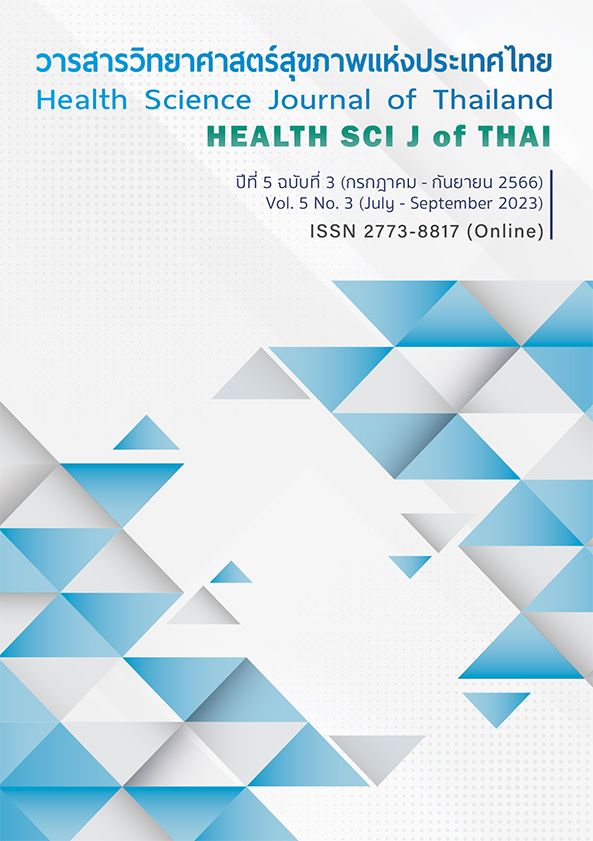 Downloads
How to Cite
1.
Punfa W, Khanaree C, Tantipaiboonwong P, Pangjit K, Nuntaboon P, Thippraphan P, Pintha K. Antioxidant and Anti-inflammatory Activities of Arundina graminifolia Leaf Extract. Health Sci J Thai [Internet]. 2023 Jun. 23 [cited 2023 Dec. 2];5(3):9-17. Available from: https://he02.tci-thaijo.org/index.php/HSJT/article/view/260122
Section
Original articles
License
Copyright (c) 2023 Health Science Journal of Thailand
This work is licensed under a Creative Commons Attribution-NonCommercial-NoDerivatives 4.0 International License.