Erratum to: Factors Related to Waste Management Behaviors in Households of People in Nakhon Ratchasima Province
Abstract
Erratum to: Health Science Journal of Thailand, 2023; 5(1); 72-80; https://doi.org/10.55164/hsjt.v5i1.257538
The purposes of this cross-sectional analytical research were to study factors related to waste management behaviors in households and analyzed the information about the of solid waste at Takhu Sub-District Pak Thong Chai District, Nakhon Ratchasima Province. Data were collected from 1,946 households from 21 villages. In addition, data were analyzed using descriptive statistics and multiple logistic regression. Results illustrated that 70.86% were male, the age more than 60 (41.52%). Most had primary school education 63.00% and the agricultural workers were 33.35%. the mean of amount solid waste per household was 1-2 kg/day most had good knowledge about waste management. Factors related to waste management behaviors found that households who received the Solid Waste Management Guidelines had more likely to manage their waste according to sanitation 1.48 times more than those who did not (AOR = 1.48; 95%CI: 1.14 to 1.56), the participation in waste management activities had more correct waste management than non-participants 1.92 times (AOR = 1.92; 95%CI: 1.62 to 2.09), knowledge of waste management in the household were 2.02 times (AOR = 2.02; 95%CI: 1.69 to 4.97). Thus, relevant agencies should support activities and knowledge continually for people.
Downloads
Download data is not yet available.
References
Namjaitrong N, Sungurgsa N. SOLID Waste Management behavior of community in krathumlom Subdistrict, Samphran District, NakhonPathom Province. NRRU Community Research Journal 2019; 13(2): 179-189.
Faijumpa A. Erawan District Public Health Officer, Loei Province. The Model Development of Participation Waste Management in JOMSI Sub District Administrative Organization, Chiangkhan District Loei Province. Journal of Council of Community Public Health 2020; 2(1): 1- 17. (In Thai)
Wuthimethee Y, Piromthong S. Management of solid waste problems in municipal communities Ayutthaya. Journal of Social Science Academic 2018; 8(2): 7-29. (In Thai)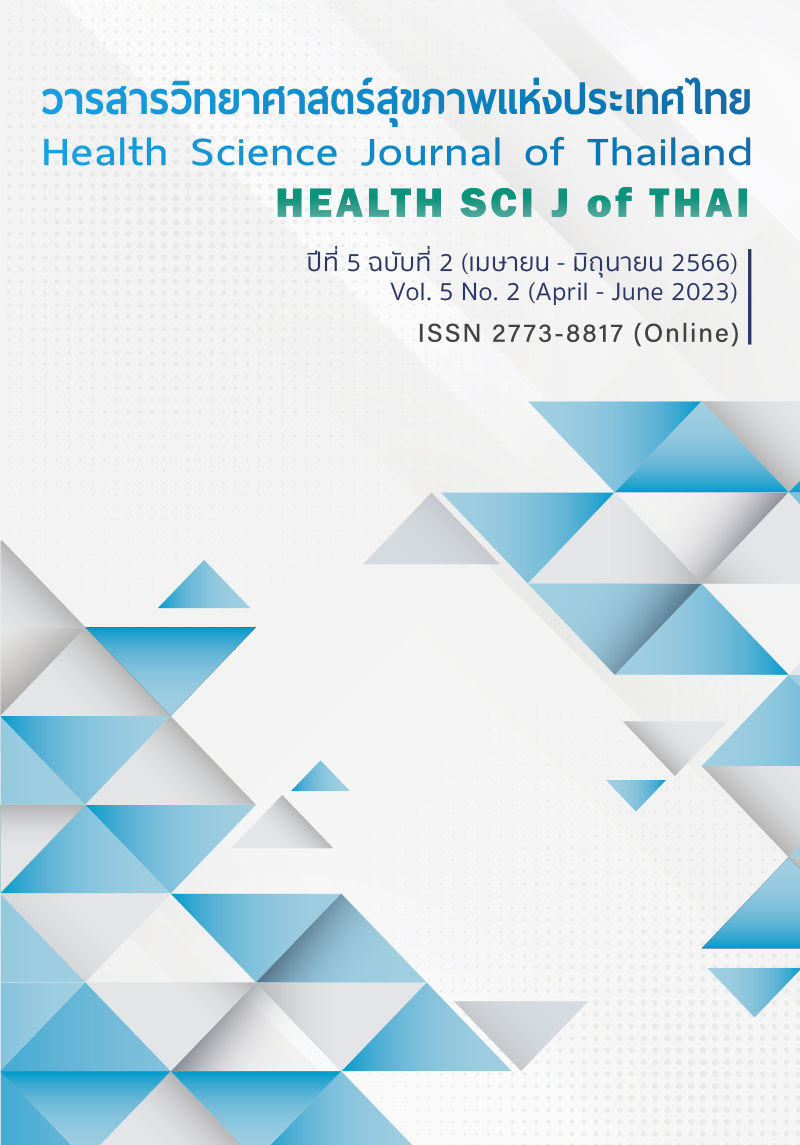 Downloads
How to Cite
1.
Rachutorn T, Srisuwan A, Ravadchai N, Srikuta P, Samphors S. Erratum to: Factors Related to Waste Management Behaviors in Households of People in Nakhon Ratchasima Province. Health Sci J Thai [Internet]. 2023 Mar. 2 [cited 2023 Nov. 30];5(2):85-7. Available from: https://he02.tci-thaijo.org/index.php/HSJT/article/view/261610
License
This work is licensed under a Creative Commons Attribution-NonCommercial-NoDerivatives 4.0 International License.