Concentration of Particulate Matter and Fungal Bioaerosols of the Economic Mushroom Farms
Keywords:
Air quality, Mushroom farms, Particulate matter, Fungi, Bioaerosol
Abstract
This cross-sectional study aimed to study the concentration of particulate matter and fungal bioaerosols of the Lingzhi, Oyster, Fossil, and Hungary mushroom farms, in Rayong province which are in 16 farms of The Eastern Economic Corridor (EEC). The particulate matter was determined by the Turnkey Dustmate monitor. Air samples were collected with NIOSH method 0800 BIOAEROSOL SAMPLING (indoor air). The result found that the average of PM10 within four mushroom-growing homes exceeded the Department of Health rule but did not surpass ACGIH or OSHA standards. The Hungary mushroom farms had the highest concentration of fungi 904.03 ±143.57 CFU/m3, followed by Lingzhi, Oyster and Fossil farms, respectively. Fungi concentrations in all the mushroom farms exceed the Department of Health's guidelines. These fungi were Aspergillus sp., Aspergillus niger, Fusarium sp., Penicillium sp. and Curvularia sp. They can cause respiratory tract infectious diseases in workers exposed to high amounts of airborne fungi or immunocompromised. These findings could be used as a guideline for improving and monitoring the quality of indoor air, particularly dust and fungi, to prevent or lessen the risk of sickness caused by workers' prolonged exposure to the air.
Downloads
Download data is not yet available.
References
Giulio MD, Grande R, Campli ED, Bartolomeo SD, Cellini L. Indoor air quality in university environments. Environmental Monitoring and Assessment 2010;170(1):509-17.
Joshi SM. The sick building syndrome. Indian J Occup Environ Med. 2008 Aug;12(2):61-4.
Mastuwach T, Dumrongwattana J, Khaenamkaew D, Dechochai U. Guidelines for promoting mushroom farming in communities. a case study of mushroom farm, police sergeant major Wichiankongjui, village no.9, Rommueang subdistrict, Muang district, Phatthalung province, Thailand. Journal of MCU Phetchaburi Review 2021;4 (2): 1-16 (In Thai)
Buadang P, Yenjai P. Chotigawin R. Prevalence of respiratory disorders of mushroom growers in Chiang Rai Province. Proceeding of the 6th Suan Sunandha Academic National Conference on Research for Sustainable Development; 2017 Jun 22-23; Suan Sunandha University, Bangkok, Thailand; 2017. p. 566-578. (In Thai)
Henprasertthae N, Lerssuwanrojana D, Jiraphongsa C, Ekarakrungruang N, et al. Investigation of Entomophthoromycosis and common health problem of mushroom farm workers, Ratchaburi province, August 2009. Week. Epidemiol. Surv. Rep. Ratchaburi Province.2011;42:74-80. (In Thai)
Udomporn JP. Insecticide application in mushroom farms: A survey study in Nongyaplong district, Phetchburi province Thailand. KMITL sci. Tech. 2015;15(2), 80-87. (In Thai)
Boontee K, Kruawongsa Y, Srisakamkullawat S. Evaluation of Bioaerosols Concentrations in Mushroom, Swine and Poultry Farms: Case of Workers in Warinchamrab, Ubon Ratchathani. Thai Science and Technology Journal. 2019;28(9), 1627-1641. (In Thai)
Tanaka H, Saikai T, Sugawara H, Tsunematsu, K., Takeya, I., Koba, H., et al. Three-year follow-up study of allergy in workers in a mushroom factory. Respir Med 2001;95:943–948.
Tanaka H, Sugawara H, Saikai T, Tsunematsu K, Takahashi H, Abe S. Mushroom worker's lung caused by spores of Hypsizigus marmoreus (Bunashimeji): elevated serum surfactant protein D levels. Chest. 2000;118(5):1506-9.
Hoy RF, Pretto JJ, Van Gelderen D, McDonald CF. Mushroom worker's lung: organic dust exposure in the spawning shed. Medical journal of Australia. 2007 May 7;186(9):472.
Tanaka H, Saikai T, Sugawara H, Takeya I, Tsunematsu K, Matsuura A, et al. Workplace-related chronic cough on a mushroom farm. Chest. 2002;122(3):1080-5.
Sugui JA, Kwon-Chung KJ, Juvvadi PR, Latgé JP, Steinbach WJ. Aspergillus fumigatus and related species. Cold Spring Harb Perspect Med. 2014 Nov 6;5(2):a019786.
van Diepeningen AD, Brankovics B, Iltes J, van der Lee TA, Waalwijk C. Diagnosis of Fusarium Infections: Approaches to Identification by the Clinical Mycology Laboratory. Curr Fungal Infect Rep. 2015;9(3):135-43.
Yoshikawa S, Tsushima K, Yasuo M, Fujimoto K, Kubo K, Kumagai T, et al. Hypersensitivity pneumonitis caused by Penicillium citrinum, not Enoki spores. Am J Ind Med. 2007;50(12): 1010-7.
Ampere A, Delhaes L, Soots J, Bart F, Wallaert B. Hypersensitivity pneumonitis induced by Shiitake mushroom spores. Med Mycol. 2012;50(6):654-7.
Tarigan, YG, Chen RY, Lin HC, Jung CY, Kallawicha K, Chang TP, et al. Fungal bioaerosol exposure and its effects on the health of mushroom and vegetable farm workers in Taiwan. Aerosol Air Qual. Res. 2017;17: 2064-2075.
Hayes JP, Rooney J. The prevalence of respiratory symptoms among mushroom workers in Ireland. Occup Med (Lond). 2014;64(7), 533-538.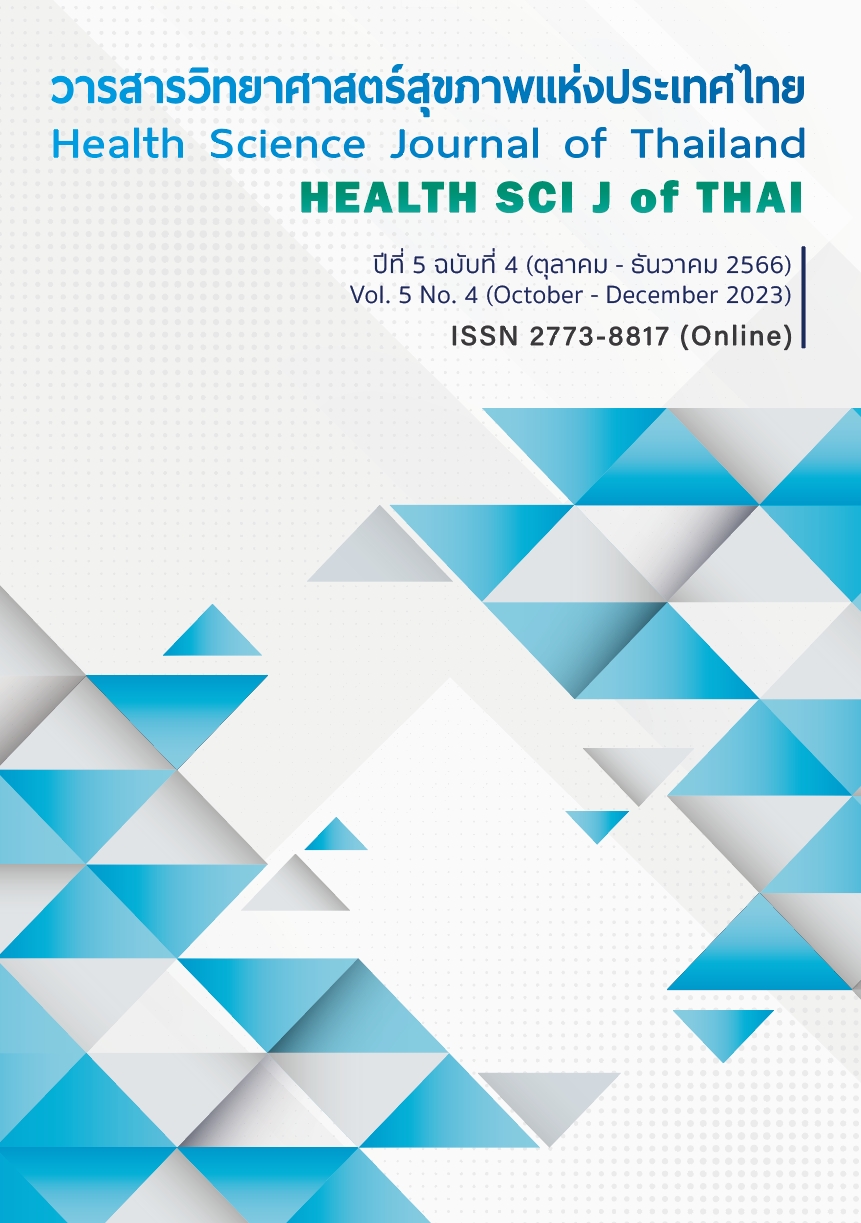 Downloads
How to Cite
1.
Chotigawin R, Asa P, Semangoen T. Concentration of Particulate Matter and Fungal Bioaerosols of the Economic Mushroom Farms. Health Sci J Thai [Internet]. 2023 Oct. 17 [cited 2023 Dec. 5];5(4):33-40. Available from: https://he02.tci-thaijo.org/index.php/HSJT/article/view/261911
Section
Original articles
License
Copyright (c) 2023 Health Science Journal of Thailand
This work is licensed under a Creative Commons Attribution-NonCommercial-NoDerivatives 4.0 International License.