Factors of Delayed Diagnosis of Oral Cancer in Rajavithi Supertertiary Care Hospital
Abstract
Objective : To identify the factors related delayed diagnosis of oral cancer in the Era of digital technology 2018.
Methods : Related information is collected by interview and statistical analyzed.
Results : Out of the 136 patients, 77 were males, 59 females. The median age was 60 years old (ranged 17-86). The average time of diagnosis after patient recognition was more than 5 weeks. 11% of oral cancer patients were diagnosed within 4 weeks. The delayed diagnosis was caused by the patients which were self-observed the symptoms before visiting the hospital (p<0.05; OR 4.7; 95% CI: 1.02-21.9) and those with 60 years of age or older (p<0.05; OR3.4; 95% CI: 1.02-11.31). In addition, delayed factors by physician were first time treatment by medication (p<0.01; OR 7.9; 95% CI: 2.65-23.88) and by observation (p<0.01; OR 6.0; 95% CI: 2.03-17.68).
Conclusion : While the data of cancer knowledge can be accessed by many varieties of digital technology and social media, the delayed diagnosis of oral cancer is still the problem of referred patients in Rajavithi Supertertiary Hospital. The delayed factors were self-observation, age, and lack of intervention by physician at early stage. To decrease the delay of diagnosis, early warning sign of oral cancer should be promoted for public awareness, particularly for older persons. Oral self-examination to detect oral cancer should be available to improve the efficiency of self-observation. It is also advisable that medical profession be recognize to early stage oral cancer lesion for early intervention.
Downloads
Download data is not yet available.
References
Robb K, Stubbings S, Ramirez A, Macleod U, Austoker J, Waller J, et al. Public awareness of cancer in Britain: a population-based survey of adults. Br J Cancer 2009; 101: 18-23.
Ministry of public health. Cancer in Thailand Vol. 8, 2010-2012.
Kerdpon D, Sriplung H. Factors related to advanced stage oral squamous cell carcinoma in southern Thailand. Oral Oncol 2001; 37: 216-21.
Onizawa K, Nishihara K, Yamagata K, Yusa H, Yanagawa T, Yoshida H. Factors associated with diagnostic delay of oral squamous cell carcinoma. Oral Oncol 2003; 39: 781-8.
Pitiphat W, Diehl SR, Laskaris G, Cartsos V, Douglass CW, Zavras AI. Factors associated with delay in the diagnosis of oral cancer. J Dent Res 2002; 81: 192-7.
Silverman S Jr. Early diagnosis of oral cancer. Cancer 1988; 62: 1796-9.
Guggenheimer J, Verbin RS, Johnson JT, Horkowitz CA, Myers EN. Factors delaying the diagnosis of oral and oropharyngeal carcinomas. Cancer 1989; 64: 932-5.
Scott SE, Grunfeld EA, Main J, McGurk M. Patient delay in oral cancer: a qualitative study of patients'experiences. Psychooncology 2006; 15: 474-85.
Hollowa P, McAndrew PG, Perini MG. Delays in the referral and treatment of oral squamous cell carcinoma. Br Dent J 2000; 188: 262-5.
Ghani WM, Doss JG, Jamaluddin M, Kamaruzaman D, Zain RB. Oral cancer awareness and its determinants among a selected Malasian population. Asian Pac J Cancer Prev 2013; 14: 1957-63.
Brouha XD, Tromp DM, Hordijk GJ, Winnubst JA, de Leeuw JR. Oral and pharyngeal cancer: analysis of patient delay at different tumor stages. Head Neck 2005; 27: 939-45.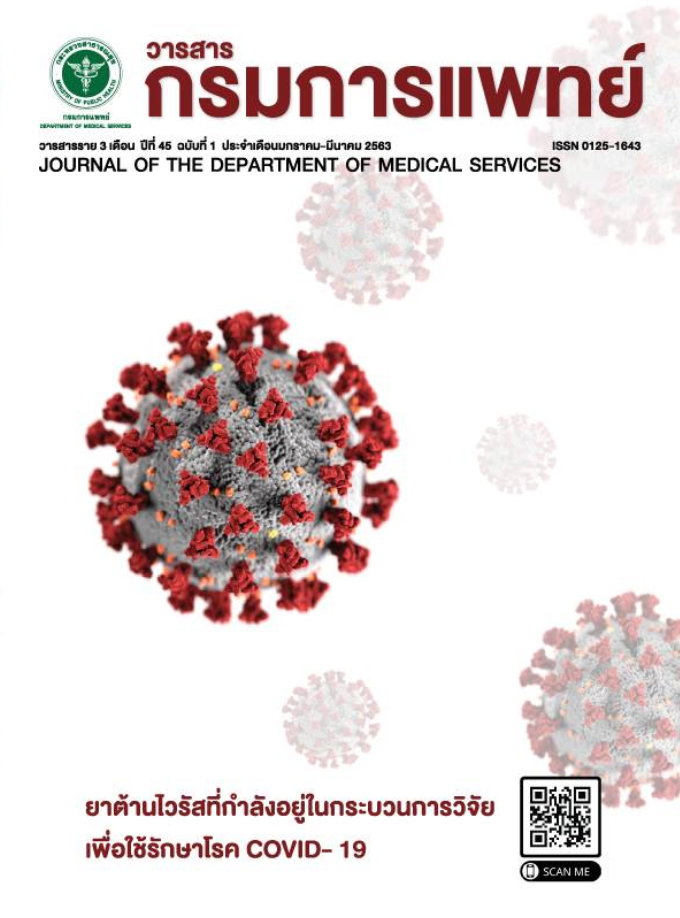 Downloads
How to Cite
1.
Likkasitipun T, Chindavijak S. Factors of Delayed Diagnosis of Oral Cancer in Rajavithi Supertertiary Care Hospital. j dept med ser [Internet]. 2020 Mar. 30 [cited 2022 Aug. 15];45(1):104-10. Available from: https://he02.tci-thaijo.org/index.php/JDMS/article/view/244769
License
บทความที่ได้รับการตีพิมพ์เป็นลิขสิทธิ์ของกรมการแพทย์ กระทรวงสาธารณสุข
ข้อความและข้อคิดเห็นต่างๆ เป็นของผู้เขียนบทความ ไม่ใช่ความเห็นของกองบรรณาธิการหรือของวารสารกรมการแพทย์