Re-operation to Stop Bleeding after Cardiac Surgery: Mortality, Source of Bleeding, Outcomes and Effects of Time to Delay Re-Operation
Keywords:
Re-operation, Bleeding, After cardiac surgery
Abstract
Background: Cardiac surgery is the operation that usually have a risk for post operative bleeding. If the patients do not get proper care may result in increasing morbidity and mortality. Previously the data about post operative bleeding in Central Chest Institute of Thailand was not established. This study may contributed in developing guideline for cardiac surgeons to decrease post operative bleeding.
Objective: The purpose of this study was to identify mortality, the source of bleeding and outcomes of re-operation for stop bleeding.
Method: This study was retrospective observational study of medical records of patients who had re-operation for stop bleeding after heart surgery in Central Chest Institute of Thailand. Between September 2015 to June 2019, 178 patients were included in study.
Result: The incidence of bleeding was at 5.6%. The most identified source of bleeding were sternum wire 19.5%, vein graft branch 14.5% and internal mammary artery branch 9.5% respectively. The mortality rate of re-operation for stop bleeding was 10.7%. Patients with higher EUROSCORE, in need of urgent or emergency surgery, prolonged time until re-operation were at a higher risk of mortality.
Conclusion: Delayed re-operation for stop bleeding resulted increasing mortality, bleeding statistically. This study showed the rate of mortality might be decreased if re-operation for stop bleeding was done within three hours after the criteria was met.
Downloads
Download data is not yet available.
References
Gwozdziewicz M, Olsak P, Lonsky V. Re-operation for bleeding in cardiac surgery: treatment strategy. Biomed Pap Med Fac Univ Palacky Olomomouc Czech Repub 2008; 152:159-62.
Unsworth-White MJ, Herriot A, Valencia O, Poloniecki J, Smith EE, Murday AJ, et al. Resternotomy for bleeding after cardiac operation: a marker for increased morbidity and mortality. Ann Thorac Surg 1995; 59:664-7.
Dacey LJ, Munoz JJ, Baribeau YR, Johnson ER, Lahey SJ, Leavitt BJ, et al. Reexploration for hemorrhage following coronary artery bypass grafting: incidence and risk factors. Northern New England Cardiovascular Disease Study Group. Arch Surg 1998; 133:442-7.
Karthik S, Grayson AD, McCarron EE, Pullan DM, Desmond MJ. Reexploration for bleeding after coronary artery bypass surgery: risk factors, outcomes and the effect of time delay. Ann Thorac Surg 2004;78:527-34.
Frojd V, Jeppsson A. Reexploration for bleeding and its association with mortality after cardiac surgery. Ann Thorac Surg 2016; 102:109-17.
Biancari F, Mikkola R, Heikkinen J, Lahtinen J, Kettunen U, Juvonen T, et al. Individual surgeon's impact on the risk of re-exploration for excessive bleeding after coronary artery bypass surgery. J Cardiothorac Vasc Anesthe 2012; 26:550-6.
Canadyova J, Zmeko D, Mokracek A. Re - exploration for bleeding or tamponade after cardiac operation. Interact Cardiovasc Thorac Surg 2012; 14:704-8.
Komoltri C. Sample size calculation .The Journal of Mental Health of Thailand 2012; 20:192-8.
Hall TS, Brevetti GR, Skoultchi AJ, Sines JC, Gregory P, Spotnitz AJ. Re-exploration for hemorrhage following open heart surgery differentiation on the causes of bleeding and the impact on patient outcomes. Ann Thorac Cardiovasc Surg 2001; 7:352-7.
Vivacqua A, Koch CG, Yousuf AM, Nowicki ER, Houghtaling PL, Blackstone EH, et al. Morbidity of bleeding after cardiac surgery: Is it blood tranfusion, reoperation for bleeding, or both? Ann Thorac Surg 2011; 91:1780-90.
Colson P, Gaudard P, Fellahi JL, Bertet H, FauAmaur J, et al. Active bleeding after cardiac surgery: A prospective observational multicenter study. PLoS one 2016; 11:1-14.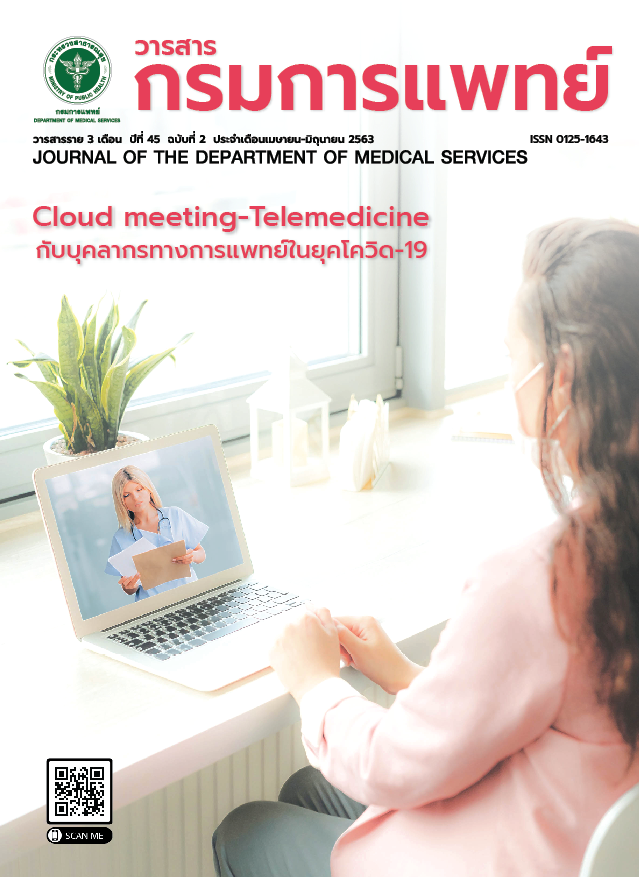 Downloads
How to Cite
1.
สุธน ณรงค์ชัยกุล. Re-operation to Stop Bleeding after Cardiac Surgery: Mortality, Source of Bleeding, Outcomes and Effects of Time to Delay Re-Operation. j dept med ser [Internet]. 2020 Sep. 1 [cited 2022 Aug. 14];45(2):56-65. Available from: https://he02.tci-thaijo.org/index.php/JDMS/article/view/245342
License
บทความที่ได้รับการตีพิมพ์เป็นลิขสิทธิ์ของกรมการแพทย์ กระทรวงสาธารณสุข
ข้อความและข้อคิดเห็นต่างๆ เป็นของผู้เขียนบทความ ไม่ใช่ความเห็นของกองบรรณาธิการหรือของวารสารกรมการแพทย์