Pain Reduction in Rigid Nasendoscopy between 1% Lidocaine with Oxymetazoline and 2% Lidocaine with Oxymetazoline: A Double-Blind Randomized Controlled Trial
Keywords:
Local anesthetics, Decongestant, Nasendoscopy, Pain
Abstract
Background: Low-dose lidocaine mixed with oxymetazoline can reduce pain during rigid nasendoscopy. However, the optimal dose of lidocaine is controversial.
Objective: This study aimed to investigate the effect of 1% lidocaine mixed with oxymetazoline and 2% lidocaine mixed with oxymetazoline on reducing pain in patients undergoing rigid nasendoscopy.
Method: This double-blind randomized controlled trial was conducted on patients undergoing rigid nasendoscopy between June to July 2019 at the Department of Otolaryngology, Burapha University Hospital. Nasal cavities were randomized to receive pledgets soaked with 1% lidocaine mixed with oxymetazoline or 2% lidocaine mixed with oxymetazoline. The visual analogue scale (VAS) was used to evaluate the discomfort caused by medication and nasal pain caused by endoscopy. The data were analyzed using descriptive statistics and Wilcoxon signed-rank test.
Result: The findings showed that there were 36 patients (27 female, 9 male) with an average age of 43.14 years. The discomfort was not statistically different between the 1% lidocaine group and the 2% lidocaine group (0.92 ± 1.51 and 1.00 ± 1.24 respectively, p = 0.70). The nasal pain was not statistically different between two groups (4.22 ± 2.32 and 3.97 ± 2.06 for the 1% lidocaine group and the 2% lidocaine group respectively, p = 0.31). No adverse drug reaction was identified in the study.
Conclusion: Preparing the patients prior to rigid nasendoscopy with oxymetazoline mixed with either 1% lidocaine or 2% lidocaine could be reasonable.
Downloads
Download data is not yet available.
References
Nankivell PC, Pothier DD. Nasal and instrument preparation prior to rigid and flexible nasendoscopy: a systematic review. J Laryngol Otol 2008;122:1024-8.
Saif AM, Farboud A, Delfosse E, Pope L, Adke M. Assessing the safety and efficacy of drugs used in preparing the nose for diagnostic and therapeutic procedures: a systematic review. Clin Otolaryngol 2016;41:546-63.
Thanaviratananich S, Jeungchotipat P, Suetrong S, Thanaviratananich S. The efficacy of %4 lidocaine with %3 ephedrine used on nasal packs or as a nasal spray for pain relief in nasal endoscopy. Asian Biomedicine 2011; 5:849-53.
El-Boghdadly K, Pawa A, Chin KJ. Local anesthetic systemic toxicity: current perspectives. Local Reg Anesth 2018; 11:35–44.
Mycek J, Harvey RA, Champe PC. Lippincott's illustrated review: pharmacology. 2nd ed. Philadelphia: Lippincott-Raven; 1997.
Walshe P, Rowley H, Hone S, Timon C. Co-phenylcaine as an alternative to Brompton's solution in rigid nasendoscopy: a pilot study. J Clin Pharm Ther 2002;27:185-7.
Douglas R, Hawke L, Wormald PJ. Topical anaesthesia before nasendoscopy: a randomized controlled trial of co-phenylcaine compared with lignocaine. Clin Otolaryngol 2006;31:33-5.
McCluney NA, Eng CY, Lee MS, McClymont LG. A comparison of xylometazoline (Otrivine) and phenylephrine/ lignocaine mixture (Cophenylcaine) for the purposes of rigid nasendoscopy: a prospective, double-blind, randomised trial. J Laryngol Otol 2009;123:626-30.
Sirirattanapan J. Comparison of using 2% lidocaine with adrenaline to 10% lidocaine with ephedrine in the nasoendoscopy. Srinakharinwirot University Journal of Science and Technology 2012;4:13-22.
Al-Qudah M. Efficacy of lidocaine with or without epinephrine in rigid nasal endoscopy. Am J Rhinol Allergy 2014; 22:520–2.
Todd KH, Funk KG, Funk JP, Bonacci R. Clinical significance of reported changes in pain severity. Ann Emerg Med 1996; 27:485–9.
Yang JJ, Li WY, Jil Q, Wang ZY, Sun J, Wang QP, et al. Local anesthesia for functional endoscopic sinus surgery emplying small volumes of epinephrine containing solutions of lidocaine produces profound hypotension. Acta Anaesth Scand 2005; 49:1471–6.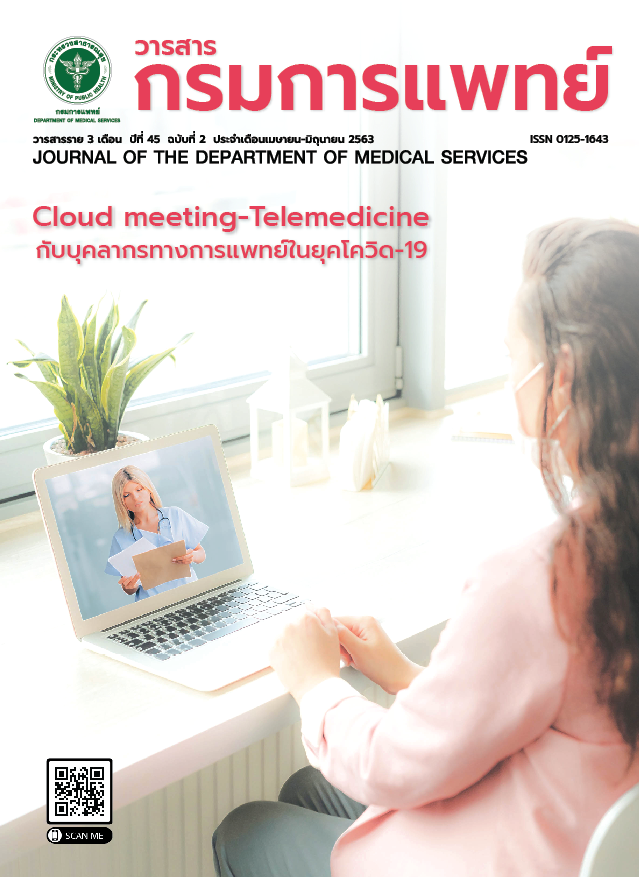 Downloads
How to Cite
1.
วิพรร ณัฐรังสี พ.บ., ธนวิทย์ อินทรารักษ์ พ.บ. Pain Reduction in Rigid Nasendoscopy between 1% Lidocaine with Oxymetazoline and 2% Lidocaine with Oxymetazoline: A Double-Blind Randomized Controlled Trial. j dept med ser [Internet]. 2020 Sep. 1 [cited 2022 Aug. 14];45(2):91-7. Available from: https://he02.tci-thaijo.org/index.php/JDMS/article/view/245500
License
บทความที่ได้รับการตีพิมพ์เป็นลิขสิทธิ์ของกรมการแพทย์ กระทรวงสาธารณสุข
ข้อความและข้อคิดเห็นต่างๆ เป็นของผู้เขียนบทความ ไม่ใช่ความเห็นของกองบรรณาธิการหรือของวารสารกรมการแพทย์