Safety Behaviors of Emergency Medical Responder Working in Chonburi
Keywords:
Safety behaviors, Emergency medical responder
Abstract
Background: The purpose of this cross – sectional descriptive research.
Objective: was to study the behavior and the predictive factors in working of Emergency Medical Responder in Chonburi.
Method: The participants were 315 emergency medical responder (EMR) to be selected by multi stage sampling method. The questionnaire was designed to collect data including personal factors, health belief factors, social instrumental support factors, and work behavior of volunteer rescuers. Descriptive Statistics were used to analyze data including frequency, percentage, mean, standard deviation, pearson product moment correlation coefficient, and multiple linear regression.
Result: The results showed work behavior of EMR occurred at high level and factors influencing work behavior of EMR were as follow: social instrumental support, social emotional support, health belief, perceived severity and perceived benefits which these factors could predict safety behavior at 27.7 percent by writing the following equation: Y = 79.430 + 1.099X11 + 0.429X10 + 0.582X8 + 0.389X7
X11 = Social instrumental support X10 = Emotional support X8 = Perceived benefits X7 = Perceived severity
Conclusion: Moreover, the results indicated that social instrumental support, encouragement from family and colleagues, promotion of perceived benefits, and perceived severity would increase the work safety of EMR.
Downloads
Download data is not yet available.
References
Yaisien S, Alvi T. World Health Organization. Prehospital trauma care system. Geneva:WHO. Does pervceived social support predict quality of life in Psychiatric patients. Asian Journal of Social Science and Humanities; 2013.
Witthaya C, Weerapan S, Anucha S, Thanapong J, Injury due to road accidents in Thailand . Current situation. Medical archives Medical Association of Thailand under the Royal Patronage; 2014.
Witthaya C. Principles of emergency medical service system development. Khonkaen: Khonkaen Hospital; 2008.
Data center of National Institute of Emergency Medicine. Emergency Medical Act 2008. Nontaburi: National Institute of Emergency Medicine 2008.
Holder Y, Peden M, Krug E, Gururaj G, Kobusingye O. Injury surveilance guidelines.Geneva: WHO; 2011.
Pansiri N. The results of the perception analysis of health beliefs and work safety behaviors of professional safety officers in industrial factories. The journal Faculty of Business Administration, Prince of Songkla University; 2015.
Holumyong J, Sirinan K, Maliwan K. Balance the life with doing More work than the time allocation of labor in the manufacturing industry. Institute for Population and Social Research Mahidol University. Faculty of Humanities and Social Sciences Khonkaen University; 2017.
Tetjativaddhana P. Potential development of personnel working in primary care units By using context as the second phase. Nakhon Sawan. Si Khwae. Naresuan University; 2012.
Samutharak K. The accident prevention behaviors of ceramic factory employees in Lampang province. Faculty of Industrial Technology. Lampang Rajabhat University; 2012.
Ministry of Public Health, Department of Policy and Strategies. Prevalence of death the number and ratio per 100000 classified by important causes between 2009-2013. (2015).Available from: http://bps.moph.go.th/content/. (in Thai)
The National Medical Service Committee. Plan and principles of medical services 2010-2012. Bangkok: Institute of Emergency Medical Service; 2010. (in Thai)
Ali M, Haidar N, Ali M, Maryam A. Determinants of seat belt use among drivers in Sabzevar, Iran: A comparison of theory of planned behavior and health belief model. Traffic Injury Prevention; 2011.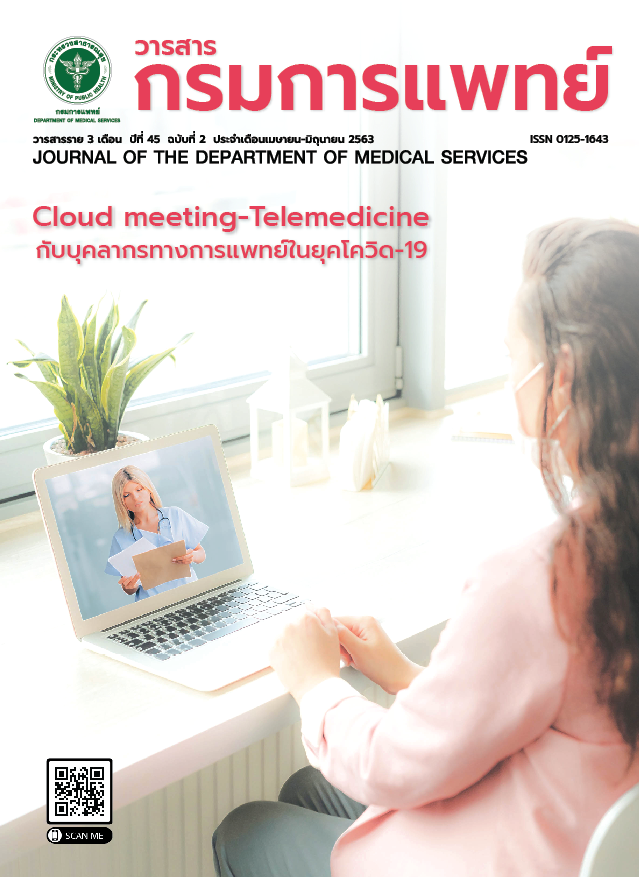 Downloads
How to Cite
1.
จิตอารีย์ จอดสันเทียะ วท.ม., นิภา มหารัชพงศ์ Ph.D, ยุวดี รอดจากภัย Dr.P.H. Safety Behaviors of Emergency Medical Responder Working in Chonburi. j dept med ser [Internet]. 2020 Sep. 1 [cited 2022 Aug. 14];45(2):120-6. Available from: https://he02.tci-thaijo.org/index.php/JDMS/article/view/245533
License
บทความที่ได้รับการตีพิมพ์เป็นลิขสิทธิ์ของกรมการแพทย์ กระทรวงสาธารณสุข
ข้อความและข้อคิดเห็นต่างๆ เป็นของผู้เขียนบทความ ไม่ใช่ความเห็นของกองบรรณาธิการหรือของวารสารกรมการแพทย์