Use of Tigecycline in Neonates with Extensively Drug Resistant Organisms Infections in Neonatal Units of Queen Sirikit National Institute of Child Health
Keywords:
Multidrug-resistant, Tigecycline, Neonate
Abstract
Background: Tigecycline is a broad spectrum antibiotic with restricted indications in paediatrics patients.
Its use in clinical practice is reserved for cases with challenging infections due to multi-drug resistant bacteria. Limited data is available to determine the treatment outcome in neonates.
Objective: To study the survival rate of antibiotic resistant newborn patients who were treated with tigecycline at Queen Sirikit National Institute of Child Health (QSNICH).
Method: A retrospective descriptive study was conducted by extracting data from medical records of patients admitted in neonatal units of QSNICH who were treated with tigecycline between 1st January, 2014 and 30th September, 2018.
Result: There were 4,362 neonatal admission during this period with 82 patients included in the study. The average gestational age was 30.13 ± 4.42 weeks. Three most common XDR pathogens identified were K. pneumoniae (54%), P. aeruginosa (24.1%) and A. baumannii (19.5%). Tigecycline was used most frequently for the treatment of pneumonia; 34 cases (41.46%) and septicemia 27 cases (32.93%). The survival rate was 86.58%. Comparison of mortality rate between two different doses (2 and 2.4 mg/ kg/ day) showed no statistical significant difference (p=0.44). Three cases of septic shock developed acute kidney injury, before starting tigecycline, died later.
Conclusion: Tigecycline can be used in neonates infected with extensive drug resistance organism. Safety of tigecycline use in neonates should be considered.
Downloads
Download data is not yet available.
References
World Health Organization: The evolving threat of antimicrobial resistance: Options for action. WHO, Geneva: 2012. ISBN: 9789241503181 Available online from:https://apps.who.int/iris/bitstream/handle/10665/44812/9789241503181_eng.pdf;jsessionid=D0F75FDC7AA6E8866A98C3D73473ACA9?sequence=1 citation date 30/11/2019.
World Health Organization. Global priority list of antibiotic resistant bacteria to guide research, discovery and development of new antibiotics. Geneva: WHO; 2017. Available online from: https://www.who.int/medicines/publications/ WHO-PPL-Short_Summary_25Feb-ET_NM_WHO.pdf?ua=1 citation date 30/11/2019.
Roberts T, Limmathurotsakul D, Turner P, Day NPJ, Vandepitte WP, Cooper BS. Antimicrobial-resistant Gram-negative colonization in infants from a neonatal intensive care unit in Thailand. J Hosp Infect 2019; 103: 151-5.
Ni W, Han Y, Liu J, Wei C, Zhao J, Cui J, et al. Tigecycline treatment for carbapenem-resistant Enterobacteriaceae infections: A systematic review and meta-analysis. Medicine 2016; 95: e31263.
Greer ND. Tigecycline (Tygacil): the first in the glycylcycline class of antibiotics. Proc (Bayl Univ Med Cent) 2006; 19: 155-61.
IBM SPSS version 16.0 for Windows (IBM Corp., Armonk, NY, USA)
World banks group. Global neonatal mortality rate. Available from: https://data.worldbank.org/indicator/SH.DTH.NMRT citation date 30/11/2019.
Thailand neonatal database. Cause of neonatal death in Thailand; neonatal database from 12-health regions.
Available from: https://cmi.chiangmaihealth.go.th/web/ index.php?r=site%2Findex&zone=&chwcode=&hospcode= &b_year=2562 citation date 30/11/2019.
Phumart P, Phodha T, Thamlikitkul V, Riewpaiboon A, Prakongsai P, Limwattananon S, Health and economic Impacts of antimicrobial resistant infections in Thailand: A preliminary study. JHSR 2012; 6: 352-60.
Song Y, Hu L, Shu Q, Ye J, Liang J, Chen X, Tan L. Tigecycline salvage therapy for critically ill children with multidrug-resistant/ extensively drug-resistant infections after surgery. Int J Infect Dis 2018; 75: 82-8.
Iosifidis E, Violaki A, Michalopoulou E, Volakli E, Diamanti E, Koliouskas D, et al. Use of Tigecycline in pediatric patients with infections predominantly due to extensively drug-resistant gram-negative bacteria. J Pediatric Infect Dis Soc 2017; 6: 123-8.
Zeng J, Zhang L, Gao M, Wu J, Wu H, Chen J, et al. Tigecycline treatment in an infant with extensively drug-resistant Acinetobacter baumannii bacteremia. Int J Infect Dis 2017; 61: 23-6.
Daikos GL, Tsaousi S, Tzouvelekis LS, Anyfantis I, Psichogiou M, Argyropoulou A, et al. Carbapenemase-producing Klebsiella pneumoniae bloodstream infections: lowering mortality by antibiotic combination schemes and the role of carbapenems. Antimicrob Agents Chemother 2014; 58: 2322-8.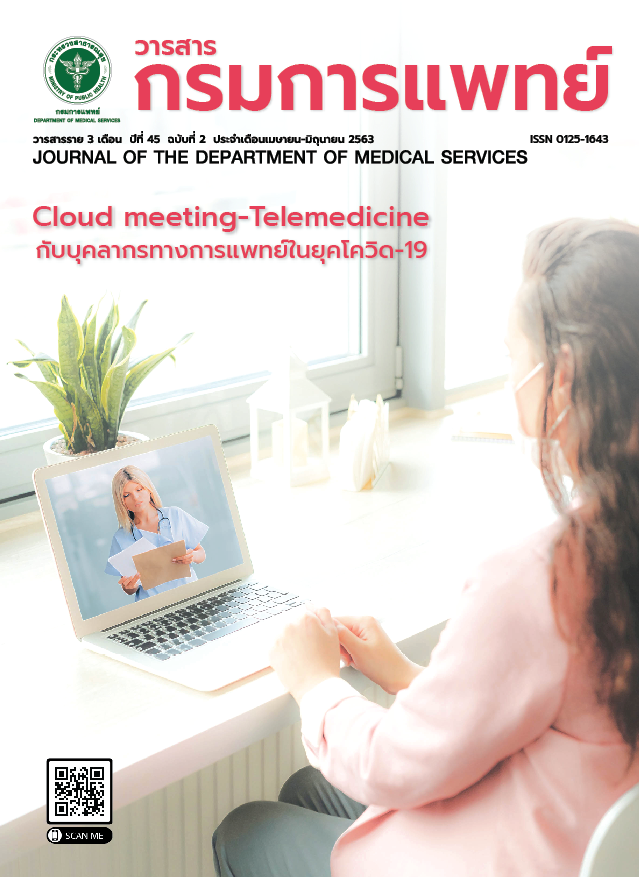 Downloads
How to Cite
1.
วิบูลย์ กาญจนพัฒนกุล พ.บ., อรอนงค์ นิลวลัยกุล พ.บ. Use of Tigecycline in Neonates with Extensively Drug Resistant Organisms Infections in Neonatal Units of Queen Sirikit National Institute of Child Health. j dept med ser [Internet]. 2020 Sep. 1 [cited 2022 Aug. 14];45(2):149-53. Available from: https://he02.tci-thaijo.org/index.php/JDMS/article/view/245545
License
บทความที่ได้รับการตีพิมพ์เป็นลิขสิทธิ์ของกรมการแพทย์ กระทรวงสาธารณสุข
ข้อความและข้อคิดเห็นต่างๆ เป็นของผู้เขียนบทความ ไม่ใช่ความเห็นของกองบรรณาธิการหรือของวารสารกรมการแพทย์