The Development of Nursing Service System for Primary Liver Cancer Patients Receiving Transarterial Chemoembolization (TACE) at National Cancer Institute
Keywords:
Nursing service system, Transarterial chemoembolization, Liver cancer
Abstract
Background: Transarterial Chemoembolization (TACE) is the current standard of care for patients with intermediate stage of hepatocellular carcinoma. The quality of nursing care makes a vital difference in patient outcomes and safety.
Objective: This research and development study aimed to develop a nursing service system for primary liver cancer patients receiving TACE at National Cancer Institute.
Method: The systemic concepts based on the Ludwing Von Bertalanffy to applied with case management. The study was conducted during July 2019 to March 2020, and was divided into 3 phases: situation analysis, care model development, and outcome evaluation. The sample consisted of 2 groups, including 81 registered nurses, along with 68 cancer patients who had TACE. Data was analyzed by using content analysis, frequency, percentage, means, standard deviation, and Paired t-test.
Result: The results showed that the nursing service system consisted of: 1) Nursing practice guideline for patients receiving TACE 2) Interventional radiology nurse team 3) Mentor nurse team 4) Multidisciplinary care team of intervention radiology. After the development of the nursing service system, the increase rate of new patients treated within 4 weeks was 94.12% and the average length of stay in hospitals decreased significantly (5.85 to 4.34 days; p < 0.001). More than 80% of patients with complications after receiving TACE were detected and reported to physicians by nurses. And nurses satisfied with the guideline was more than 80%.
Conclusion: A nursing service system for primary liver cancer patients receiving TACE improves in clinical and nursing outcomes.
Downloads
Download data is not yet available.
References
Information Technology Subdivision National Cancer Institute. Hospital based cancer registry annual report 2014. Bangkok: Pornsappress co.,Ltd; 2016.
Kitsawat N. Chemoembolization of Hepatocellular Carcinoma. [Internet] 2009. (cited 2017 Sep 27) Available from: URL; http://www.cccthai.org/l-th/ index. php/ 2009-06-13-08-51-38/2010-05-26-10-26-05/295--transarterialchemoembolization-tace-for-hepatocellular-carcinoma.html.
Chanwat R, Panchan W, Imsamran W, Rakxeiyd Arkom Chaiwerawattana S. Clinical Practice Guidelines for diagnosis, treatment and follow up. Bangkok: Kositpress co., Ltd; 2016.
Berkowitz R, Blank L, Powell S. Strategies to reduce hospitalizations in the management of heart failure.Lippincott's case management: managing the process of patient care. 2005;10(6 Suppl):S1-15.
Stetler CB. Updating the stetler model of research utilization to facilitate evidence-based practice. Nurs Outlook 2001; 49:272-9.
Abusedera MA, Araf, UA, Ali EM. Transcatheter administration of buffered Lidocain for pain relief due to transarterial chemoembolization for HCC. The Egyptian Journal of Radiology and Nuclear Medicine 2014; 45:403-8.
Ahmed S, De Souza NN, QiaoW, Kasai M., Keem LJ, Shelat, VG. Review article: Quality of life in hepatocellular carcinoma patients treated with transarterail chemoembolization. HPB surgery. [Internet] 2016. (cited 2017 May 26) Available from: URL; https://doi.org/10.1155/2016/6120143.
Xu L, Wang S, Zhuang L, Lin J, Chen H, Zhu X, et al. Jian Pi Li Qi decoction alleviated postembolization syndrome following transcatheter arterial chemoembolization for hepatocellular carcinoma: a randomized, double-blind, placebo-controlled trial. Integr Cancer Ther 2016; 15:349-57.
Blackburn H, West S. Management of postembolization syndrome following hepatic transarterial chemoembolization for primary or metastatic liver cancer. Cancer Nurs 2016;39: E1-E18.
Lan CS, Lin, YE, Chen CS, Lin FY, Wang JY. Effects of acupressure on fatigue and depression in hepatocellular carcinoma patients treated with transcatheter arterial Chemoembolization: A quasi-experimental Study. Evidence-based complementary and alternative medicine. [Internet] 2015. (cited 2017 Jan 19) Available from: URL; https://doi.org/10.1155/2015/496485.
Lin HH, Chang WH, Wang HZ, Chen MJ, Shih SC. Case Report: transarterial chemoembolization-induced tumor lysis syndrome: different results in the same hepatocellular carcinoma patient. Int J Gerontol 2014; 8:171-74.
Ogasawara S, Chiba T, Ooka Y, Kanogawa N, Motoyama T, Suzuki E, et al. A randomized placebo-controlled trial of prophylactic dexamethasone for transcatheter arterial chemoembolization. Hepatology 2018; 67:575-85.
Vogl TJ, Naguib NN, Nour-Eldin NE, Eichler K, Zangos S, Gruber-Rouh T. Transarterial chemoembolization (TACE) with mitomycin C and gemcitabine for liver metastases in breast cancer. Eur Radiol 2010; 20:173-80.
Srichanthong B. Suwannasri N. Horalith L. The Development of Nursing Services System for Patients with Lymphoma receiving chemotherapy at Nongkhai Hospital. Journal of Nursing and Health Care. 2018; 36: 137-46.
Ubolphong K. Chaokhamin T. Pongampai O. Pheunpha C. The Development of Nursing Service Model for Colon Cancer Patients with Colostomy Procedure in Saraburi Hospital. Journal of Nursing Division 2012; 39:51-64.
Ganiy OA. The effect of multidisciplinary team care on cancer management. Pan Afr Med J 2011; 9: 20.
Sirima Komaratat. Effect of using mentorship model on nursing competency of new graduated nurses. (Master' s thesis) Faculty of Nursing, Chulalongkorn University; 2006.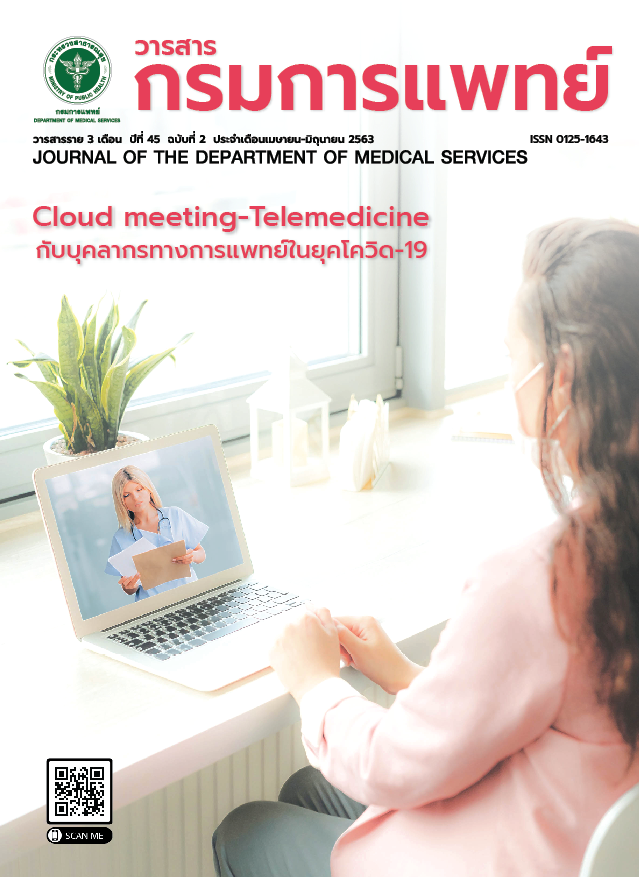 Downloads
How to Cite
1.
อลิสา ช่วงอรุณ วท.ม,โชติรส วงศ์สายเชื้อ ศศม, สมฤดี ลิ้นทอง พย.บ., นิรมล พจน์ด้วง พย.ม. The Development of Nursing Service System for Primary Liver Cancer Patients Receiving Transarterial Chemoembolization (TACE) at National Cancer Institute. j dept med ser [Internet]. 2020 Sep. 1 [cited 2022 Aug. 14];45(2):184-90. Available from: https://he02.tci-thaijo.org/index.php/JDMS/article/view/245582
License
บทความที่ได้รับการตีพิมพ์เป็นลิขสิทธิ์ของกรมการแพทย์ กระทรวงสาธารณสุข
ข้อความและข้อคิดเห็นต่างๆ เป็นของผู้เขียนบทความ ไม่ใช่ความเห็นของกองบรรณาธิการหรือของวารสารกรมการแพทย์