Massage Therapy for Spastic Neurological Patients: A Systematic Review
Keywords:
Massage, Massage therapy, Neurological, Neurological patient, Spastic
Abstract
Muscle spasticity condition is a chronic disease caused by abnormalities of neurological problem. It is frequently found in Neurological rehabilitation causing disability of extremity, ambulation problem, pains during daily-living activities and disturbed sleep. It is commonly found in patients with neurological conditions such as stroke, traumatic brain injury, cerebral palsy, spinal cord injury and spinal degenerative diseases such as multiple sclerosis and familial spastic paraparesis. There are several ways to treat muscle spasticity. For massaging, it is believed that it can help to reduce muscle spasms from the use of external force to stretch the muscles. In addition, force created from a skin massage can reduce pains according to the Gate control theory. This work studies the effectiveness of massaging compared to the different ways of spasticity treatment in patients with neurological disorders. By searching the database MEDLINE via PubMed, 90 studies out of the relevance of 93 studies were excluded because the treatments were not a massage, not a treatment for neurological patients, or not measurable neurological symptoms of spasticity. The study reports and evaluates total 3 studies that met selection criteria. The results showed that massage therapy in various forms to relieve spasticity and pain had statistical 95% CI equal to -0.45-0.34 and -2.44 - 4.44, respectively, when compared with other methods of treatment. Therefore, patients with neurological diseases such as stroke and multiple sclerosis with symptoms of muscle spasticity and had massage therapy in various forms showed effective results in reducing spasticity and pain compared to other treatments, such as physical therapy, exercise and a sham massage. But the results were significant difference. However, measures to reduce pain are still controversial in the selected study.Keywords: Massage, Massage therapy, Neurological, Neurological patient, Spastic
Downloads
Download data is not yet available.
References
Blazer J, Robinson R, Ruesch L. Spasticity: Etiology, Evaluation, Management, and the role of botulinum toxin type A. Journal of the American Association of Electrodiagnostic Medicine 1997; 20:1-16.
Koman LA, Smith BP, Shilt JS. Cerebral palsy. Lancet 2004; 363:1619-31.
Gaebler-Spira D, Revivo G. The use of botulinum toxin in pediatric disorders. Phys Med Rehabil Clin N Am 2003; 14:703-25.
Jin Dewa R. Massage, universal massage, tissue massage, connective massage, Thai massage, Chinese massage. Establishment project Faculty of Physical Therapy Srinakharinwirot University 1996: 1:46-51.
Lance JW. The control of muscle tone, reflexes, and movement:Robert Wartenberg Lecture. Neurology 1980; 30:1303-13.
Lieber RL, Steinman S, Barash IA, Chambers H. Structural and functional changes in spastic skeletal muscle. Muscle Nerve 2004; 29:615-27.
Foran JR, Steinman S, Barash I, Chambers HG, Lieber RL. Structural and mechanical alterations in spastic skeletal muscle. Dev Med Child Neurol 2005; 47:713-7.
Abbruzzese G. The medical management of spasticity. Eur J Neurol 2002; 9:30-4.
McCrea PH, Eng JJ, Willms R. Phenol reduces hypertonia and enhances strength: a longitudinal case study. Neurorehabil Neural Repair 2004; 18:112-6.
Nance PW, Meythaler JM. Physical Medicine and Rehabilitation 3rd ed. Philadelphia: Saunders; 2007:661.
Watanabe T. The role of therapy in spasticity management. Am J Phys Med Rehabil 2004; 83:S45-9.
Bohannon RW, Smith MB. Interrater reliability of a modified Ashworth scale of muscle spasticity. Phys Ther 1987; 67:206-7.
Negahban H, Rezaie S, Goharpey S. Massage therapy and exercise therapy in patients with multiple sclerosis: a randomized controlled pilot study. Clin Rehabil 2013; 27:1126-36.
Siev-Ner I, Gamus D, Lerner-Geva L, Achiron A. Reflexology treatment relieves symptoms of multiple sclerosis: a randomized controlled study. Mult Scler 2003; 9:356-61.
Thanakiatpinyo T, Suwannatrai S, Suwannatrai U, Khumkaew P, Wiwattamongkol D, Vannabhum M, et al. The efficacy of traditional Thai massage in decreasing spasticity in elderly stroke patients. Clin Interv Aging 2014; 9:1311-9.
Wang Y, Zhu WL, Dong YF. Massage manipulation of supplementing marrow and kneading tendon in treating 30 children with spastic cerebral palsy. Zhongguo Zhong Xi Yi Jie He Za Zhi 2008; 28:363-5.
Nilsson S, Johansson G, Enskar K, Himmelmann K. Massage therapy in post-operative rehabilitation of children and adolescents with cerebral palsy - a pilot study. Complement Ther Clin Pract 2011; 17:127-31.
Li N, Tian F, Wang C, Yu P, Zhou X, Wen Q, et al. Therapeutic effect of acupuncture and massage for shoulder-hand syndrome in hemiplegia patients: a clinical two-center randomized controlled trial. J Tradit Chin Med 2012; 32:343-9.
Silva LM, Schalock M, Garberg J, Smith CL. Qigong massage for motor skills in young children with cerebral palsy and Down syndrome. Am J Occup Ther 2012; 66:348-55.
Ukhanova TA, Gorbunov FE. Efficacy of reflexology in the combination with neuroprotective treatment in hemiparetic form of children cerebral palsy. Zh Nevrol Psikhiatr Im S S Korsakova 2012; 112:28-31.
Zhang XL, Qi R, Yan JT. Clinical research on post-stroke hemiplegia treated with the optimized rehabilitation program of integrated Chinese and western medicine. Zhongguo Zhen Jiu 2013; 33:1113-7.
Malila P, Seeda K, Machom S, Eungpinithpong W. Effects of Thai Massage on Spasticity in Young People with Cerebral Palsy. J Med Assoc Thai 2015; 98:92-6.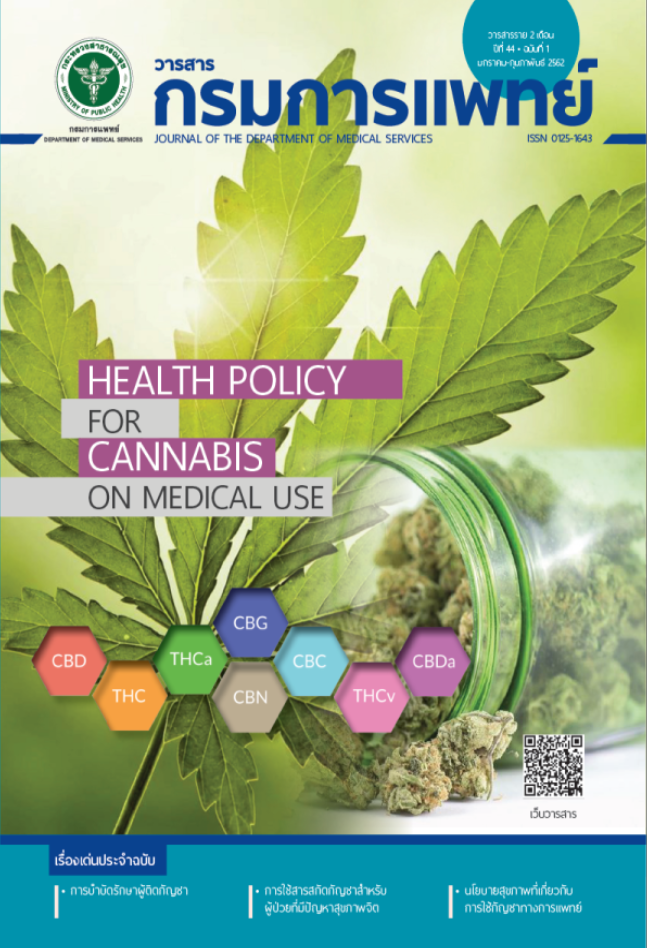 Downloads
How to Cite
1.
Tochaiwat K, Predeekanit K, Udom T, Srisubat A, Thaiyakul A. Massage Therapy for Spastic Neurological Patients: A Systematic Review . j dept med ser [Internet]. 2019 Feb. 1 [cited 2023 Feb. 6];44(1):42-6. Available from: https://he02.tci-thaijo.org/index.php/JDMS/article/view/246916
License
บทความที่ได้รับการตีพิมพ์เป็นลิขสิทธิ์ของกรมการแพทย์ กระทรวงสาธารณสุข
ข้อความและข้อคิดเห็นต่างๆ เป็นของผู้เขียนบทความ ไม่ใช่ความเห็นของกองบรรณาธิการหรือของวารสารกรมการแพทย์