Outcome of Hemodialysis Services in Nopparat Rajathanee General Hospital
Keywords:
Hemodialysis services, Hemodialysis patient outcomes, Hospital-based hemodialysis
Abstract
The purposes of this research were to study the outcomes of hemodialysis (HD) services and patients' outcomes of a 5 year in hospital-based service. The data were retrospectively collected for a descriptive study. The reviewed data and outcomes of the patient documents between January 2012 and December 2016 which have been recorded in the computer program were included. These were called Universal Data Characterization and Hierarchical Analytics (UCHA). These data were presented as frequency, percentages and mean with standard deviation or median with inter-quartile range. From the study, a number of all patients (1,553) can be classified as the patients with acute HD (98.8%) and chronic HD (1.2%). The number of male patients were equal to the female patients with mean age of 62.3±15.0 years. The increasing number of patients who need acute HD were shown by years as follows: 59.7%, 58.7%, 63.5%, 60.0% and 65.7%, respectively. The infection was the highest cause of the hospitalization (34.4%). The most clinical outcome of acute HD patients who were complicated chronic HD patients had improved (79.7%). The most deaths occurred in acute kidney injury (AKI) patients (60.3%). The outcome of chronic HD patients were achieved the key performance indicator (KPI) target of The Nephrology Society of Thailand criteria. Meanwhile, comparing work productivity as a ratio of workloads and staff availability had higher than the standard criteria of Bureau of nursing. In conclusion, HD patients frequently require acute HD in hospital-based services because of their trendiness to a variety of acute problems. Although almost of them had been recovered, the mortality rate remains high in AKI. Early detection of acute renal problems and available support staff's workload will improve patient outcomes. Therefore, hemodialysis in hospital-based service should be availability of acute and chronic HD facilities
Downloads
Download data is not yet available.
References
Chuasuwan A PK. Thailand Renal Replacment Therapy Registry (TRT); 2014.
Opascharoensuk W. Criteria and guidelines for certification of treatment standards by hemodialysis. Bangkok: Sahamit Printing and Publishing Company Limited; 2014.
Chayakun C. Hemodialysis Clinical Practice Recommendation 2014. Bangkok: Dueantula; 2014.
Conger JD. A controlled evaluation of prophylactic dialysis in post-traumatic acute renal failure. J Trauma. 1975; 15:1056-63.
Himmelfarb J, Ikizler TA. Acute kidney injury: changing lexicography, definitions, and epidemiology. Kidney Int 2007; 71:971-6.
Watcharotone N, Sayumpoorujinant W, Udompon U, Leeaphorn N, Kanjanabuch T. Intermittent peritoneal dialysis in acute kidney injury. J Med Assoc Thai. 2011; 94 (Suppl 4) : S126-30.
Brar H, Olivier J, Lebrun C, Gabbard W, Fulop T, Schmidt D. Predictors of mortality in a cohort of intensive care unit patients with acute renal failure receiving continuous renal replacement therapy. Am J Med Sci. 2008; 335:342-7.
do Nascimento GV, Balbi AL, Ponce D, Abrao JM. Early initiation of dialysis: mortality and renal function recovery in acute kidney injury patients. J Bras Nefrol 2012; 34:337-42.
Hussain S, Piering W, Mohyuddin T, Saleh M, Zhu YR, Hannan M, et al. Outcome among patients with acute renal failure needing continuous renal replacement therapy: A single center study. Hemodial Int 2009; 13:205-14.
Seago JA, Williamson A, Atwood C. Longitudinal analyses of nurse staffing and patient outcomes: more about failure to rescue. J Nurs Adm 2006; 36:13-21.
Krisadavatha D., Guidelines for organizing nursing capacity. Bangkok: Nursing Division, Ministry of Public Health Office; 2002.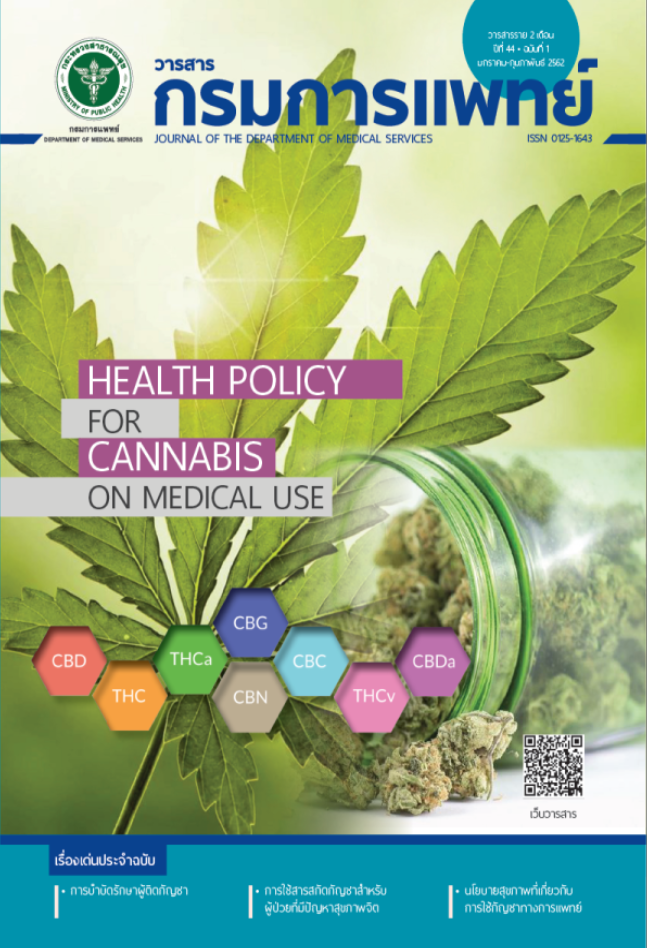 Downloads
How to Cite
1.
Laonapaporn B, Thongdee C, Spilles N, Ussawawongaraya W. Outcome of Hemodialysis Services in Nopparat Rajathanee General Hospital. j dept med ser [Internet]. 2019 Feb. 1 [cited 2023 Jan. 27];44(1):67-72. Available from: https://he02.tci-thaijo.org/index.php/JDMS/article/view/246967
License
บทความที่ได้รับการตีพิมพ์เป็นลิขสิทธิ์ของกรมการแพทย์ กระทรวงสาธารณสุข
ข้อความและข้อคิดเห็นต่างๆ เป็นของผู้เขียนบทความ ไม่ใช่ความเห็นของกองบรรณาธิการหรือของวารสารกรมการแพทย์