Outcomes of Kasai Operation for Treatment of Patients with Biliary Atresia at a Tertiary Care Hospital
Abstract
Background : Biliary atresia is an idiopathic fibroobliterative disease of extrahepatic biliary tree that presents with biliary obstruction exclusively in the neonatal period. The operation to restore bile flow from the liver to the small intestine is Kasai operation or hepatic portoenterostomy.
Objective : The aim of this study was to evaluate the clinical outcomes of patients with biliary atresia after Kasai operation in an 8-year period.
Methods : Medical records of the patients with biliary atresia underwent Kasai operation at Khon Kaen Hospital during January 2010 to December 2017 were reviewed. Demographic data, clinical presentations, investigation, operative procedure and outcomes were analyzed.
Results : Twenty-six patients (11 males and 15 females) with biliary atresia were treated during the study period. They presented with jaundice and acholic stool with median level of total bilirubin of 9.6 mg/dl. The triangular cord sign was revealed from ultrasonography in 23 of 25 cases (92.0%). DISIDA scan was done in 17 cases and showed no excretion of the radionucleotide in the intestine (100%). All of the 26 cases underwent Kasai operation at the median age of 90.5 days (range 35-171 days). Major postoperative complications were severe pneumonia and septicemia that were the causes of death in 6 cases (23.1%). Median level of total bilirubin was decreased to 6.9 and 5.1 mg/dl after 2-week postoperation and the last follow-up respectively. All of the 20 survivors were doing well with jaundice disappearance in 9 cases (45%).
Conclusion : Kasai operation is the principal procedure for creation of bile flow from the liver to the intestine. Major postoperative complications in this study were severe pneumonia and septicemia, especially occurring in the patients older than 3 months old at operation. Some cases had successful bile drainage until the jaundice was disappearance.
Downloads
Download data is not yet available.
References
Matsui A, Ishikawa T. Identification of infants with biliary atresia in Japan. Lancet 1994; 343:925.
McKiernan PJ, Baker AJ, Kelly DA. The frequency and outcome of biliary atresia in the UK and Ireland. Lancet 2000; 355:25-9.
Yoon PW, Bresee JS, Olney RS, James LM, Khoury MJ.Epidemiology of biliary atresia: a population-based study.Pediatrics 1997; 99: 376-82.
Lin YC, Chang MH, Liao SF, Wu JF, Ni YH , Tiao MM, et al.Decreasing rate of biliary atresia in Taiwan: a survey, 2004-2009. Pediatrics 2011; 128:e530-6.
Hopkins PC, Yazigi N, Nylund CM. Incidence of biliary atresia and timing of hepatoportoenterostomy in the United States.J Pediatr 2017; 187: 253-7.
Lupo PJ, Isenburg JL, Salemi JL, Mai CT, Liberman RF, Cranfield MA, et al. Population-based birth defects data in the United States, 2010-2014: a focus on gastrointestinal defects. Birth Defects Res 2017; 109: 1504-14.
Kasai M, Kimura S, Asakura S, Suzuki H, Taira Y, Ohashi E.Surgical treatment of biliary atresia. J Pediatr Surg 1968; 3:665-75.
Davenport M, Ure BM, Petersen C, Kobayashi H. Surgery for biliary atresia-is there a European consensus? Eur J Pediatr Surg 2007; 17: 180-3.
Choi SO, Park WH, Lee HJ, Woo SK. "Triangular cord" a sonographic finding applicable in the diagnosis of biliary atresia. J Pediatr Surg 1996; 31: 363-6.
Minolaki AG, Larcher VF, Mowat AP, Barrett JJ, Portman B,Howard ER. The prelaparotomy diagnosis of extrahepatic biliary atresia. Arch Dis Child 1983; 58: 591-4.
Watanatittan S. Diagnostic problems in infantile cholestatic jaundice. Thai J Surg 1998; 19: 45-50.
Park WH, Choi SO, Lee HJ, Kim SP, Zeon SK, Lee SI. A new diagnostic appoarch to biliary atresia with emphasis on ultrasonographic cord sign: comparison of ultrasonography, hepatobiliary scintigraphy and liver needle biopsy in the evaluation of infantile cholestasis. J Pediatr Surg 1997; 32:1555-9.
Erlichman J, Hohlweg K, Haber BA. Biliary atresia: how medical complications and therapies impact outcome? Exp Rev Gastroenterol Hepatol 2009; 3: 425-34.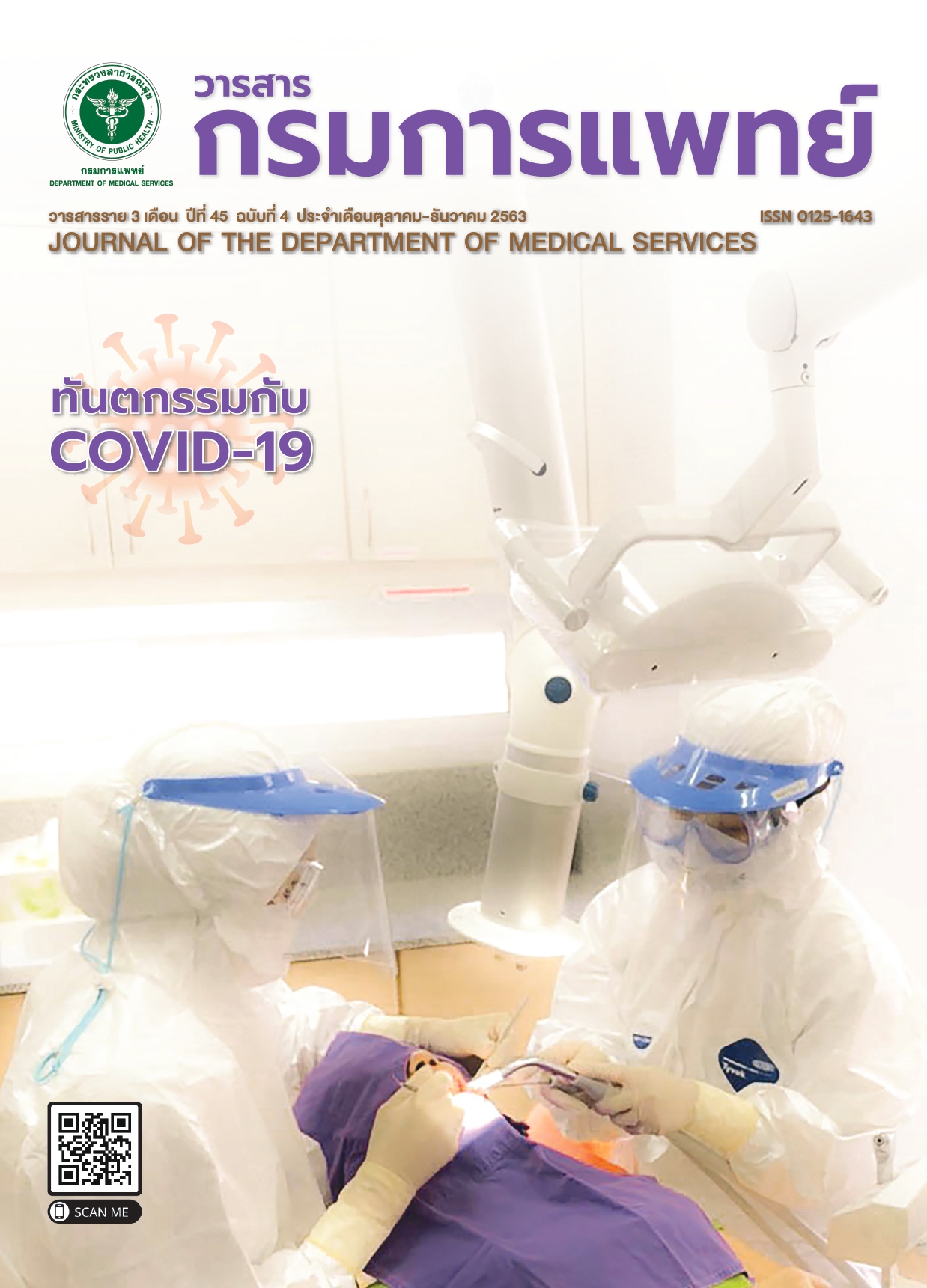 Downloads
How to Cite
1.
Wirifai เ, Laohawilai ส. Outcomes of Kasai Operation for Treatment of Patients with Biliary Atresia at a Tertiary Care Hospital. j dept med ser [Internet]. 2021 Mar. 10 [cited 2022 Aug. 14];45(4):32-6. Available from: https://he02.tci-thaijo.org/index.php/JDMS/article/view/249735
License
บทความที่ได้รับการตีพิมพ์เป็นลิขสิทธิ์ของกรมการแพทย์ กระทรวงสาธารณสุข
ข้อความและข้อคิดเห็นต่างๆ เป็นของผู้เขียนบทความ ไม่ใช่ความเห็นของกองบรรณาธิการหรือของวารสารกรมการแพทย์