Effectiveness of Mirror Therapy Combines with Occupational Therapy Program on Upper Extremity Rehabilitation in Stroke
Keywords:
Stroke, Mirror therapy technique, Occupational therapy for upper extremity training
Abstract
Background : Cerebrovascular accident or stroke is a major leading cause of death and long-term disability worldwide. Upper extremity function impairment after stroke is main problem which effects ability to perform activities of daily life as well as the patient's quality of life. An appropriate and effective upper extremity rehabilitation program, therefore, is very crucial.
Objective : The study was designed to determine the effectiveness of mirror therapy (MT) combined with Occupational Therapy (OT) on upper extremity rehabilitation in stroke.
Method : Fifty-six post-stroke survivors were assigned to either control group (n=28), or an experimental group (n=28). Twelve intervention sessions were provided for both groups, forty minutes of OT program for control group, and twenty minutes of OT program plus twenty minutes of MT program for experimental group. The recorded measurements consisted of 1) the Fugl Meyer subscores for upper extremity 2) Modified Jebsen Taylor Test of hand function 3) sensation assessment and 4) muscle tone assessment. All participants were assessed before intervention, after the last intervention, 1 and 3 months after last intervention.
Results : Both groups demonstrated improvement in upper extremity control and unilateral hand skills, the improvement of these abilities over baseline remained stable longer in experimental group. No differences were observed in sensation and muscle tone measurement.
Conclusions : It was concluded that mirror therapy program combined with occupational therapy program (MT+OT) is an effective method for improving upper extremity function in stroke patient.
Downloads
Download data is not yet available.
References
World Health Organization Collaborative study of cardiovascular disease and steroid hormone contraception.Haemorrhagic stroke, overall stroke risk and combined oral contraceptives; results of an international multicentre,case-controlled study. Lancet 1996; 348:505-10.
Strategy and Planning Division, Ministry of Public Health.[Internet]. 2019 [cited 2019 Sep 20]. Available from: http://www.bps.ops.moph.go.th/Healthinformation/statistic 55/2.3.2_55.pdf.
Professional Standards for the art of healing in Occupational Therapy, Bureau of Sanatorium and Art of Healing,Department of Health Service Support, Ministry of Public Health; 2009.
Moseley GL, Gallace A, Spence C. Is mirror therapy all it is cracked up to be? Current evidence and future directions.Pain 2008; 138: 7-10.
Steenbergen B, Craje C, Nilsen DM, Gordon AM. Motor imagery training in hemiplegic cerebral palsy: a potentially useful therapeutic tool for rehabilitation. Dev Med Child Neurol 2009; 51:690-6.
Yavuzer G, Selles R, Sezer N, Sütbeyaz S, Bussmann JB,Köseoglu F, et al. Mirror therapy improves hand function in subacute stroke: a randomized controlled trial. Arch Phys Med Rehabil 2008; 89: 393-8.
Ramachandran VS, Altschuler EL. Mirror visual feedback in restoring brain function. Brain. 2009; 132:1693-1710.
Vladimir Tichelaar YI, Geertzen JH, Keizer D, Paul van Wilgen.Mirror box therapy added to cognitive behavioural therapy in three chronic complex regional pain syndrome type I patients: a pilot study. Int J Rehabil Res 2007; 30: 181-8.
Karmarkar A, Lieberman I. Mirror box therapy for complex regional pain syndrome. Anaesthesia 2006;61:412–3.
Cacchio A, De Blasis E, De Blasis V, Santilli V, Spacca G.Mirror therapy in complex regional pain syndrome type 1 of the upper limb in stroke patients. Neurorehabil Neural Repair2009; 23: 792-9.
Posawang P, Wattanadilokul U, Design of Mirror therapy program and effect on hand function in children with spastic cerebral palsy, Journal of the Department of Medical Services 2014; 39: 123-32.
Dohle C, Pullen I, Nakaten A, Kust J, Rietz C, Karbe H. Mirror therapy promotes recovery from severe hemiparesis: a randomized controlled trial. Neurorehabil Neural Repair 2009;23: 209-17.
Altschuler EL, Wisdom SB, Stone L, Foster C, Galasko D,Llewellyn DM, et al. Rehabilitation of hemiparesis after stroke with a mirror. Lancet. 1999; 353: 2035-6.
Rothgangel AS, Morton A, Van den Hout JWE, Beurskens AJHM. Phantoms in the brain: mirror therapy in chronic stroke patients; a pilot study. Ned Tijdschr Fys 2004; 114: 36-40.
Colomer C, Noe E, Llorens R. Mirror therapy in chronic stroke survivors with severely impaired upper limb function: a randomized controlled trial. Eur J Phys Rehabil Med 2016;52:271-8.
Jebsen RH, Taylor N, Trieschmann RB, Trotter MJ, Howard LA.An objective and standardized test of hand function. Arch Phys Med Rehabil 1969; 50:311-9.
Park JY, Chang M, Kim KM, Kim HJ. The effect of mirror therapy on upper-extremity function and activities of daily living in stroke patients. J Phys Ther Sci 2015; 27:1681–3.
Stevens JA, Stoykov ME. Using Motor imagery in the rehabilitation of hemiparesis. Arch Phys Med Rehabil 2003;84:1090-2.
Shinoura N, Suzuki Y, Watanabe Y, Yamada R, Tabei Y, Saito K, et al. Mirror therapy activates outside of cerebellum and ipsilateral M1. NeuroRehabilitation 2008; 23:245-52.
Carlsson H, Rosen B, Pessah- Rassmussen H, Bjorkman A,Brogardh C. SENSory re-learning of the UPPer limb after stroke (SENSUPP): study protocol for a pilot randomized controlled trial. Trials 2018; 19:229.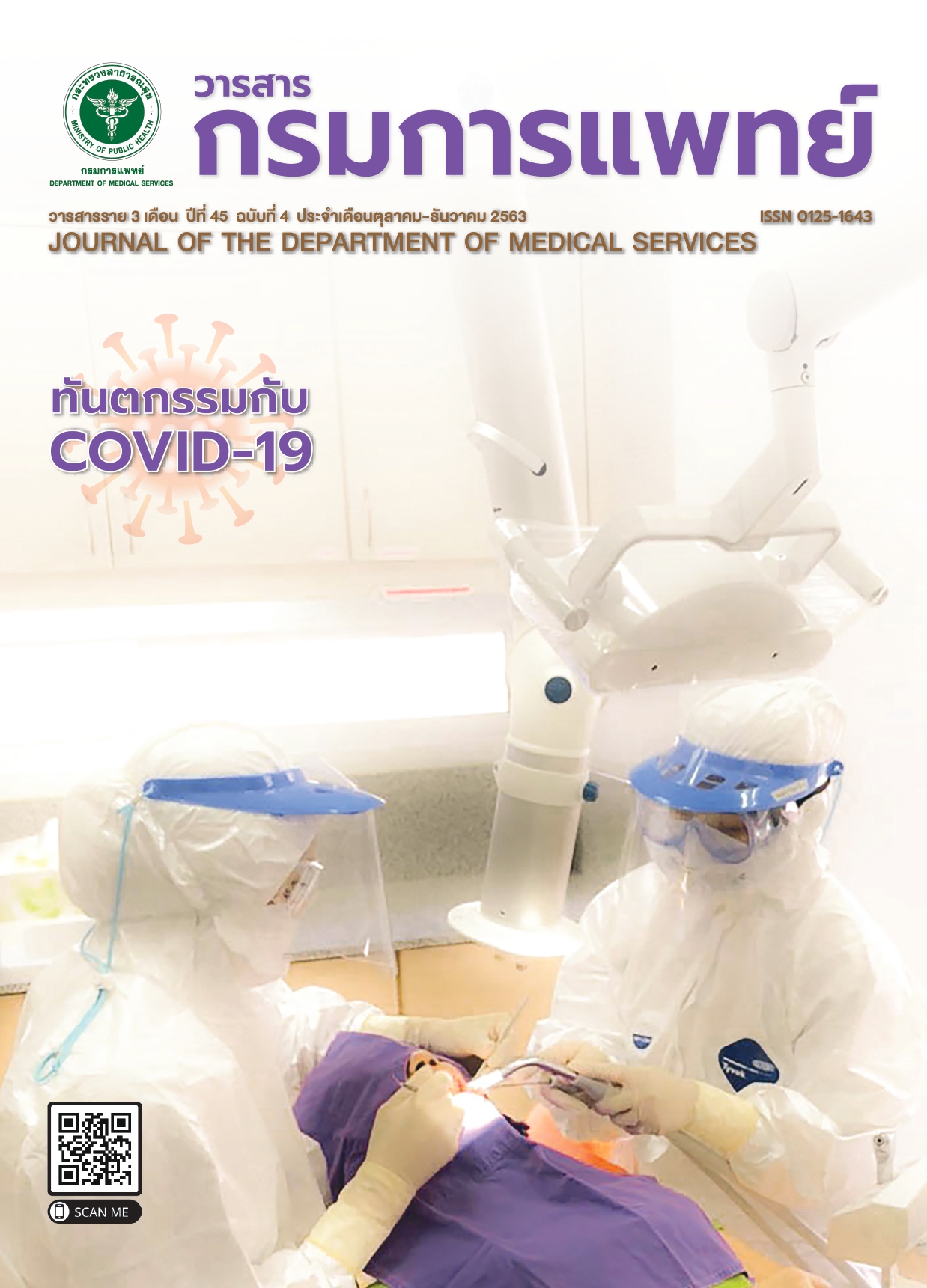 Downloads
How to Cite
1.
Posawang พ, Ditwichairut ร, Khunta ช, Kantadetch ศ. Effectiveness of Mirror Therapy Combines with Occupational Therapy Program on Upper Extremity Rehabilitation in Stroke. j dept med ser [Internet]. 2021 Mar. 10 [cited 2022 Aug. 14];45(4):101-10. Available from: https://he02.tci-thaijo.org/index.php/JDMS/article/view/249783
License
บทความที่ได้รับการตีพิมพ์เป็นลิขสิทธิ์ของกรมการแพทย์ กระทรวงสาธารณสุข
ข้อความและข้อคิดเห็นต่างๆ เป็นของผู้เขียนบทความ ไม่ใช่ความเห็นของกองบรรณาธิการหรือของวารสารกรมการแพทย์