Comparison of Nausea and Vomiting among Patients Whose Receiving Antiemesis Drug and Antiemesis Drug with Ginger in Cancer Patients Receiving AC and FAC Formulations, Lopburi Cancer Hospital
Keywords:
Nausea and vomiting, Antiemesis drug, Ginger, Chemotherapy
Abstract
Background : Chemotherapy is one of the treatments for cancer. This method is not only for demolishing but also decreasing cancer cells. Furthermore, it also prevents growth of cancer cell. While the formulations might be innumerable, two of the most common chemotherapy formulations are Adriamycin + Cyclophoshpamide (AC) and 5-Fluorcaride + Adriamycin + Cyclophosphamide (FAC), causing nauseous as a side effect. Generally, oncologists will prescribe chemotherapy drug along with antiemesis drug. Additionally, they will also provide herbs as supplementary drug.
Objective : To compare chemotherapy-induced nausea and vomiting between patients receiving antiemesis drug and antiemesis drug with ginger in cancer patients receiving Adriamycin + Cyclophosphamide (AC) and 5-Fluorouracil + Adriamycin + Cyclophosphamide (FAC) formulations in Department of Outpatient Chemotherapy, Lopburi Cancer Hospital.
Method : Purposive sampling of 60 patients receiving chemotherapy was selected. They were divided to experimental group and control group, 30 cases each. Questionnaire includes general information such as age, education, occupation, cycle of chemotherapy, nausea and vomiting which inspected by expert specialist. Data were collected by questionnaire between 1 January, 2019 and March, 2019. Data were analyzed using descriptive statistics (percent, average, standard deviation) and inferential statistics as Chi-Square test.
Result : The results found that the control group received antiemesis drug and experimental group received antiemesis drug with ginger chemotherapy-induced nausea and vomiting 60% and 40% that difference was not statistically significant.
Conclusion : The findings showed non conclusion about the use of ginger and proportion of chemotherapy-induced nausea and vomiting of 40% There is still a need to develop guideline or ways to help reduce chemotherapy-induced nausea and vomiting such as the use of other herbs or increase concentration of ginger or increase the number of times ginger drink in cancer patients receiving AC and FAC formulations.
Downloads
Download data is not yet available.
References
Radiation Oncology. The knowledge about Chemotherapy)[Internet]. chulacancer.net. [cited 2020 Jan 16 ].Available from: https://www.chulacancer.net/patient-list-page.php?id=323.
Nation cancer institute. common termonology criteria for adverse event v.4.0; 2012.
Ubon J. The effect of drinking ginger juice to reduce nausea in chemotherapy cancer patients. Nursing Department, Srinagarind Hospital, Khonkaen University; 2015.
Suphat S. Effectiveness of ginger as herb for reducing nausea. Department of Clinical Pharmacy. Faculty of Pharmacy. Khonkaen University;2016.
Keating A, Chez RA. Ginger syrup as an antiemetic in early pregnancy. Altern Ther Health Med 2002;8:89–91.
Pillai AK, Sharma KK, Gupta YK, Bakhshi S. Anti-emetic effect of ginger powder versus placebo as an add-on therapy in children and young adults receiving high emetogenic chemotherapy. Pediatr Blood Cancer 2011;56:234–8.
Praveda K. Ginger: Reduce nausea and Vomitting. Journal of Nursing, Siam University2018, 19: 148–60.
Radiation Oncology. Nausea in cancer treatment [Internet].chulacancer.net. [cited 2019 Dec 6]. Available from: https://www.chulacancer.net/patient-list.php?gid=46.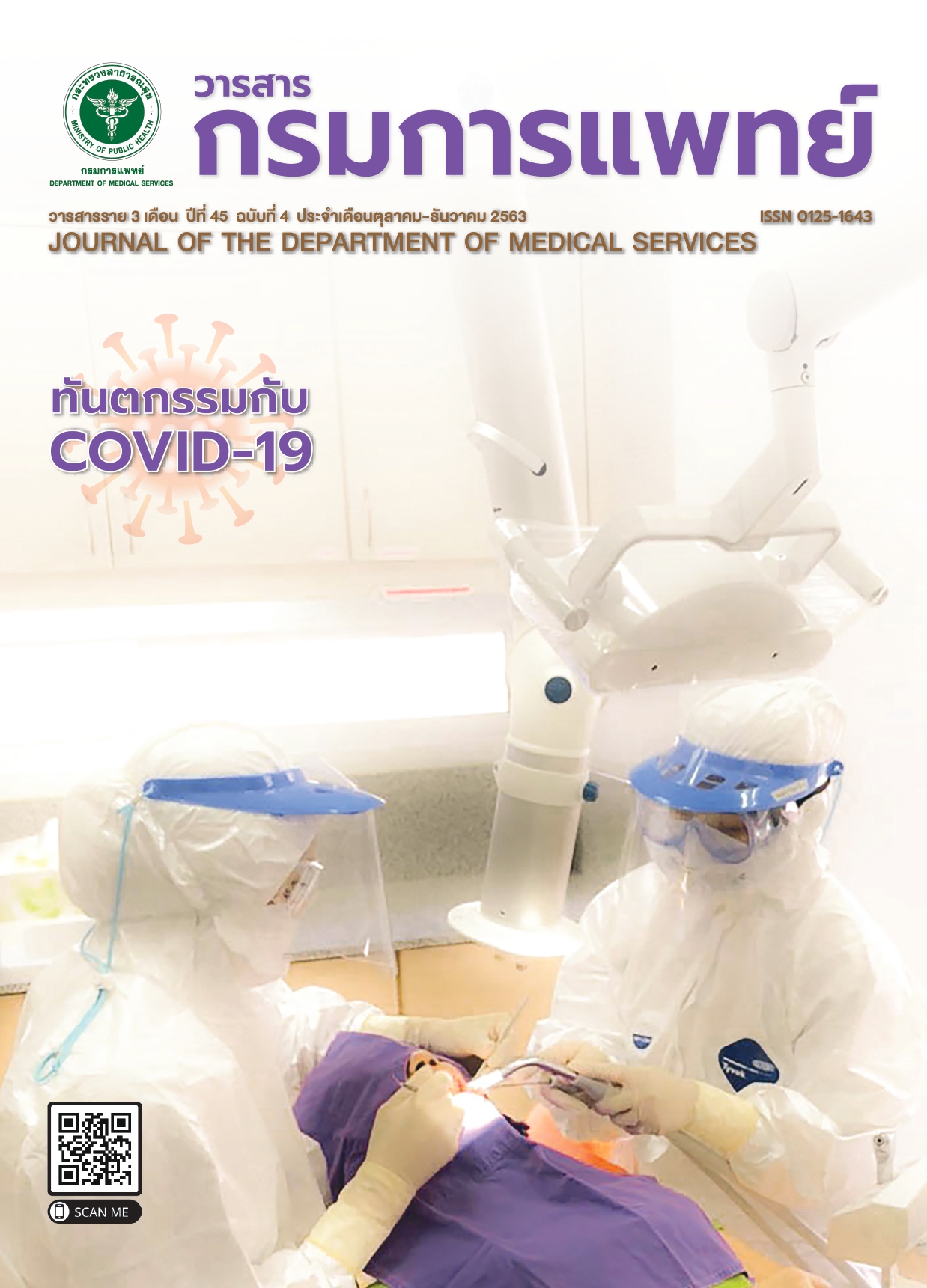 Downloads
How to Cite
1.
Suttiwanich ส, Khampiew อ. Comparison of Nausea and Vomiting among Patients Whose Receiving Antiemesis Drug and Antiemesis Drug with Ginger in Cancer Patients Receiving AC and FAC Formulations, Lopburi Cancer Hospital. j dept med ser [Internet]. 2021 Mar. 10 [cited 2022 Aug. 14];45(4):162-6. Available from: https://he02.tci-thaijo.org/index.php/JDMS/article/view/249803
License
บทความที่ได้รับการตีพิมพ์เป็นลิขสิทธิ์ของกรมการแพทย์ กระทรวงสาธารณสุข
ข้อความและข้อคิดเห็นต่างๆ เป็นของผู้เขียนบทความ ไม่ใช่ความเห็นของกองบรรณาธิการหรือของวารสารกรมการแพทย์