Prevalence and characteristics of anaphylaxis in children at Chaiyaphum hospital
Keywords:
anaphylaxis, Clinical manifestation, 0-15 years old
Abstract
Background : Anaphylaxis is an acute allergic reaction. This is a potentially life-threatening so patients should be receive immediately treatment without any delayed.Objective : This study aimed to estimate the prevalence and clinical characteristics of patients with anaphylaxis at Chaiyaphum Hospital.Method : This study was a descriptive retrospective study at Chaiyaphum Hospital with patients who were evaluated confirm with anaphylaxis, in ages from 0 to 15 years old, from 1st January 2015 to 31st December 2019. Result : The anaphylaxis occurrence rate was 18.6 per 100,000 patients per year. Age-specific rate was highest for ages 11 – 15 years (41.8%).  The median and mode duration of onset of anaphylaxis were  60 minutes after exposure . Major causative agents includes food(48.5%) and insect bites/stings(26.2%). The presenting sign and symptoms were skin and cutaneous (96.1%) Respiratory(76.7%)  and gastrointestinal(49.5%). All  patients received chlopheniramine(CPM) for treatment ,epinephrine was given to 86.4% of the patients.Conclusion : Foods were the most common cause of anaphylaxis. The most common manifestations were skin and cutaneous symptoms and sign. Most of patients were provided treatment with a prescription for epinephrine. So, the basic and implications of diagnostic practices in this disorder warrant further exploration.
Downloads
Download data is not yet available.
References
Clinical Practice Guidelines for Anaphylaxis 2017. Available from:http://allergy.or.th/thai _CPG_Anaphylaxis.full.version.pdf.
Techapornroong M., Akrawinthawong K., Cheungpasitporn W, et al. Anaphylaxis:a ten years inpatient retrospective study. Asian Pac J Allergy Immunol. 2010; 28:262-9.
Poachanukoon O., Paopairochanakorn C. Incidence of Anaphylaxis in the Emergency Department: A 1-Year Study in a University Hospital. Asian Pac J Allergy Immunol. 2006; 24:111-6.
Athamaica Ruiz Oropezac, Annmarie Lassen,Susanne Halken,et al. Anaphylaxis in an emergency care setting: a one year prospective study in children and adults. Scandinavian Journal of Trauma, Resuscitation and Emergency Medicine. 2017; 25:111
Susan D. Dibs, M. Douglas Baker.Anaphylaxis in children: A 5-Year Experience. Available from:https://pediatrics.aappublications. org/content/pediatrics/99/1/e7.full.pdf
Nicole B. Ramsey, Danielle Guffey,Katherine Anagnostou, et al. Epidemiology of Anaphylaxis in Critically ill children in the United States and Canada. J allergy clin immunol pract. 2019:1-9.
Jirapongsananuruk O, Bunsawansong W, Piyaphanee N, et al.Features of patients with anaphylaxis admitted to university hospital. Ann Allergy Asthma Immunol. 2007; 98:157-62.
Yichao Wang, Katrina J. Allen, Noor H.A. Suaini, et al. The global incidence and prevalence of anaphylaxis in children in the general population: A systematic review. Allergy. 2019; 74:1063-80.
Yang MS,Lee SH, Kim TW, Kwon JW, Le SM, KIM SH,et al.Epidemiologic and clinical features of anaphylaxis in Korea.Ann Allergy Asthma Immunol. 2008; 100:31-6.
Yuttana Kowjiriyapan. Clinical features of anaphylaxis in the emergency medicine department of Chiangrai prachanukroh hospital. Chiangrai medical journal. 2017; 9:29-39.
Young-Min Ye, Mi Kyeong Kim, Hye-Ryun Kang, Tae-Bum Kim, et al. Predictors of the severity and serious outcomes of anaphylaxis in Korean adults: A multicenter retrospective case study. Allergy Asthma Immunol Res. 2015 Jan; 7:22-9.
Phreawa Thatpeht, Kamonwon lenghong, Dhanu Gaysonsiri,et al.Anaphylaxis in emergency room srinagarind hospital: A 5-years Retrospective study. Srinagarind Med J. 2017; 32:534-41.
Piromrat K, Chinratanapisit S, Trathong S. Anaphylaxis in an emergency drpartment: a 2-year study in a tertiary-care hospital.Asian Pac J Allergy Immunol. 2008; 26:121-8.
Kari Bohlke, Robert L. Davis, Frank DeStfano, S. Michael Marcy, et al.Epidemiology of anaphylaxis among children and adolescents enrolled in a health maintenance organization. J Allergy Clin Immunol. 2004; 113:536-42.
Lee JM, Greenes DS. Biphasic anaphylactic reactions in pediatrics.Pediatrics. 2000;106:762-6.
Lee S, Peterson A, Lohse CM,et al. Further Evaluation of Factors That May Predict Biphasic Reactions in Emergency DepartmentAnaphylaxis Patients. J Allergy Clin Immunol Pract. 2017; 5:1295-1301.
Lee S, Bellolio MF, Hess EP, Campbell RL. Predictors of biphasic reactions in the emergency department for patients withanaphylaxis. J Allergy Clin Immunol Pract. 2014; 2:281-7.
Karen S. Farbman, Kenneth A. Michelson.Anaphylaxis in children.Curr Opin Pediatr.2016; 28:294-7.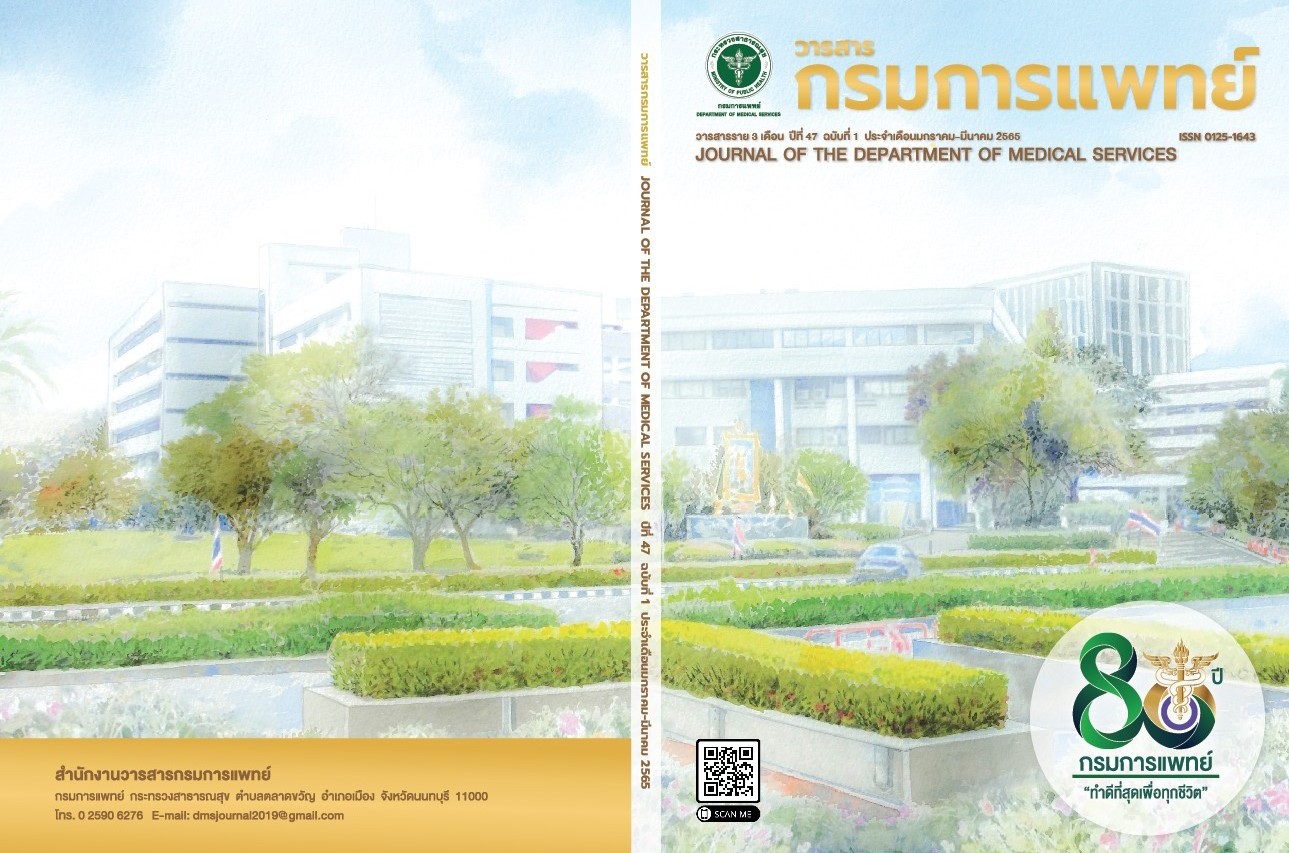 Downloads
How to Cite
1.
watthanaphanalai sutatip. Prevalence and characteristics of anaphylaxis in children at Chaiyaphum hospital. j dept med ser [Internet]. 2022 Mar. 31 [cited 2022 Oct. 6];47(1):41-8. Available from: https://he02.tci-thaijo.org/index.php/JDMS/article/view/250443
License
Copyright (c) 2022 Department of Medical Services, Ministry of Public Health
This work is licensed under a Creative Commons Attribution-NonCommercial-NoDerivatives 4.0 International License.
บทความที่ได้รับการตีพิมพ์เป็นลิขสิทธิ์ของกรมการแพทย์ กระทรวงสาธารณสุข
ข้อความและข้อคิดเห็นต่างๆ เป็นของผู้เขียนบทความ ไม่ใช่ความเห็นของกองบรรณาธิการหรือของวารสารกรมการแพทย์