Mother-to-child Chikungunya Virus Transmission in Mae Sot District, Tak Province, Thailand 2019
Keywords:
Chikungunya, Newborn, Vertical transmission, Sepsis-like illness
Abstract
Background : Based on the epidemiological data of the Department of Disease Control (DDC), Ministry of Public Health (MOPH), outbreaks of chikungunya fever were reported in Thailand in 2019. Tak Province was one of the four affected provinces. Morbidity rate in the province was 138.39 per 100,000 populations. Mae Sot District, Tak Province, was one of the districts where there were suspected cases of chikungunya virus infection, whose signs and symptoms typically included fever, joint pain, and rash. This patient population also included pregnant women who had signs of chikungunya fever around the time of birth. Chikungunya virus could have been transmitted from mothers to their children as it was found that some newborns had shown similar signs (fever, rash, swelling) to those of their mothers within the first week of life.Objective : To study clinical signs and symptoms of chikungunya fever in neonates, clinical complications, and laboratory findings.Method : A descriptive study was conducted to monitor and observe signs, symptoms and laboratory findings of newborns who contracted chikungunya virus from their mothers, who had clinical signs within one week before delivery. Data were collected from June to October 2019, at Mae Sot General Hospital, Mae Sot District, Tak Province. Both newborns and mothers had blood samples collected and confirmatory laboratory testing was performed using chikungunya IgM antibody assay and/or chikungunya polymerase chain reaction (PCR) technique.Result : Six pregnant women developed fever, joint pain, and rash prior to delivery, 83% had positive IgM. All neonates born from six mothers developed fever and maculopapular rash. Signs and symptoms observed in up to 5 newborns (83.3%) included diffuse, limbs edema, irritability, respiratory distress and hyperpigmentation. Other signs and symptoms included poor feeding (50%), seizure and clinical encephalitis (33.3%) and hemodynamic instability (16.7%). Abnormal laboratory findings were observed. Six newborns had positive IgM and three had positive PCR. Two newborns developed encephalitis. No fatal outcomes.Conclusion : Chikungunya virus can be vertically transmitted from the mother to her child during pregnancy. Affected newborns may develop sepsis-like illness. Vertical transmission of chikungunya can lead to severe complications, particularly neurological involvement. It is important to consider chikungunya as differential diagnosis in newborns with sepsis and, or encephalitis in the outbreaks areas.
Downloads
Download data is not yet available.
References
Thavara U, Tawatsin A, Pengsakul T, Bhakdeenuan P, Chanama S, Anantapreecha S, et al. Outbreak of chikungunya fever in Thailand and virus detection in field population of vector mosquitoes, Aedes aegypti (L.) and Aedes albopictus Skuse (Diptera: Culicidae). Southeast Asian J Trop Med Public Health 2009;40:951-62.
Bureau of Epidemiology DoDC, Ministry of Public Health,.Chikungunya. Nonthaburi: Ministry of Public Health,Bureau of Epidemiology DoDC; 2019.
Gerardin P, Barau G, Michault A, Bintner M, Randrianaivo H, Choker G, et al. Multidisciplinary prospective study of mother-to-child chikungunya virus infections on the island of La Reunion. PLoS Med 2008;5:e60.
Gopakumar H, Ramachandran S. Congenital chikungunya. J Clin Neonatol 2012;1:155-6.
Contopoulos-Ioannidis D, Newman-Lindsay S, Chow C, LaBeaud AD. Mother-to-child transmission of Chikungunya virus: a systematic review and meta-analysis. PLoS Negl Trop Dis 2018;12:e0006510.
Ritz N, Hufnagel M, Gerardin P. Chikungunya in Children. Pediatr Infect Dis J 2015;34:789-91.
Seetharam KA, Sridevi K, Vidyasagar P. Cutaneous manifestations of chikungunya fever. Indian Pediatr 2012;49:51-3.
Maria A, Vallamkonda N, Shukla A, Bhatt A, Sachdev N.Encephalitic presentation of Neonatal Chikungunya: a case series.Indian Pediatr 2018;55:671-4.
Alvarado-Socarras JL, Ocampo-Gonzalez M, Vargas-Soler JA,Rodriguez-Morales AJ, Franco-Paredes C. Congenital and Neonatal Chikungunya in Colombia. J Pediatric Infect Dis Soc 2016;5:e17-20.
Villamil-Gomez W, Alba-Silvera L, Menco-Ramos A,Gonzalez-Vergara A, Molinares-Palacios T, Barrios-Corrales M, et al. Congenital Chikungunya Virus Infection in Sincelejo,Colombia: A Case Series J Trop Pediatr. 2015;61:386-92.
Gomella TL, Cunningham MD, G.yal F. Anemia. In: Gomella TL,Cunningham MD, G.yal F, editors. Neonatology:Management,procedure, on-call problems, disease, and drugs. 7th ed. New York: McGraw-Hill; 2013. p. 557-65.
Torres JR, Falleiros-Arlant LH, Duenas L, Pleitez-Navarrete J, Salgado DM, Castillo JB. Congenital and perinatal complications of chikungunya fever: a Latin American experience. Int J Infect Dis 2016;51:85-8.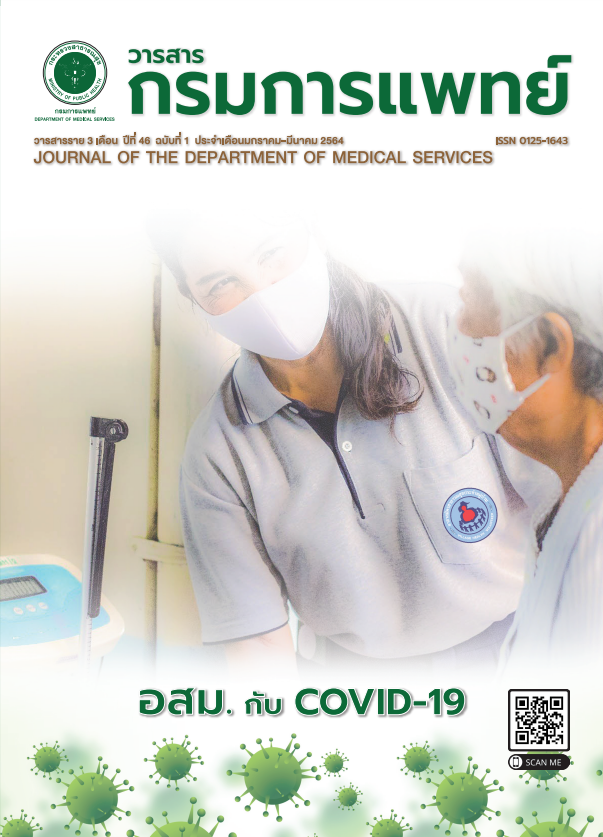 Downloads
How to Cite
1.
Sukharom ร. Mother-to-child Chikungunya Virus Transmission in Mae Sot District, Tak Province, Thailand 2019. j dept med ser [Internet]. 2021 Jun. 18 [cited 2022 Aug. 14];46(1):145-52. Available from: https://he02.tci-thaijo.org/index.php/JDMS/article/view/251730
License
This work is licensed under a Creative Commons Attribution-NonCommercial-NoDerivatives 4.0 International License.
บทความที่ได้รับการตีพิมพ์เป็นลิขสิทธิ์ของกรมการแพทย์ กระทรวงสาธารณสุข
ข้อความและข้อคิดเห็นต่างๆ เป็นของผู้เขียนบทความ ไม่ใช่ความเห็นของกองบรรณาธิการหรือของวารสารกรมการแพทย์