Newborn Screening for Thalassemia and Hemoglobinopathies in a Community Hospital
Keywords:
Neonatal hyperbilirubinemia, Newborn screening Hb typing, Thalassemia
Abstract
Background : Newborn screening hemoglobin typing (NBS Hb typing) using spot blood was early diagnosed for thalassemias and hemoglobinopathies in neonates at 48 hours of age.Objectives : To identify the incidence of thalassemias, other hemoglobinopathies and to assess the association between thalassemias and neonatal hyperbilirubinemia.Methods : A retrospective descriptive study was done by reviewing the data of neonates born in a community hospital from 15th February 2017 to 28th February 2018. Those who were in critical conditions and were transferred to another hospital were excluded. Spot blood from heel prick of all neonates was collected at 48 hours after birth and sent for Hb typing test using isoelectric focusing method (IEF) and microbilirubin test.Results : A total of 755 neonates were enrolled during the study period (91.3% of total live births). The incidence of thalassemia and hemoglobinopathies was 36.69% (n=277). The three highest incidences were Hb E trait 20.66% (n=156), alpha thalassemia-1 trait 8.74% (n=66) and, Hb E trait with alpha thalassemia-2 3.17% (n=24) respectively. The incidence of neonatal hyperbilirubinemia was 20.66% (n=156). There was no statistically significant association between thalassemia and neonatal hyperbilirubinemia.Conclusions : The incidence of thalassemia and hemoglobinopathies in neonates using IEF was similar to the incidence reported using the standard method. This technique can be practically done in a community hospital. However, there was no statistically significant association between thalassemia and neonatal hyperbilirubinemia.
Downloads
Download data is not yet available.
References
Jindatanmanusan P, Riolueang S, Glomglao W, Sukontharangsri Y, Chamnanvanakij S, Torcharus K. Diagnostic applications of newborn screening for α-thalassaemias, haemoglobin E and H disorders using isoelectric focusing on dry blood spots. Ann Clin Biochem 2014; 51: 237-47.
Teinthavorn V. National plan on prevention and control for severe thalassemia syndromes in Thailand from 2006–2011.In: Tanphaichitr VS and Fucharoen S (eds) National conference on thalassemia and hemoglobinopathies. Miracle Grand Hotel,Bangkok: Department of Maternal and Child Health, Ministry of Public Health, 2006, pp.1–8.
Viprakasit V, Limwongse C, Sukpanichnant S. Problems in determining thalassemia carrier status in a program for prevention and control of severe thalassemia syndromes: A lesson from Thailand. Clinical Chem Lab Med 2013 (in press).
Basset P, Beuzard Y, Garel MC, Rosa J. Isoelectric focusing of human hemoglobin: its application to screening,to characterization of 70 variants, and the study of modified fraction of normal hemoglobins. Blood 1978; 5: 971-82.
Schultz RM, Liebman MN. Protien I: Composition and Structure.In: Textbook of Biochemistry, edited by Devlin T M. NewYork:Wiley Liss; 1992: 25-90
Hoppe CC. Newborn screening for non-sickling hemoglobinopathies. Hematology Am Soc Hematol Educ Program 2009; 19–25.
Michitsch J, Azimi M, Hoppe CC, Waltters MC, Lubrin B,Lorey F, et al. Newborn Screening for Hemoglobinopathies in California. Pediatr Blood Cancer 2009; 52: 486-90.
Streetly A, Latinovic R, Hall K. Implementation of universal newborn bloodspot screening for sickle cell disease and other clinically significant hemoglobinopathies in England: screening results for 2005–7. J Clin Pathol2009;62:26–30.
Suksangpleng T, Riolueang S, Korchuenjit J, Korchuenjit,Ekwattanakit S, Viprakasit V. A Novel α-Thalassemia Screening Scheme in Neonates with Higher Sensitivity and Specificity Using a Combination of Hb Bart's Quantity and Red Blood Cell Indices.Blood 2018; 132: 1059.
Charoensiriwatana W, Janejai N, Boonwanich W, Krasao P,Chaisomchit S, Waiyasilp S. Neonatal screening program in Thailand. Southeast Asian J Trop Med Public Health 2003;34(Suppl 3): 94-100.
American Academy of Pediatrics. Management of hyperbilirubinaemia in the newborn infant 35 weeks or more of gestation. Pediatrics 2004; 114: 297-316.
Ullah S, Rahman K, Hedayati M. Hyperbilirubinaemia in neonates:Types, causes, clinical examinations,preventative measures and treatments: A narrative review article. Iranian Journal of Public Health 2016; 45: 558-68.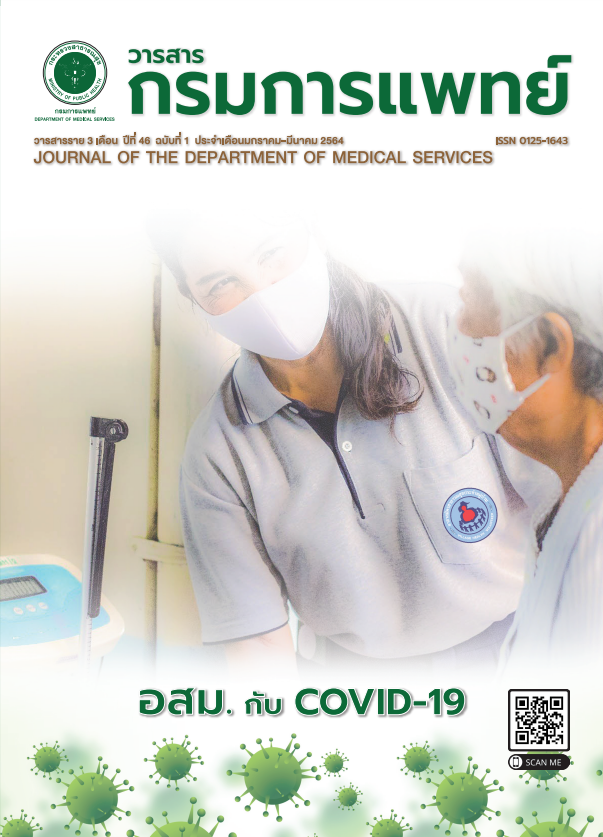 Downloads
How to Cite
1.
Jarucharoenporn ส. Newborn Screening for Thalassemia and Hemoglobinopathies in a Community Hospital. j dept med ser [Internet]. 2021 Jun. 18 [cited 2022 Aug. 14];46(1):153-9. Available from: https://he02.tci-thaijo.org/index.php/JDMS/article/view/251735
License
This work is licensed under a Creative Commons Attribution-NonCommercial-NoDerivatives 4.0 International License.
บทความที่ได้รับการตีพิมพ์เป็นลิขสิทธิ์ของกรมการแพทย์ กระทรวงสาธารณสุข
ข้อความและข้อคิดเห็นต่างๆ เป็นของผู้เขียนบทความ ไม่ใช่ความเห็นของกองบรรณาธิการหรือของวารสารกรมการแพทย์