Model DeveModel Development for Universal Newborn Hearing Screening (UNHS) in Province Level: Action Researchlopment for Universal Newborn Hearing Screening (UNHS) in Province Level: Action Research
Keywords:
Hearing loss, Newborn, OAE, Otoacoustic emission
Abstract
Background : Hearing impairment in newborns affects their life, communication, growth and development over the long term. Screening for hearing defect is important and reduces this problem. Otoacoustic emission (OAE) test is used as a standard device for newborn hearing screening. If the result shows "Refer", infants will be rescreened at 1 month after discharge and those who are not pass will be referred to see otolaryngologist for definite diagnosis, treatment and rehabilitation before 6 months of age.Objective : to develop an appropriate model of universal newborn hearing screening (UNHS) in Trang Province as a case study.Method : This action research aimed to develop a newborn hearing screening model for 10 government hospitals in Trang. The model was developed based on 5 OAE devices, number of newborns and the distance between hospitals. The universal newborn hearing screening (UNHS)model in Trang consisted of 3 parts which were; 1) part one: 1 OAE for 1 hospital (Trang Hospital, Kantang Hospital and Huai Yot Hospital), 2) part two: 1 OAE for 3 hospitals (Ratsada Hospital, Wangwiset Hospital and Sikao Hospital) which turned one week per hospital, and 3) part three: 1 OAE for 4 hospitals (Yan Ta Khao Hospital, Na Yong Hospital, Palian Hospital, and Hat Samran Chaloem Phra Kiat 80 Phansa Hospital) which fixed date in a week per hospital. We performed this study during April–September 2018.Results : From 2,701 newborn in Trang, 2,604 were screened using OAE (96.4%) and 3.6% was not. Hearing screening at hospital that they delivered 95.5% (2,486/2,604) which screened at 48 hours after birth and one month later were 67.6% (1,680/2,486) and 32.4% (806/2,486) respectively. 4.5% newborns were screened at other hospitals. The coverage of hearing screening in hospitals in part one, part two and part three were 96%, 82.8% and 76.1% respectively. 97 newborns loss follow up at one month (37 from 3 hospitals in part two and 60 from 4 hospitals in part three). After screening, the results showed "Refer" for 4 newborns and "Pass" after rescreened at one month.Conclusion : The model development of universal newborns hearing screening (UNHS) in Trang has high coverage (more than 96%).
Downloads
Download data is not yet available.
References
Roberts JE, Wallace IF, Brackett D. Development of speech and language. In: Lalwani AK, Grundfast KM, eds.Pediatric Otology and Neurology. Philadephia: Lippincott-Raven Publisher:1998;39-47.
World Health Organization [Internet] 2018. Deafness and Hearing Loss. [cited 2018 Mar 15]. Available from:https://www.who.int/en/news-room/fact-sheets/detail/deafness-and-hearing-loss.
Mannan MA, Choudhury SM, Dey AC, Dey SK, Naher BS,Shahidullah M. Newborn hearing screening: what are we missing? Bangladesh Med Res Counc Bull 2014;40 :1-5.
Prasansuk S. Incidence/prevalence of sensorineural impairment in Thailand and Southeast Asia. Audiology 1996; 30: 332-9.
Yoshinaga-Itano C, Apuzzo ML. Identification of hearing loss after age 18 months is not early enough. Am Ann Deaf 1998; 143:380-7.
Yoshinaga-Itano C, Sedey AL, Coulter DK, Mehl AL. Language of Early- and Later-identified Children with Hearing Loss. Pediatrics 1998; 102:1161-71.
Yoshinaga-Itano C. Early intervention after universal neonatal hearing screening: impact on outcomes. Ment Retard Dev Disabil Res Rev 2003; 9:252-66.
Fort M. Newborn Hearing Screening: Making a Difference. N C Med J 2017; 78:96-100.
Cavalcanti HG, de Melo LPF, Buarque LFSFP, Guerra RO.Overview of newborn hearing screening programs in Brazilian maternity hospitals. Braz J Otorhinolaryngol 2014;80:346-53.
Ravi R, Gunjawate DR, Yerraguntla K, Lewis LL, Driscoll C,Rajashekhar B. Follow-up in newborn hearing screening - A systematic review. Int J Pediatr Otorhinolaryngol 2016; 90:29-36.
Bussé AML, Qirjazi B, Goedegebure A, Toll M, Lj Hoeve H, Toçi E, et al. Implementation of a neonatal hearing screening programme in three provinces in Albania. Int J Pediatr Otorhinolaryngol 2020; 134:110039.
Krishnan LA, Van Hyfte S, Richards KAR. Newborn Hearing Screening: Early Education = More Satisfied Mothers. Am J Audiol 2019; 28:617-27.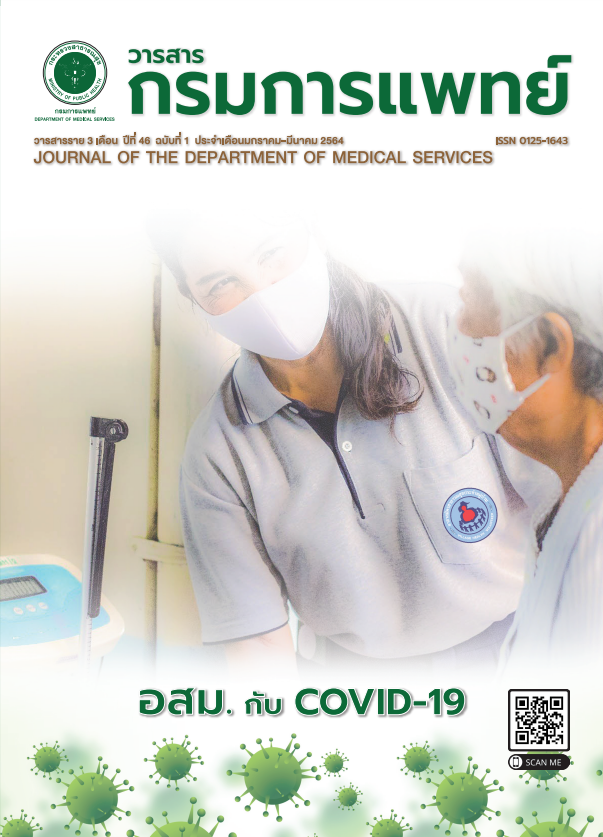 Downloads
How to Cite
1.
Srisubat อ, Imsuwansri ธ, Mukkun ต, Thaiyakul อ, Konlaeaid ส, Limpichaisopon ก, Phukaolaun น, Vongkonvoravet จ, Sinchai ท, Suthinon ด, Jirojkul ส. Model DeveModel Development for Universal Newborn Hearing Screening (UNHS) in Province Level: Action Researchlopment for Universal Newborn Hearing Screening (UNHS) in Province Level: Action Research. j dept med ser [Internet]. 2021 Jun. 18 [cited 2022 Aug. 14];46(1):160-9. Available from: https://he02.tci-thaijo.org/index.php/JDMS/article/view/251770
License
This work is licensed under a Creative Commons Attribution-NonCommercial-NoDerivatives 4.0 International License.
บทความที่ได้รับการตีพิมพ์เป็นลิขสิทธิ์ของกรมการแพทย์ กระทรวงสาธารณสุข
ข้อความและข้อคิดเห็นต่างๆ เป็นของผู้เขียนบทความ ไม่ใช่ความเห็นของกองบรรณาธิการหรือของวารสารกรมการแพทย์