Cyclooxygenase-2- inhibiting activity of polyphenols in extracts of tea from various geographic locations in Thailand
Keywords:
Green tea, Camellia sinensis, inflammation, polyphenols, cyclooxygenase-2 (COX-2)
Abstract
Background:Polyphenols are essential compounds for anti-inflammation commonly found in green tea (Camellia sinensis). They influence the inflammatory process by controlling and inhibiting pro-inflammatory cytokines such as cyclooxygenase-2 (COX-2) which is a prominent substance in dental diseases namely periodontal inflammation and oral cancer. However, their quantitative levels of polyphenols depend on geographical locations.Objectives: The aim of this research is to determine the polyphenol levels, important compounds for Cyclooxygenase-2 (COX-2) inhibition, of green tea extracted from various geographical locations in Thailand.Method: 70% Ethanol extraction samplings of green tea products were done in groups representing each province in Thailand. The chemotype levels of polyphenols was determined by total polyphenols (Folin-Ciocalteu method) and total flavonoid. Catechin-specific epigallocatechin gallate (EGCG) level was then measured by high-performance liquid chromatography (HPLC). Result: Total polyphenols, total flavonoids, and EGCG content in green tea from each province in Thailand are significantly different (p<0.05).  The highest amount of polyphenols and flavonoids is Chiang Rai tea. The highest amount of EGCG is Chiang Mai tea. Anti-inflammatory test results resembled as IC50 are ranked in descending order from Chiang Rai, Assam, Narathiwat and Chiang Mai green tea which corresponding to the amount of important substances in green tea, but there is no statistically significant difference (p< 0.05).Conclusion: Chemotype levels of polyphenols in green tea vary in different cultivation areas ranked in descending order from Chiang Rai province (Assum tea), Narathiwat province and Chiang Mai Province. The chemotype levels of polyphenols    exhibiting preliminary anti-inflammatory properties correlate directly to the concentration of tea. Accordingly, it is shown that green tea grown in Thailand statistically significantly exhibits anti-inflammatory properties.
Downloads
Download data is not yet available.
References
Fan F-Y, Sang, L.-X., Jiang, M. Catechins and Their Therapeutic Benefits to Inflammatory Bowel Disease. Molecules. 2017.
Munn LL. Cancer and inflammation. Wiley Interdiscip Rev Syst Biol Med. 2017;9(2).
Holzhausen M, Spolidorio DMP, Muscara MN, Hebling J, Spolidorio LC. Protective effects of etoricoxib, a selective inhibitor of cyclooxygenase-2, in experimental periodontitis in rats. 2005;40(3):208-11.
Erovic BM, Pelzmann M, Turhani D, Pammer J, Niederberger V, Neuchrist C, et al. Differential Expression Pattern of Cyclooxygenase-1 and -2 in Head and Neck Squamous Cell Carcinoma. 2003;123(8):950-3.
Morton RS, Dongari-Bagtzoglou AI. Cyclooxygenase-2 Is Upregulated in Inflamed Gingival Tissues. 2001;72(4):461-9.
Balakumar C, Lamba P, Pran Kishore D, Lakshmi Narayana B, Venkat Rao K, Rajwinder K, et al. Synthesis, anti-inflammatory evaluation and docking studies of some new fluorinated fused quinazolines. European Journal of Medicinal Chemistry. 2010;45(11):4904-13.
Oyama K. A COX- 2 inhibito r prevents the esophag eal inflammation-metaplasia-adenocarcinoma sequence in rats. Carcinogenesis. 2004;26(3):565-70.
Shibata M, Kodani I, Osaki M, Araki K, Adachi H, Ryoke K, et al. Cyclo-oxygenase-1 and -2 expression in human oral mucosa, dysplasias and squamous cell carcinomas and their pathological significance. 2005;41(3):304-12.
Theerapong Theppakorn. Stability of Catechins During Processing of Green Tea and Green Tea Beverage. KKU Sci J. 2014;19:41(1) 6-55 (2013).
Heijnen CGM, Haenen GRMM, Wiseman SA, Tijburg LBM, Bast A. The interaction of tea flavonoids with the NO-system: discrimination between good and bad NO. Food Chemistry. 2000;70(3):365-70.
Middleton E. Effect of plant flavonoids on immune and inflammatory cell function. Advances in experimental medicine and biology. 1998;439:175-82.
Noreen Y, Serrano G, Perera P, Bohlin L. Flavan-3-ols Isolated from Some Medicinal Plants Inhibiting COX-1 and COX-2 Catalysed Prostaglandin Biosynthesis. 1998;64(06):520-4.
Kulrath P DN, Supornpun N, Prateeptongkum E. Comparison of Fluoride and Catechin Levels in Green Tea Extract at Various Geographical Locations in Thailand. Journal of department of medicine 2019;44:140-20.
Pahwa V, Nair S, Shetty RS, Kamath A. Prevalence of Oral Premalignant Lesions and Its Risk Factors among the Adult Population in Udupi Taluk of Coastal Karnataka, India. Asian Pac J Cancer Prev. 2018;19(8):2165-70.
Visser T. Camellia sinensis (L.) O. Kuntze. Outlines of perennial crop breeding in the tropics Landbouwhogeschool Wageningen, The Netherlands. 1969:459-93.
Rusak G, Komes D, Likić S, Horžić D, Kovač M. Phenolic content and antioxidative capacity of green and white tea extracts depending on extraction conditions and the solvent used. Food Chemistry. 2008;110(4):852-8.
Kutil Z, Temml V, Maghradze D, Pribylova M, Dvorakova M, Schuster D, et al. Impact of Wines and Wine Constituents on Cyclooxygenase-1, Cyclooxygenase-2, and 5-Lipoxygenase Catalytic Activity. Mediators of Inflammation. 2014;2014:1-8.
Khalaf NA, Shakya AK, Al-Othman A, El-Agbar Z, Farah H.
Antioxidant activity of some common plants. Turkish Journal of Biology. 2008;32(1):51-5.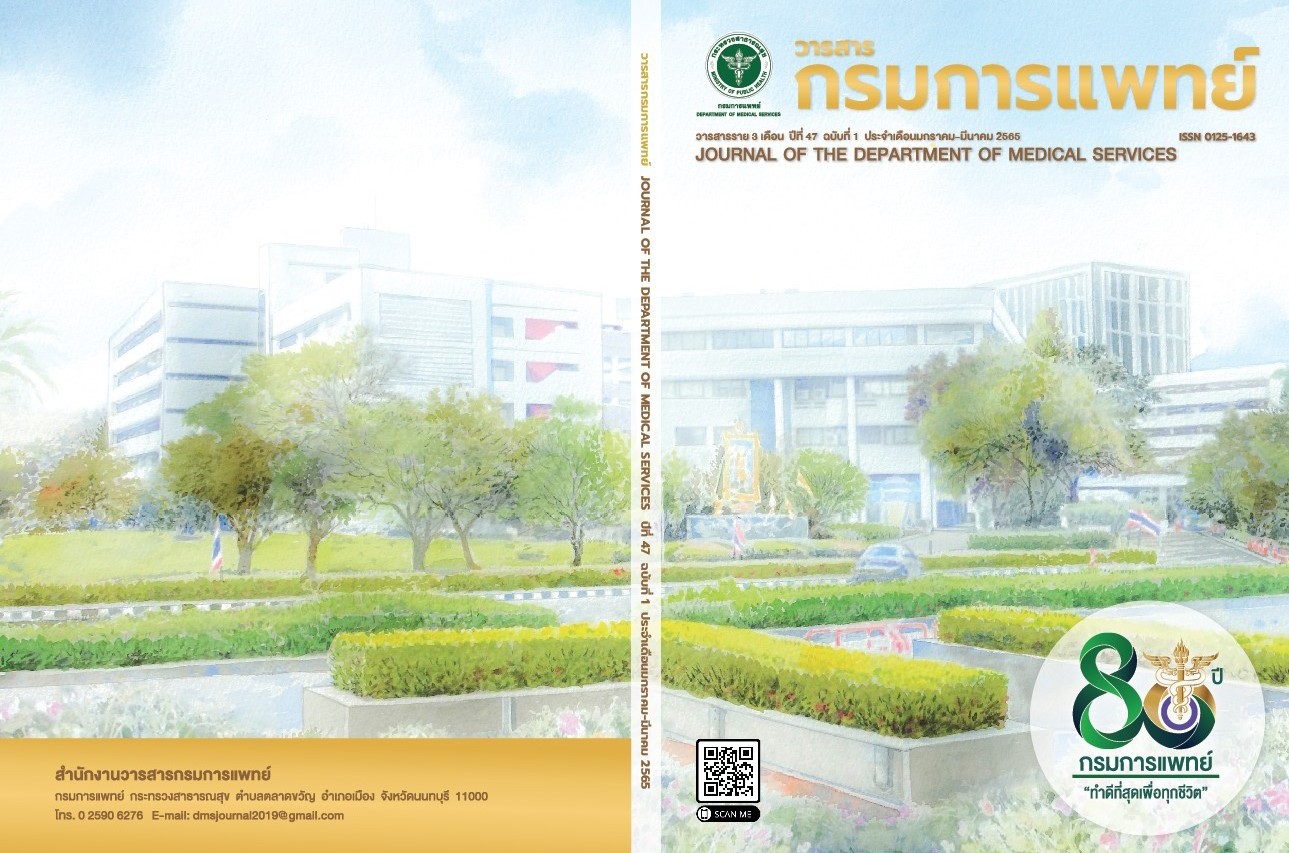 Downloads
How to Cite
1.
Topothai K, Tayana N, Prateeptongkum S, Duangdee N, Prateeptongkum E. Cyclooxygenase-2- inhibiting activity of polyphenols in extracts of tea from various geographic locations in Thailand. j dept med ser [Internet]. 2022 Mar. 31 [cited 2022 Oct. 1];47(1):119-28. Available from: https://he02.tci-thaijo.org/index.php/JDMS/article/view/253517
License
Copyright (c) 2022 Department of Medical Services, Ministry of Public Health
This work is licensed under a Creative Commons Attribution-NonCommercial-NoDerivatives 4.0 International License.
บทความที่ได้รับการตีพิมพ์เป็นลิขสิทธิ์ของกรมการแพทย์ กระทรวงสาธารณสุข
ข้อความและข้อคิดเห็นต่างๆ เป็นของผู้เขียนบทความ ไม่ใช่ความเห็นของกองบรรณาธิการหรือของวารสารกรมการแพทย์