Cost Analysis and Break-Even Point Radiation Services with Helical Tomotherapy in Cancer Specialized Hospitals
Keywords:
Unit Cost, Break-even point, Helical Tomotherpy
Abstract
Background: Cancer is a major public health problem and its incidence is likely to increase. The radiation therapy plays an important and necessary role. But the expenses for purchasing radiators, maintenance and repair are high. There for, the suitable cost of the radiation therapy for cancer patients is important, in particular, Helical Tomotherapy (HT) which is costly and highly specialized. At present there is no any study of its cost.Objective: The study aimed to analyze the unit cost and beak-even point of the Helical Tomotherapy service in Lopburi Cancer Hospital. The budget was allocated for fiscal year 2019 in order to plan the service utilization to be appropriate and cost-effective.Method: This study was used the cost center approach to collect cost data and the cost allocation into sub-activities of radiation with proportion of the workload and collect the revenues from all patients.Result: The finding show that 184 of research participants (patients/clients) with 4,604 times of radiation per year. The average revenue from service fee was 116,604.27 baht per client or 4,518.69 baht per time, respectively. The unit cost was 154,523.46 baht per case or 6,175.57 baht per time. The beak-even point was equal to 250.59 cases per year or 6,489.38 times per year, respectively. The calculation of all kinds of costing except radiator, the cost per unit was 87,566.94 baht per case or 3,499.63 baht per time and the break-even point of 133.01 cases per year or 3,444.40 times per year, respectively.Conclusion: Both the cost per unit and break-even of radiation therapy with Helical Tomotherapy (HT) in Lopburi Cancer Hospital were higher than the average revenue from service fee and the number of clients. A review and adjustment of the system to add services to such a highly specific and costly Helical Tomotherapy irradiation that hospital should consider to be able to provide appropriate and cost-effective patient services and to provide an efficient referral system in the health care area although the cost per unit (not include the cost of treatment machine) was lower. In addition, the factors involved depending on the efficiency of the bill for radiation therapy to the various funds. As well as changes the number and type of patient rights and including the appropriateness of the reimbursement from various health purchasers. Finally to provide effective and quality treatment with radiation as well as sustainability.
Downloads
Download data is not yet available.
References
Bureau of Policy and Strategy, Ministry of Public Health,Thailand Health Profile Report 2008–2010. Available online: http://wops.moph.go.th/ops/thp/thp/en/index.php?id=288&group=05&page=view_doc (accessed on 14 May 2019).
Imsamran W, Pattatang A, Supaattagorn P, Chiawiriyabunya I,Namthaisong K, Wongsena M, et al. Cancer in Thailand volume IX 2003-2015. Bangkok Thailand: National Cancer Institute Ministry of Public Health; 2018
Cancer Registry Unit, Lopburi Cancer Hospital, Hospital – Based Report 1997-2019.http://49.231.231.150/canregweb/index.php/sick1-2/hos8/30(accessed on 14 May 2019)
Lertbutsayanukul C, Rojpornpradit P.Intensity Modulated Radiation Therapy, IMRT);https://www.chulacancer.net/education-inner.php?id=393(accessed on 14 May 2019).
Verhey LJ. Comparison of three-dimensional conformal radiation therapy and intensity-modulated radiation therapy systems.Semin Radiat Oncol 1999;9: 78-98.
Mackie TR, Balog J, Ruchala K, Shepard D, Aldridge S, Fitchard E, et al. Tomotherapy. Semin Radiat Oncol 1999 ;9:108–17.
Halperin EC, Perez CA, Brady LW. Perez and Brady's. Principles and Practice of Radiation Oncology. Lippincott Williams & Wilkins;2008.
Bibault JE, Dussart S, Pommier P, Morelle M, Huguet M, Boisselier P, et al. Clinical outcomes of several IMRT techniques for patients with head and neck cancer: a propensity score–weighted analysis. Int J Radiat Oncol Biol Phys 2017;99:929–37.
Levegrün S, Pöttgen C, Wittig A, Lübcke W, Abu Jawad J,Stuschke M. Helical tomotherapy for whole-brain irradiation with integrated boost to multiple brain metastases: evaluation of dose distribution characteristics and comparison with alternative techniques. Int J Radiat Oncol Biol Phys 2013;86:734–42.
TomoTherapy, Gamma Knife, and CyberKnife Therapies for Patients with Tumours of the Lung, Central Nervous System, or Intra-abdomen: A Systematic Review of Clinical Effectiveness and Cost-Effectiveness. CADTH Technol Overv [Internet]. 2010 [cited 2020 Apr 16]. Available from: https://www.ncbi.nlm.nih.gov/pmc/articles/PMC3411154/(accessed on 14 May 2019).
Perrier L, Morelle M, Pommier P, Boisselier P, Coche-Dequeant B, Gallocher O, et al. Cost analysis of complex radiation therapy for patients with head and neck cancer. Int J Radiat Oncol Biol Phys 2016; 95:654–62.
Uadrang S, Chalermchawalit W, Tungkasmith T, Rakjirawat K,Rueansri J, Jirojmontri T, et al. Break–Even Point of Intensity Modulated Radiotherapy Machines and Volumetric Modulated Arc Therapy Machines for Cancer Treatment. Lopburi: Lopburi Cancer Hospital. Regional Cancer Hospital and National Cancer Institute; 2019.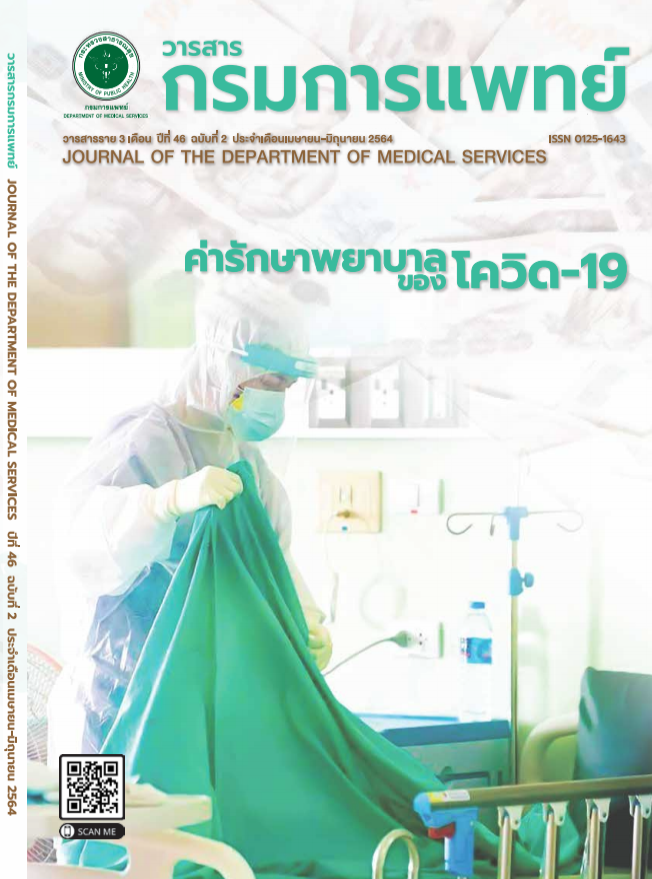 Downloads
How to Cite
1.
Khuanchana S, Lapo K, Boonkerd A, Uadrang S. Cost Analysis and Break-Even Point Radiation Services with Helical Tomotherapy in Cancer Specialized Hospitals. j dept med ser [Internet]. 2021 Sep. 3 [cited 2022 Oct. 3];46(2):54-60. Available from: https://he02.tci-thaijo.org/index.php/JDMS/article/view/253531
License
This work is licensed under a Creative Commons Attribution-NonCommercial-NoDerivatives 4.0 International License.
บทความที่ได้รับการตีพิมพ์เป็นลิขสิทธิ์ของกรมการแพทย์ กระทรวงสาธารณสุข
ข้อความและข้อคิดเห็นต่างๆ เป็นของผู้เขียนบทความ ไม่ใช่ความเห็นของกองบรรณาธิการหรือของวารสารกรมการแพทย์