Developing E-learning System to Support Visual Impairment during Covid-19 pandemic
Keywords:
E-learning, Android, Visual Impaired, Covid-19
Abstract
E-learning is a common tool to support the education in variety of scenarios. As the education contents can be prepared by the group of specialists, but the skilled teachers are limited in remote area. Also, the contents in most curriculum are planned to distribute to limited skilled people. The gap of education can be full-filled with E-learning system. However, the conventional E-learning is high-cost system and not appropriated for rural area. Also, open-source system is complicated to implement and configure in dedicated curriculum. This paper is proposed the customized design of E-learning system for supporting visual impaired student with dynamic design during Covid-19 pandemic. This paper shows the development that is based on the open-source system that is customized for the visual impaired student. The system is to support restricted budget study group in broad area where it can be customized to the study student group. The limitation has challenged the research to share and test among the stakeholders. The system is designed and implemented from actual requirements from teachers and students in university level. The evaluation is based on comparison between conventional study method and proposed e-learning system in same semester. The developed system built on text-to-speech, simple design and customized UX/UI. As a result, the result show student involvement and deliver more contents and knowledge to the visual impaired students. The feedback from actual usage also is evaluated.
Downloads
Download data is not yet available.
References
Alexander, S. (2001). E-learning developments and experiences. Education + Training, 43(4/5). 240-248.
Cisco Systems. (2001). Cisco Systems IQ Atlas.
Fry, K. (2001). E-learning markets and providers: some issues and prospects. Education + Training, 43(4/5), 233-239.
Furnell, S.M., Onions, P.D., Bleimann, U., Gojny, U., Knahl, M., Roder, H. F., & Sanders, P.W. (1998). A security framework for online distance learning and training. Internet Research: Electronic Networking Applications and Policy, 8(3), 236-242.
Garrison, S.H. & Borgia, D.J. (1999). Using an Internet based distance learning to teach introductory finance. Campus-Wide Information Systems, 16(4), 136-139.
Henry, P. (2001). E-learning Technology, Contents and Services. Education + Training, 43(4), 249-255.
Isewon, I., Oyelade, J., & Oladipupo, O. (2021). Design and Implementation of Text To Speech Conversion for Visually Impaired People. CORE.
Lance, D. (2000). Venture capital viewpoints and E-learning futures In Fry, K. (Ed.), The Business of E-learning: Bringing Your Organization in the Knowledge Economy, University of Technology Sydney.
Raiyetunbi, Jude, O., & Emmanuel, A. An Interactive. (2020). Cloud Based User Oriented, Dynamic and Intelligent Text-To-Speech Module. East African Scholar publisher, 3(1), 1-11.
Wittawat Patcharinsak. (2017). Conversation App with Web Speech API. Retrieved November. 9, 2020, from https://konoesite.com/สร้าง-conversation-app-ง่ายๆด้วย-web-speech-api-be54db5505f4.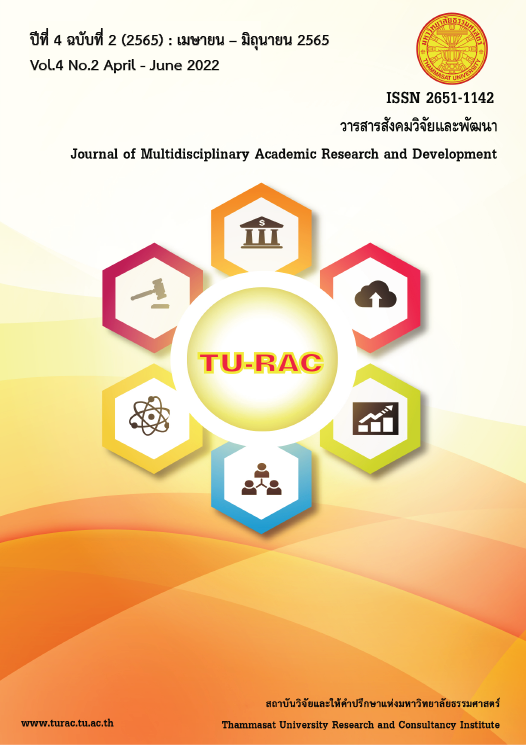 Downloads
How to Cite
Techateerawat, P. (2022). Developing E-learning System to Support Visual Impairment during Covid-19 pandemic. Journal of Multidisciplinary Academic Research and Development (JMARD), 4(2), 1–12. Retrieved from https://he02.tci-thaijo.org/index.php/JMARD/article/view/255328
License
Copyright (c) 2022 Piya Techateerawat
This work is licensed under a Creative Commons Attribution-NonCommercial-NoDerivatives 4.0 International License.