THE EFFECTS OF PSYCHOEDUCATION PROGRAM ON MEDICATION ADHERENCE AMONG INDIVIDUAL WITH SCHIZOPHRENIA IN THE COMMUNITY
Intukarn Suwan

Banphotpisai Hospital, Nakhon Sawan Province

Suwanee Keawkingkeo

Faculty of Nursing, Thammasat University
Keywords:
Psychoeducation, Schizophrenia, Medication adherence
Abstract
Objective: To examine the effect of psychoeducation program on medication adhe-rence among persons with schizophrenic and their caregivers.
Methods: This study was a quasi- experi­mental research. Samples were 40 persons with schizophrenic and their caregivers recruited from the list of psychiatric clinic registration at Ban­photpisai Hospital. The subjects were matched pairs by the score from the Brief Psychiatric Rating Scale less than 30 and then randomly assigned into experiment and control group with 20 persons in each group. The experimental group participated in a 5 weeks psychoeducation program and the controlled group received regular nursing care. Data were collected by the Medication Adherence Questionnaires before and after the experiment. Data were analyzed using t-test statistics.
Results: The result were as follows:
(1) After paticiapting in the 5 weeks psycho­education program, the mean score of medication adherence of the experimental group (M = 3.80, SD = .21) was significantly higher than that before (M = 2.07, SD = .10) at p < .05.
(2) After the experiment, the mean score of medication adherence of the experimental group (M = 3.80, SD = .21) was significantly higher than that of the control group (M = 2.04, SD = .14) at p < .001.
Downloads
Download data is not yet available.
References
กนิษธิดา ธรรมดา. (2553). การวิเคราะห์ สถานการณ์การส่งเสริมความร่วมมือใน การรักษาด้วยยาของผู้ป่วย โ ร ค จิต เ ภ ท โรงพยาบาลสวนปรุงจังหวัดเชียงใหม่. รายงานการศึกษาอิสระปริญญาพยาบาล ศาสตรมหาบัณฑิต สาขาวิชาการพยาบาล จิตเวชและสุขภาพจิต, บัณฑิตวิทยาลัย, มหาวิทยาลัยเชียงใหม่.
กรมสุขภาพจิต กระทรวงสาธารณสุข. (2559). คู่มือ ผู้เข้าอบรมหลักสูตร การเข้าถึงบริการและ ดูแลผู้ป่วย โรคจิตสำหรับแพทย์ (พิมพ์ครั้ง ที่ 6). กรุงเทพฯ: ชุมนุมสหกรณ์การเกษตร แห่งประเทศไทย.
ธงรบ เทียนสันติ์. (2556). ผลของโปรแกรมการ ให้คำปรึกษาครอบครัวร่วมกับการให้ สุขภาพจิตศึกษาต่อพฤติกรรมการใช้ยาตาม เกณฑ์การรักษาของผู้ป่วยจิตเภทในชุมชน. วิทยานิพนธ์พยาบาลศาสตร มหาบัณฑิต สาขาการพยาบาลสุขภาพจิตและจิตเวช, จุฬาลงกรณ์มหาวิทยาลัย.
อุมาพร กาญจนรักษ์. (2545). ปัจจัยทำนาย พฤติกรรมการใช้ยาตามเกณฑ์การรักษา ของผู้ป่วยจิตเภทในชุมชน. วิทยานิพนธ์ ปริญญามหาบัณฑิต สาขาวิชาการพยาบาล สุขภาพจิตและจิตเวช, คณะพยาบาลศาสตร์ จุฬาลงกรณ์มหาวิทยาลัย.
Anderson, C. M., Hogarty, G. E., & Reiss, D. J. (1980). Family treatment of adult schizo¬phrenic patients: A psycho-educational approach. Schizophrenia Bulletin, 6(3), 490-505.
Azrin, N. H. & Teichner, G. (1998). Evaluation of an instructional program for improving
medication compliance for chronically ill outpatients. Behavior Research Therapy, 39(9), 849-861.
Ebtsam, H. S., Nefissa, M. A. K., Nadia, E.S., & Amany, A. M. (2018). Effect of Psycho educational Program on Improving of Medication Adherence among Schizo¬phrenic Patients. Journal of Nursing and Health Science, 7(6), 69-79.
Farragher, B. (1999). Treatment compliance in the mental health service. Irish Medical Journal, 92(6), 392-394.
Gilmer, T. P., Dolder, C. R., Lacro, J. P., Folsom, D. P., Lindamer, L., Garcia, P., et al. (2004). Adherence to treatment with antipsychotic medication and health care costs among Medicaid beneficiaries with schizophrenia. American Journal of Psychiatry, 161(4), 692-699.
Kumar, S. & Sedgwick, P. (2001). Non-compli¬ance to psychotic medication in Eastern
India: Clients' perspective Part II. Journal of Mental Health, 10(3), 279-284.
Marder, S. R. (2003). Overview of partial com¬pliance. Journal of Clinical Psychiatry, 64(16), 3-9.
Pekkala, E., & Merinder, L. (2002). Psychoedu¬cation for schizophrenia. Cochrane Data¬base of Systematic Reviews, Cd002831. doi:10.1002/14651858.Cd002831
Pitschel-Walz, G., Bauml, J., Bender, W., Engel, R. R., Wagner, M., & Kissling, W. (2006). Psychoeducation and compliance in the treatment of schizophrenia: Results of the Munich Psychosis Information Project Study. Journal of Clinical Psychiatry, 67(3), 443-452. doi:10.4088/jcp.v67n0316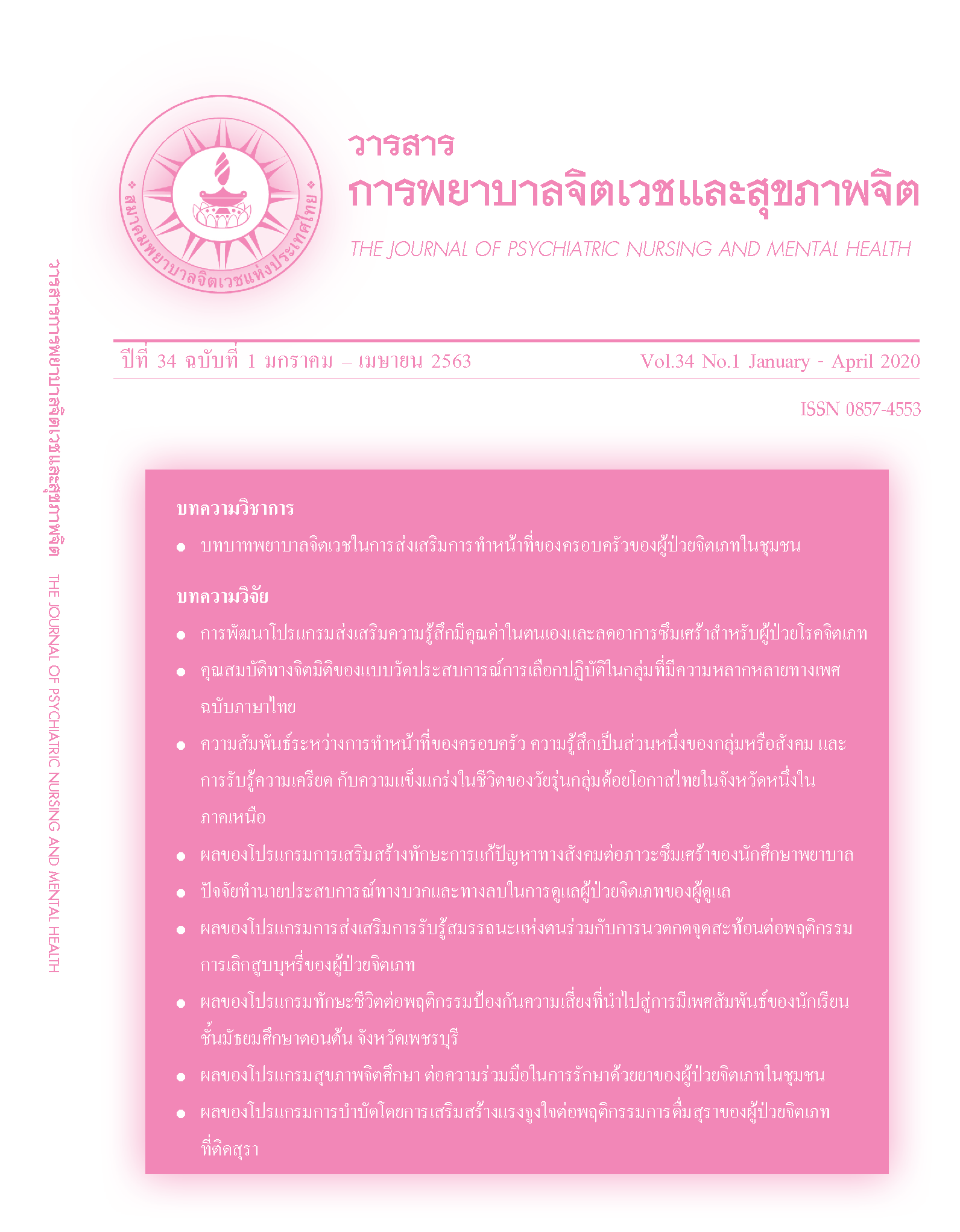 Section
Research Articles
Copyright (c) 2020 สมาคมพยาบาลจิตเวชแห่งประเทศไทย
This work is licensed under a Creative Commons Attribution-NonCommercial-NoDerivatives 4.0 International License.
บทความที่ได้รับการตีพิมพ์แล้ว เป็นลิขสิทธิ์ของสมาคมพยาบาลจิตเวชแห่งประเทศไทย