Investigation of a COVID-19 Cluster Suspected In-flight Transmission, December 2020
Keywords:
COVID-19, in-flight transmission, on plane transmission, airplane transmission, coronavirus, respiratory virus
Abstract
On 1 Dec 2020, the Thai Department of Disease Control was notified of five COVID-19 infections among passengers on a flight from Switzerland to Thailand. The objectives of this investigation were to confirm the outbreak, describe epidemiological characteristics, and identify the source of infection. We performed a descriptive study and contact tracing among the flight's passengers. We interviewed the cases and reviewed their medical records, as well as an environmental survey of the state quarantine facility. Whole genome sequencing to determine the percentage alignment identity for RT-PCR-positive cases was conducted. Thirteen infected passengers out of 107 people on the flight (12.1%) were identified. The suspected index case was a symptomatic passenger, non-mask-wearing passenger. Five of the 13 confirmed cases shared a similar genomic pattern (98–100% alignment identity), and four cases sat within one row either in front of or behind the suspected index case. The genomes of the cases were more similar to each other than those uploaded to the GISAID database from Switzerland. The symptomatic COVID-19 passenger without mask wearing was suspected to be the source. Mask wearing should be mandated on flight to prevent spreading of respiratory infectious diseases.
Downloads
Download data is not yet available.
References
World Health Organization. WHO Coronavirus Disease (COVID-19) Dashboard [Internet]. Geneva: World Health Organization; 2020 [cited 2020 Sep 15]. <https://covid19.who.int>
Choi EM, Chu DKW, Cheng PKC, Tsang DNC, Peiris M, Bausch DG, et al. In-flight transmission of SARS-CoV-2. Emerg Infect Dis [Internet]. 2020 Nov [cited 2020 Oct 5]; 26(11):2713–6. doi:10.3201/eid2611.203254.
Khanh NC, Thai PQ, Quach HL, Thi NAH, Dinh PC, Duong TN, et al. Transmission of severe acute respiratory syndrome coronavirus 2 during long-haul flight. Emerg Infect Dis. 2020 Nov; 26(11):2617–24. doi:10.3201/eid2611.203299.
Pombal R, Hosegood I, Powell D. Risk of COVID-19 during air travel. JAMA. 2020 Oct 1;324(17):1798. doi:10.1001/jama.2020.19108.
Swiss Federal Office of Public Health, Communications. Coronavirus: large-scale events to be permitted from October under strict conditions and with a permit [Internet]. Bern (Switzerland): Federal Council; 2020 Aug 12 [cited 2020 Sep 15]. <https://www.admin.ch/gov/en/start/documentation/media-releases.msg-id-80054.html>
Department of Disease Control Thailand. Measures to control COVID-19 version 5 updated on 2 April 2020. Nonthaburi: Department of Disease Control Thailand; 2020 Apr 2. 2 p.
Regulation Issued under Section 9 of the Emergency Decree on Public Administration in Emergency Situation B.E. 2548 (2005) (No.12). Royal Thai Government Gazette Volume 137, Special part 153 Ngor (Dated 2020 Jun 30):35.
Ministry of Public Health Thailand. Guidance for integrated management of state quarantine facilities. Nonthaburi: Ministry of Public Health Thailand: 2020 Jun 20. 36 p.
Ministry of Public Health Thailand. Guideline for Surveillance and Case Investigation for Coronavirus Disease 2019 (COVID-19). Nonthaburi: Ministry of Public Health (TH); 2020 May 15.
Elbe S, Buckland-Merrett G. Data, disease and diplomacy: GISAID's innovative contribution to global health. Glob Chall. 2017;1(1):33-46. doi:10.1002/gch2.1018.
Hamed SM, Elkhatib WF, Khairalla AS, Noreddin AM. Global dynamics of SARS-CoV-2 clades and their relation to COVID-19 epidemiology. Sci Rep. 2021 Apr 19;11(1):8435. doi:10.1038/s41598-021-87713-x
Chen Y, Wang AH, Yi B, Ding KQ, Wang HB, Wang JM, et al. [Epidemiological characteristics of infection in COVID-19 close contacts in Ningbo city]. Zhonghua Liu Xing Bing Xue Za Zhi. 2020 May 10;41(5):667–71. Chinese. doi:10.3760/cma.j.cn112338-20200304-00251.
Li Y, Liang M, Gao L, Ayaz Ahmed M, Uy JP, Cheng C, Zhou Q, Sun C. Face masks to prevent transmission of COVID-19: A systematic review and meta-analysis. Am J Infect Control. 2021 Jul;49(7):900–6. doi:10.1016/j.ajic.2020.12.007.
Leung NHL, Chu DKW, Shiu EYC, Chan KH, McDevitt JJ, Hau BJP, et al. Respiratory virus shedding in exhaled breath and efficacy of face masks. Nat Med. 2020 May;26(5):676–80. doi:10.1038/s41591-020-0843-2.
Howard J, Huang A, Li Z, Tufekci Z, Zdimal V, van der Westhuizen HM, et al. An evidence review of face masks against COVID-19. Proc Natl Acad Sci U S A. 2021 Jan 26;118(4): e2014564118. doi:10.1073/pnas.2014564118.
Vardoulakis S, Espinoza Oyarce DA, Donner E. Transmission of COVID-19 and other infectious diseases in public washrooms: A systematic review. Sci Total Environ. 2022 Jan 10;803: 149932. doi:10.1016/j.scitotenv.2021.149932.
John Milne R, Delcea C, Cotfas LA. Airplane Boarding Methods that Reduce Risk from COVID-19. Saf Sci. 2020 Oct 26:105061. doi:10.1016/j.ssci.2020.105061.
Jivaramonaikul T, Nittayasoot N, Suphanchaimat R. An investigation of a coronavirus disease (COVID-19) cluster from Saudi Arabia, in a state quarantine Chonburi, Thailand, 2020. OSIR. 2021 Dec;14(4):121–6.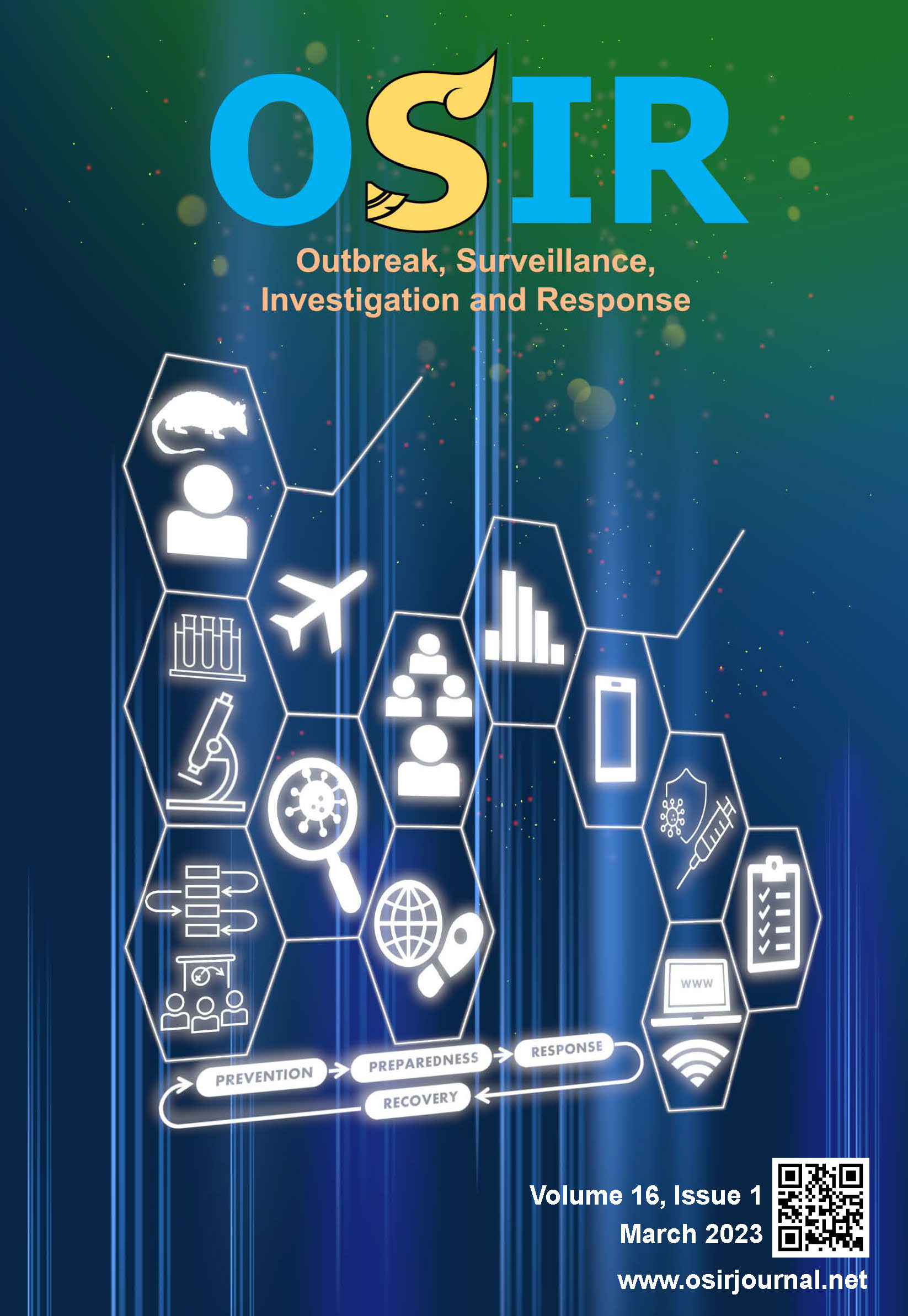 Downloads
How to Cite
Jivaramonaikul, T., Akkapaiboon Okada, P., Srisong, N., Kanchana-udom, W., & Taweewigyakarn, P. (2023). Investigation of a COVID-19 Cluster Suspected In-flight Transmission, December 2020. Outbreak, Surveillance, Investigation & Response (OSIR) Journal, 16(1), 7–13. https://doi.org/10.59096/osir.v16i1.262096
License
Copyright (c) 2023 Outbreak, Surveillance, Investigation & Response (OSIR) Journal
This work is licensed under a Creative Commons Attribution-NonCommercial-NoDerivatives 4.0 International License.