Effects of Bowel Preparation with Oral Sodium Phosphate on Serum Potassium Levels and Side Effects in Gynecologic Patients.
Keywords:
Bowel preparation, Sodium phosphate, Serum potassium level, Gynecologic patients
Abstract
Sodium phosphate solution (NaP) is commonly used for bowel preparation before surgery however it has been shown to significantly reduce the serum potassium level. This retrospective study aimed to investigate serum potassium level in gynecologic patients who received oral sodium phosphate solution for bowel preparation before surgery. Data from the database of a university hospital were collected from January to December 2016. The samples included 160 patients. The instruments used for data collection included the Serum Potassium Form and the Side Effect Evaluation Form. Data were analyzed using chi-square test.
The results revealed that the serum potassium levels of the samples after administering NaP were significantly lower than before (p< .001). The side effects found included cardiac arrhythmia (4.00%) and abdominal distention (36.00%).
The results of the study indicate that NaP could reduce the serum potassium level. Therefore, a program to monitor the serum potassium level or the prompt treatment for hypokalemia among gynecologic patients who receive NaP for bowel preparation prior to surgery should be considered.
Downloads
Download data is not yet available.
References
ณัฐวุธ สิบหมู่. (2555). ยาที่ผลต่อระบบทางเดินอาหาร. ใน ณัฐวุธ สิบหมู่ (บรรณาธิการ), เภสัชวิทยา:เนื้อหาสำคัญและแบบฝึกหัด (พิมพ์แก้ไขปรับปรุงครั้งที่ 1, หน้า 779-801). กรุงเทพฯ: โฮลิสติก
พับลิชชิ่ง.
สหัสา หมั่นดี. (2556). สารน้ำและอีเล็คโทรไลท์กับวิสัญญี. ใน อังกาบ ปราการรัตน์, วิมลลักษณ์ สนั่นศิลป์, ศิริลักษณ์ สุขสมปอง, และ ปฏิภาณ ตุ่มทอง (บรรณาธิการ), ตำราวิสัญญีวิทยา (พิมพ์ครั้งที่ 4, หน้า 173-188). กรุงเทพฯ: เอ พลัส พริ้น.
Beloosesky, Y., Grinblat, J., Weiss, A., Grosman, B., Gafter, U., & Chagnac, A. (2003). Electrolyte disorders following oral sodium phosphate administration for bowel cleansing in elderly patients. Archives of internal medicine, 163(7), 803-808.
Brown, A. R., & DiPalma, J. A. (2004). Bowel preparation for gastrointestinal procedures. Current gastroenterology reports, 6(5), 395-401.
Curran, M. P., & Plosker, G. L. (2004). Oral sodium phosphate solution. Drugs, 64(15), 1697-1714.
Hoffmanova, I., & Andel, M. (2013). Serious risk related to oral use of sodium phosphate solution. Vnitrni lekarstvi, 59(12), 1111-1116.
Muzii, L., Bellati, F., Zullo, M. A., Manci, N., Angioli, R., & Panici, P. B. (2006). Mechanical bowel preparation before gynecologic laparoscopy: a randomized, single-blind, controlled trial. Fertility and sterility, 85(3), 689-693.
Singhatas, P., Sangdee, N., Kositchaiwat, S., Sumboonanonda, K., Suwanthanma, W., Sumritpradit, P., & Lertsithichai, P. (2011). Effect of Bowel Preparation with Oral Sodium Phosphate on Serum Potassium Level in Patients Undergoing Colonoscopy under IV Anesthesia. Journal of the Medical Association of Thailand, 92(12), 1616.
Won, H., Maley, P., Salim, S., Rao, A., Campbell, N. T., & Abbott, J. A. (2013). Surgical and patient outcomes using mechanical bowel preparation before laparoscopic gynecologic surgery: a randomized controlled trial. Obstetrics & Gynecology, 121(3), 538-546.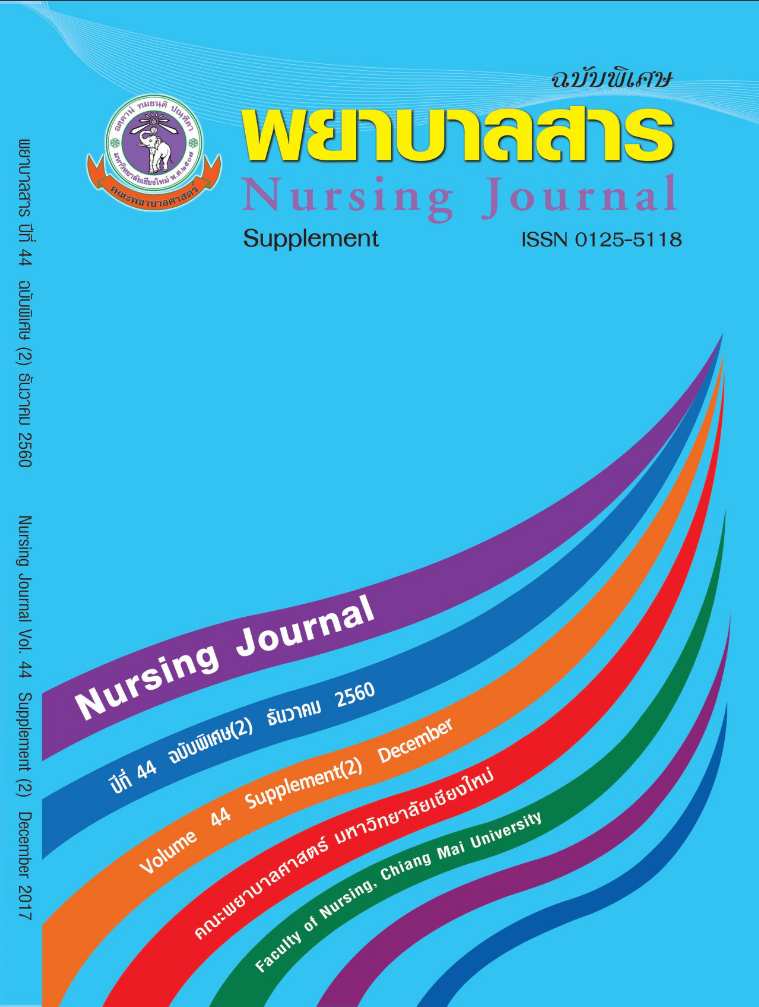 Downloads
License
บทความที่ได้รับการตีพิมพ์เป็นลิขสิทธิ์ของวารสารพยาบาลสาร
ข้อความที่ปรากฏในบทความแต่ละเรื่องในวารสารวิชาการเล่มนี้เป็นความคิดเห็นส่วนตัวของผู้เขียนแต่ละท่านไม่เกี่ยวข้องกับมหาวิทยาลัยเชียงใหม่ และคณาจารย์ท่านอื่นๆในมหาวิทยาลัยฯ แต่อย่างใด ความรับผิดชอบองค์ประกอบทั้งหมดของบทความแต่ละเรื่องเป็นของผู้เขียนแต่ละท่าน หากมีความผิดพลาดใด ๆ ผู้เขียนแต่ละท่านจะรับผิดชอบบทความของตนเองแต่ผู้เดียว