Use of Scenario based High-Fidelity Human Simulation for Nursing Laws and Ethics Teaching
Keywords:
Scenario, High-fidelity human simulation, Nursing law and ethics
Abstract
Scenario based high fidelity human simulation (HFHS) is a modern educational method for nursing instruction in order to link and integrate nursing knowledge holistically. The HFHS is encouraging students to be more enthusiastic about learning, better understand abstract content and have better memory retention. Furthermore, it's convenient for application in many nursing situations where appropriate.
After a HFHS scenario of a case of a patient with an allergy to the drug (Penicillin) was implemented in law and ethics teaching, nursing students were satisfied with the simulation at high levels. The results strongly recommend further development and integration of the HFHS for nursing education. 
Downloads
Download data is not yet available.
References
Berndt, J. et al. (2015). Collaborative classroom simulation CCS): Innovative pedagogy using
simulation in nursing education. Nursing Education Perspectives, 36(6), 401-402.
Carson, P. (2016). Simulation use within the classroom: Recommendations from the literature,
Clinical Simulation in Nursing, 12 (10), 429-437.
Cooper, J.B. & Taqueoti, V.R. (2008). A brief history of the development of mannequin simulators for
clinical education and training, Postgrad Med Journal, 84(997), 563-570.
Drain, K.L., & Volchock, G.W. (2001). Preventing and managing drug-induced anaphylaxis, Drug
Safety, 24(11). 843-853.
Fromer, L. (2016). Prevention of anaphylaxis: The role of the Epinephrine auto-injector, The
American Journal of Medicine, 129 (12), 1244-1250.
Kable, A.K., Jones, T.L., & Searl, K.R. (2013). Student evaluation of simulation in undergraduate
nursing programs in Australia using quality indicators. Nursing& Health sciences, 2013 (15). 235-243.
Limsuwan, T. & Demoly, P. (2010). Acute symptoms of drug hypersensitivity: Urticaria, angioedema,
anaphylaxis, anaphylactic shock, The Medical Clinics of North America, 94(4), 691-710.
Rode, J. L, Callihan, M.L., & Barnes, B.L. (2016). Assessing the value of large-group simulation in
the classroom. Clinical Simulation in Nursing, 12(7), 251-259.
Turner, S. & Cole, L.G. (2017). Using high-fidelity simulation scenarios in the classroom to engage
learners. Creative Nursing, 23(1), 35-41.
Yuan, H.B., Williams, B.A. & Man, C.Y. (2014). Nursing students' clinical judgment in high-fidelity
simulation based learning: A quasi-experimental study, Journal of Nursing Education and
Practice, 4(5), 7-15.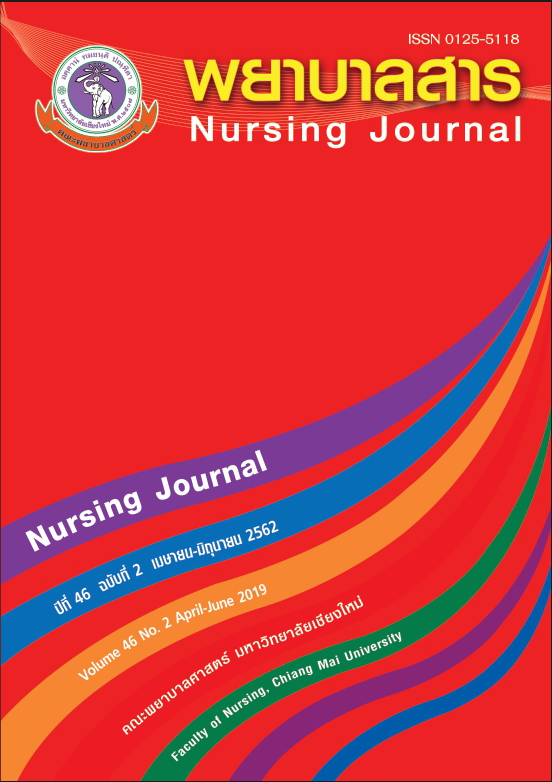 Downloads
License
บทความที่ได้รับการตีพิมพ์เป็นลิขสิทธิ์ของวารสารพยาบาลสาร
ข้อความที่ปรากฏในบทความแต่ละเรื่องในวารสารวิชาการเล่มนี้เป็นความคิดเห็นส่วนตัวของผู้เขียนแต่ละท่านไม่เกี่ยวข้องกับมหาวิทยาลัยเชียงใหม่ และคณาจารย์ท่านอื่นๆในมหาวิทยาลัยฯ แต่อย่างใด ความรับผิดชอบองค์ประกอบทั้งหมดของบทความแต่ละเรื่องเป็นของผู้เขียนแต่ละท่าน หากมีความผิดพลาดใด ๆ ผู้เขียนแต่ละท่านจะรับผิดชอบบทความของตนเองแต่ผู้เดียว