Open Access: An Important Information Resource for Health Sciences
Keywords:
open access, health science, academic journal of health science, Directory of Open Access Journals, DOAJ
Abstract
Open Access (OA) aims for academic papers to be published in electronic journals without access limitations. Users are given the right to access information in an online format so that it is convenient, quick and also saves costs. Due to the advancement of technology, the number of open access journals is growing rapidly. Therefore, consideration of the quality of open access journals is of great importance for users. DOAJ (Directory of Open Access Journals) is a quality inspection tool that helps determine the quality of journals and whether or not the publishing processes follow the journals' standards correctly. This is to prevent a lack of academic ethics, including a lack of quality assessment of articles that are submitted for publication. In order for a journal name to be published and to build credibility, faculty members have to consider the journal before submitting their academic work for publication in order not to be victimized by a predatory journal. For the publication of quality journals, all articles are counted and analyzed along with the number of references that are related to various quality indicators of the users, the institutes and the journals, such as H-index and Impact factor. These values ​​are used to evaluate the academic ability of faculties and universities in receiving quality awards and the Quacquarelli Symonds (QS) university ranking that is used in the world's top university rankings.
Downloads
Download data is not yet available.
References
Antelman, K. (2004). Do open access articles have a greater research impact? College & Research Libraries News, 65(5), 372-382.
Albert, K. M. (2006). Open access: Implications for scholarly publishing and medical libraries. Journal of the Medical Library Association, 94(3), 253-262.
Directory of Open Access Repositories (DOAR). (2020). About directory of open access journals. Retrieved from http://www.doaj.org/
Directory of Open Access Journals (DOAJ). (2018). Principles of transparency and best practice in scholarly publishing. Retrieved from http://www.doaj.org/
Eysenbach, G. (2006). The open access advantage. Journal of Medical Internet Research, 8(2),e8. doi: 10.2196/jmir.8.2.e8.
Eng, S. (2017). The library profession in the time of open access. The Serials Librarian, 73(3-4),215-225.
Nursing Journal. (2020). About nursing journal. (in Thai) Retrieved from https://he02.tci-thaijo.org/index.php/cmunursing/ethics
Powdwal, S. C. (2017). Open access initiatives: Reframing the role of Librarians. Library Herald, 55(4), 467-487.
Praditphum, S. (2018). The librarian's role in providing Thai scholarly journal services in open access era. Journal of Library and Information Science Srinakharinwirot University, 11(2), 196-211. (in Thai)
Sumriddetchkajorn, O. (2010). Scientific information in the digital age: Access and dissemination. (in Thai) Retrieved from https://www2.mtec.or.th/th/e-magazine/admin/upload/250_37-44.pdf
Thaotip, L. (2010). Libraries in open access era. Journal of Library and Information Science Srinakharinwirot University. 3, 136-142. (in Thai)
Thaotip, L. (2015). Open access publishing and health sciences researchers of Mahasarakham University. Information, 22(1), 11-18. (in Thai)
Wipawin, N. (2016). The proposed standard for the quality assurance of the research data management in institutional repositories for Thai universities. TLA Research Journal, 9(2), 22-39. (in Thai)
Wipawin, N. (2018). Scholarly communication and open access. Bangkok: Chulabook. (in Thai)
Wipawin, N. (2019). Research issues related to open libraries. (in Thai) Retrieved from https://km.li.mahidol.ac.th/wp-content/uploads/2019/04/namthip.pdf
Wittayawuttikul, R. (2012). Warning for publication a research article in open access journal. (in Thai) Retrieved from https://stang.sc.mahidol.ac.th/pdf/research/OpenAccess.pdf
Wongkaew, C. (2018). Thai scholarly journals and open access. T.L.A. Bulletin, 62(1), 68-84. (in Thai)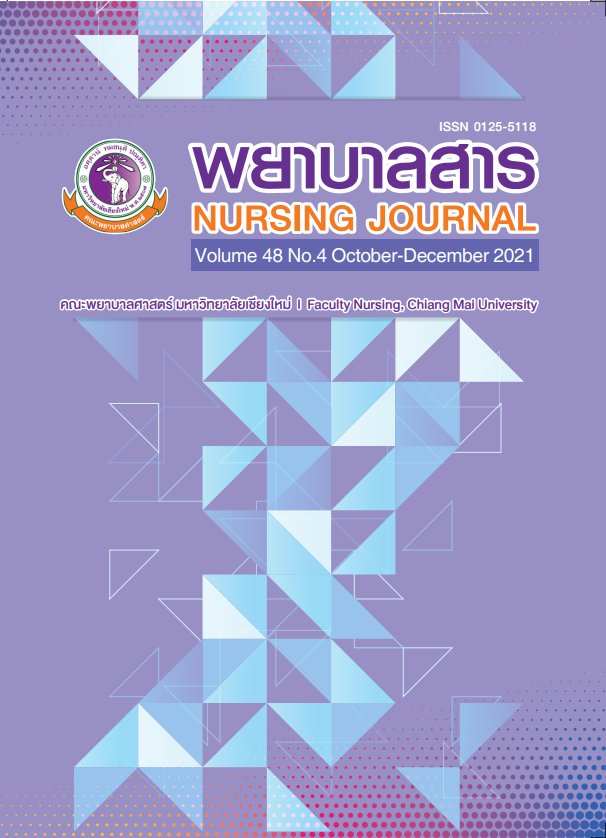 Downloads
License
บทความที่ได้รับการตีพิมพ์เป็นลิขสิทธิ์ของวารสารพยาบาลสาร
ข้อความที่ปรากฏในบทความแต่ละเรื่องในวารสารวิชาการเล่มนี้เป็นความคิดเห็นส่วนตัวของผู้เขียนแต่ละท่านไม่เกี่ยวข้องกับมหาวิทยาลัยเชียงใหม่ และคณาจารย์ท่านอื่นๆในมหาวิทยาลัยฯ แต่อย่างใด ความรับผิดชอบองค์ประกอบทั้งหมดของบทความแต่ละเรื่องเป็นของผู้เขียนแต่ละท่าน หากมีความผิดพลาดใด ๆ ผู้เขียนแต่ละท่านจะรับผิดชอบบทความของตนเองแต่ผู้เดียว