Psychological Capital and Work Engagement of Nurses, Regional Hospitals
Keywords:
Regional Hospitals, Nurses, Psychological Capital Work Engagement of Nurses
Abstract
Psychological capital is a factor enhancing the work engagement of nurses.
The purpose of this descriptive correlational research was to identify psychological capital and work engagement as well as the relationship between psychological capital and work engagement of nurses working in regional hospitals. The participants were 438 nurses working in Uttaradit Hospital, Buddhachinaraj Phitsanulok Hospital, and Chiang Rai Prachanukroh Hospital. The research instrument used in this study was a questionnaire which consisted of 3 parts; 1) personal data questionnaire, 2) Psychology Capital Questionnaire developed by Luthans et al. (2007) that had been back-translated and adapted to fit a nursing context by the researcher, and 3) The Work Engagement Scale by Supaporn Muanlamai (2012) modified from The Utrecht Work Engagement Scale by Schaufeli and Bakker (2003). The Cronbach's Alpha Coeffient of the Psychological Capital Questionnaire and the Work Engagement Scales were 0.84 and 0.85 respectively. Data were analyzed using descriptive statistics and Spearman rank correlation coefficient.
          The results showed that overall psychological capital of nursing in regional hospitals, as well as dimensions of self-efficacy and hope, were at a high level while dimensions of resilience and optimism were at moderate level. The overall work engagement, as well as dimensions of vigor and dedication, were at relatively high level while the dimension of absorption was at moderate level. Psychological capital and its' dimensions had positive relationships with work engagement. 
Nursing Administrators can used the results of this research as basic information for developing and enhancing nurses to increase psychological capital that will result in increasing work engagement.
Downloads
Download data is not yet available.
References
Duong, Van. M., Akkadechanunt, T., & Chitpakdee, B. (2019). Job Demands, Job Resources and Work Engagement among Nurses in Tertiary Care Hospitals, Thanh Hoa Province, The Socialist Republic of Vietnam. Nursing Journal, 46(1), 166-179. (In Thai)

Keyko, K., Cummings, G. G., Yonge, O., & Wong, C. A. (2016). Work engagement in professional nursing practice: A systematic review. International Journal of Nursing Studies, 61, 142-164.

Kimball, B., & O'Neal, E. (2002). Health care's human crisis: The American nursing shortage.New Jersey: Robert Wood Johnson Foundation.

Laschinger, H. K. S., Grau, A. L., Finegan, J., & Wilk, P. (2012). Predictors of new graduate nurses' workplace well-being: Testing the job demands-resources model. Health Care Management Review, 37(2), 175-186.

Luthans, F., Avey, J. B., & Jensen, S. M. (2008). Psychological capital: A positive resource for combating employee stress and turnover. Human Resource Management, 48(5), 677-693. doi:10.1002/hrm.20294

Luthans, F., Youssef, C. M., & Avolio, B. J. (2007). Psychological capital: Developing the humancompetitive edge. Oxford: Oxford University Press.

Masten, A. S. (2001). Ordinary magic: Resilience processes in development. American Psychologist, 56(3), 227–238.

Ministry of Public Health. (2015). Geographic information system for health resources. Retrieved from http://gishealth.moph.go.th/healthmap/gmap.php#result. (In Thai)

Ministry of Public Health, Department of Medical Services, Bureau of Nursing. (2008). Nursing standards in hospitals. Nonthaburi: Ministry of Public Health. (In Thai)

Ministry of Public Health, Office of the Permanent Secretary, Nursing Division. (2018). Role of professional nurses. Bangkok: Tawan Media. (In Thai)

Peterson, S. J., Luthans, F., Avolio, B. J., Walumbwa, F. O., & Zhang, Z. (2011). Psychological capital and employee performance: A latent growth modeling approach. Personnel Psychology, 64(2), 427-450.

Santawaja, C. (2007). Basic concepts. Nursing Theory and Process. Bangkok: Thana Press. (In Thai)

Wattanapha, P. (2013). Situation of resignation from nursing profession: Crisis and remedies. Faculty of Medicine Siriraj Hospital Mahidol University. Retrieved from https://www.nci.go.th/tons. (In Thai)

Muanlamai S. (2012). Self-Efficacy, Job Characteristic and Organizational Climate Affeecting Work Engagement of Registered Nurses at a Private Hospital (Master's thesis, Ramkhamhaeng University). (In Thai)

Schaufeli, W. B., & Bakker, A. B. (2003). UWES-Utrecht Work Engagement Scale: Version 1. In Preliminary Manual. Netherlands: Occupational Health Psychology Unit, Utrecht University.

Tomic, M., & Tomic, E. (2011). Existential fulfilment, workload and work engagement among nurses. Journal of Research in Nursing, 16(5), 468-479.

Yuenboon, S., Singchungchai, P., & Chatdokmaiprai, K. (2019). The Effects of Readiness Preparation Program for First-Line Nurse Managers at a Secondary Level Hospital. Nursing Journal, 46(2), 166-180. (In Thai)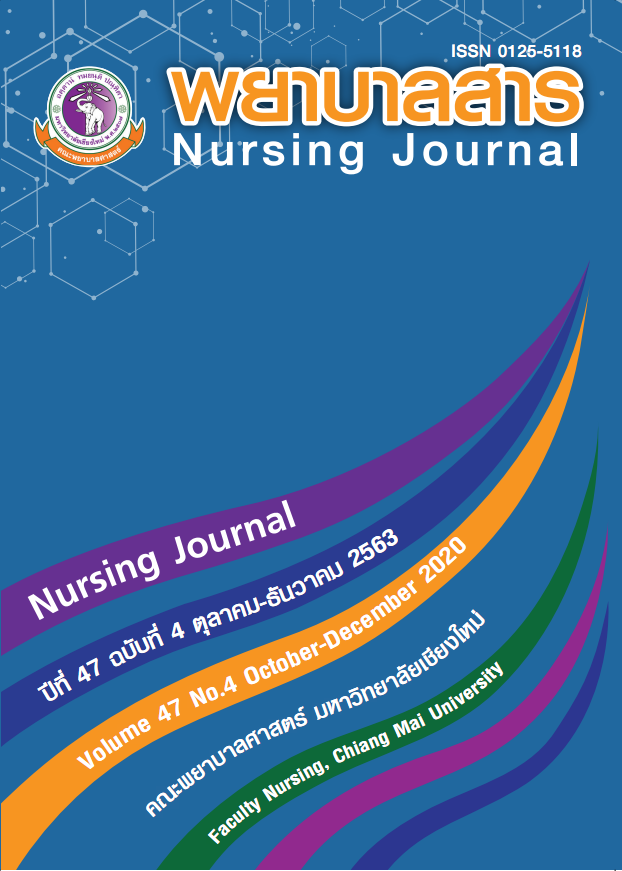 Downloads
License
บทความที่ได้รับการตีพิมพ์เป็นลิขสิทธิ์ของวารสารพยาบาลสาร
ข้อความที่ปรากฏในบทความแต่ละเรื่องในวารสารวิชาการเล่มนี้เป็นความคิดเห็นส่วนตัวของผู้เขียนแต่ละท่านไม่เกี่ยวข้องกับมหาวิทยาลัยเชียงใหม่ และคณาจารย์ท่านอื่นๆในมหาวิทยาลัยฯ แต่อย่างใด ความรับผิดชอบองค์ประกอบทั้งหมดของบทความแต่ละเรื่องเป็นของผู้เขียนแต่ละท่าน หากมีความผิดพลาดใด ๆ ผู้เขียนแต่ละท่านจะรับผิดชอบบทความของตนเองแต่ผู้เดียว