Developing Knowledge of Nurses by Using the Neonatal Resuscitation Electronic Book
Keywords:
Knowledge Development, Professional Nurses in Fang Hospital, Electronic book, Neonatal Resuscitation
Abstract
Annual newborn cardiopulmonary resuscitation (NCPR) training sessions can improve knowledge and skills in the event of respiratory failure or sudden cardiac arrest. However, some nurses are unable to participate in the whole CPR training session due to being on duty and limitation of time. The use of an electronic book (e-book) has provided increased opportunities for nurses to have better access to the NCPR training session. The objectives of this study were to develop a newborn CPR e-book and evaluate nurses'knowledge in newborn CPR after learned through this e-book. Participants were 33 nurses who were randomly selected from three departments in Fang Hospital. Learning outcomes were determined by a knowledge assessment test that was validated by an expert panel and had a reliability index of .71 There were two steps in the data collection process. First, a pilot test was conducted to assess the efficiency of the e-book. Secondly, a field test was performed to evaluate learning through the e-book. The test scores were analyzed by descriptive statistics.
The results of study illustrated that:
The efficiency index of this newborn CPR e-book is 36/93.33, which means that the efficiency of the e-book is satisfactory.
Nurses improved their cognitive ability in newborn CPR practice after using the
e-book. About 76.7% of the participants achieved test scores of more than 80% and the lowest test scores were between 70 to 79%.
The study findings suggest that this newborn CPR e-book can be used to increase knowledge of nurses. Therefore, hospital administrators should use this e-book as a form of
pre-course learning prior to attending a hand-on CPR skills session in order to shorten the duration of time needed at the annual newborn CPR training session.
Downloads
Download data is not yet available.
References
American Heart Association. (2015). Part 13: Neonatal resuscitation: 2015 American Heart Association Guidelines Update for Cardiopulmonary Resuscitation and Emergency Cardiovascular Care. Journal of American Association, 132(2), 543-560. doi:10.1161/ CIR.0000000000000267

Bruce, J. F., & Myron, D. F. (Ed.). (2011). Fundamentals of human resources in healthcare. Chicago: Health administration Press.

Kitsommart, R. (2011). Neonatal resuscitation. Retrieve from http://www.si.mahidol.ac.th/th/division/cpr/content/Neonatal%20 resuscitation_20 10.pdf. (In Thai)

Klakarnna, K. (2007). Effect of Knowledge and Practice Promotional Program Among Nurses on Merthicillin-resistant Staphylococcus aureus Transmission Control in an Intensive Care Unit (Master's thesis, Chiangmai University). (In Thai)

Laohajarutsaeng, T. (2002). Computer-assisted instruction: Principles of design and create computer assisted construction by using multimedia toolbook program. Bangkok: Wongkamol Productions. (In Thai)

Malithong, K. (2005). Educational Communication and Technology. Bangkok: Chulalongkorn University. (In Thai)

Manapattanasatien, T., Chitreecheur, J., & Kasatpibal, N. (2018). Development of an Electronic Book on Prevention of Multidrug Resistance Organisms Transmission for Registered Nurses. Nursing Journal, 45(1), 146-158. (In Thai)

Nursing Division, Department of Medical service, Minister of Public Health. (2008). Standards of Nursing care in Hospital (4th ed.). Nonthaburi: The war Veterans Organization of Thailand Publishing house. (In Thai)

Pichai, W., Picheansathian, W., & Yimyam, S. (2017). Development of an Infection Prevention Electronic Book for Rescue Volunteers. Nursing Journal, 44(1), 113-125. (In Thai)

Pongauksorn, P., Srisa-art, R., & Wongpamornmontree, S. (2018). The Result of Using Electronic Book to Enhance Suctioning on Achievement of Learning Outcome, Confidence and Satisfaction of Students. Journal of The Royal Thai Army Nurses, 19(1), 136-145. (In Thai)

Sangkampang, S., Kasatpibal, N., & Viseskul, N. (2018). Development of an HIV Prevention Electronic Book for Men Who Have Sex with Men. Nursing Journal, 45(3), 11-22. (In Thai)

Sansri, N., Lertwatthanawilat, W., & Unahalekhaka, A. (2015). Effect of Experiential Learning on Efficiency of Targeted Hospital Associated Infection Surveillance among Infection Control Ward Nurses. Nursing Journal, 42(4), 36-47. (In Thai)

Songkram, N. (2014). Multimedia for learning: Design and development. Bangkok: Chulalongkorn University. (In Thai)

Sriareporn, P., Xuto, P., Supavititpatana, B., & Tantranont, K. (2013). Development of Experienced Learning Activities for the Moral and Ethical Promotion During Practicing in Postpartum Care of the Fourth Year Nursing Students. Nursing Journal, 40(1), 74-76. (In Thai)

Srivilai, W., & Atthamaethakul, W. (2011). Development of an Electronic Book on Anatomy of the Cardiovascular System and the Lymphatic Vascular System. Journal of Nursing and Education, 4(1), 29-37.

Sutthirat, C. (2016). 80 Learning Management Innovation of Learner Centered Approach. Bangkok: Danex Intercorporation. (In Thai)

Treenon, P., Tiantong, S., & Boonlom, T. (2019). High School Students Knowledge and Skill about Basic Life Support (BLS): The Effects of using an Application. Journal of Nursing and Health Care, 37(3), 98-105. (In Thai)

Vatanasin, S. (2012). 2010 Cardiopulmonary Resuscitation: Key issues and Major changes. The Journal of Faculty of Nursing Burapha University, 20(2), 1-8. (In Thai)

Viseskul, N. (2019). Development of Instructional media in nursing education: Teaching Concepts and Application. Chiangmai: Chotana Print. (In Thai)

Wannarat, W. (2017). Test Score and Grading. Journal of Humanities and Social Sciences Rajapruek University, 2(3), 1-11. (In Thai)

Wattanawong, S. (2012). Psychology for Training Adult. Bangkok: Terapomwanagum. (In Thai)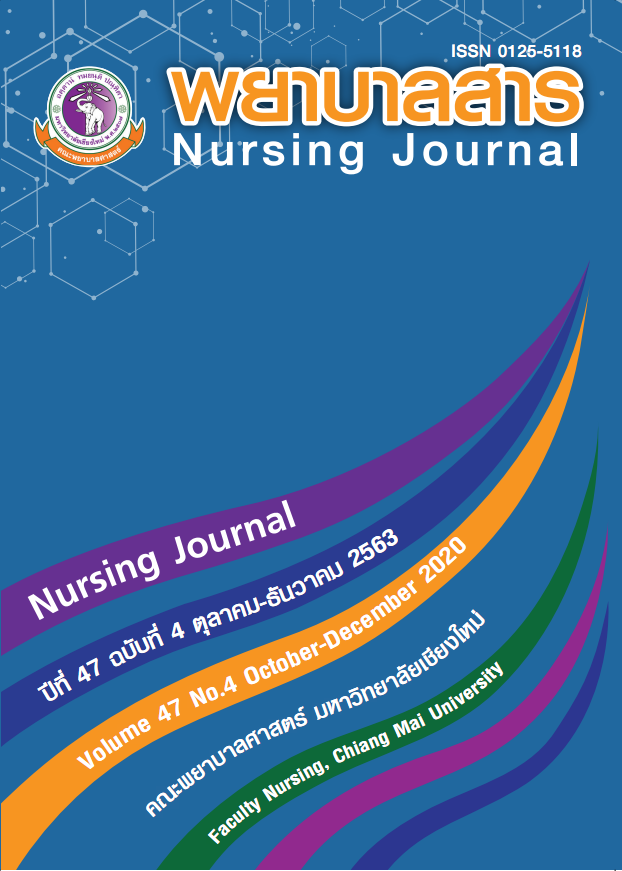 Downloads
License
บทความที่ได้รับการตีพิมพ์เป็นลิขสิทธิ์ของวารสารพยาบาลสาร
ข้อความที่ปรากฏในบทความแต่ละเรื่องในวารสารวิชาการเล่มนี้เป็นความคิดเห็นส่วนตัวของผู้เขียนแต่ละท่านไม่เกี่ยวข้องกับมหาวิทยาลัยเชียงใหม่ และคณาจารย์ท่านอื่นๆในมหาวิทยาลัยฯ แต่อย่างใด ความรับผิดชอบองค์ประกอบทั้งหมดของบทความแต่ละเรื่องเป็นของผู้เขียนแต่ละท่าน หากมีความผิดพลาดใด ๆ ผู้เขียนแต่ละท่านจะรับผิดชอบบทความของตนเองแต่ผู้เดียว