Practices and Obstacles in Ventilator-Associated Pneumonia Prevention Among Registered Nurses in Medical Care Units
Keywords:
Practice, Obstacles, Prevention, Ventilator-Associated Pneumonia, Medical ward
Abstract
Correct practices in the prevention of ventilator-associated pneumonia (VAP) among registered nurses are important in the prevention of pneumonia among mechanically ventilated patients. This descriptive study aimed to determine the practices and obstacles in the prevention of VAP among registered nurses who work in medical wards. The study sample included 151 registered nurses from 11 medical wards in a university hospital. Data were collected from May to June 2018. The data collection tool was a questionnaire consisting of three parts: general information about the sample, VAP prevention practices, and obstacles in the prevention of VAP. The contents of the questionnaire were examined by six experts with the practices and obstacles sections receiving a content validity index of 0.85 and 0.94, respectively. The reliability of the practices and obstacles sections were 0.88 and 0.93, respectively. Data were analyzed using descriptive statistics.
          The study results revealed that nurses utilized the following VAP prevention practices at a good level: hand hygiene, patient positioning, suctioning, oral care, enteral feeding, care of endotracheal tube and ventilator, and environmental management. However, nurses were less consistent in practicing certain activities, such as scrubbing hands with water and antiseptic before helping physicians insert the endotracheal tube 54.3% and brushing patient's teeth 55.0%. The main obstacle for VAP prevention was high workload which caused nurse to work urgently, resulting in fewer prevention practices (27.2%). Other factors such as personnel, support and management were not seen as large obstacles to VAP prevention.
          This study reflected the necessity in promoting correct practices in caring for mechanically ventilated patients among registered nurses in medical wards, including providing sufficient manpower so that they can practice effectively and continuously.
Downloads
Download data is not yet available.
References
Allegranzi, B., Nejad, S. B., Combescure, C., Graafmans, W., Attar, H., Donaldson, L., & Pittet, D. (2011). Burden of endemic health-care-associated infection in developing countries: Systematic review and meta-analysis. The Lancet, 377(9761), 228-241.
Bartlett, J. G. (1997). Management of respiratory tract infections. Baltimore: Williams & Wilkins.
Baxter, A., Allan, J., Bedard, J., Tucker, S., Slivar, S., Langill, M., … Jansen, O. (2005). Adherence to simple and effective measures reduces the incidence of ventilator-associated pneumonia. Canadian Journal of Anesthesia, 52(5), 535–541
Centers for Disease Control and Prevention. (2003). Guidelines for preventing health care associated pneumonia 2003. Retrieved from http://www.cdc.gov/hicpac/pdf/guidelines/ HApneu2003guidelines.pdf
Danchaivijitr, S., Dhiraputra, C., Santiprasitkul, S., & Judaeng, T. (2005). Prevalence and impacts of nosocomial infection in Thailand 2001. Journal of the Medical Association of Thailand, 88(Suppl. 10), S1-S9. (in Thai)
Dudeck, M. A., Horan, T. C., Peterson, K. D., Allen-Bridson, K., Morrell, G., Anttila, A., . . . Edwards, J. R. (2013). National Healthcare Safety Network (NHSN) report, data summary for 2011, device-associated module. American Journal of Infection Control, 41(4), 286.
Guanche-Garcell, H., Requejo-Pino, O., Rosenthal, V. D., Morales-Perez, C., Delgado-Gonzalez, O., & Fernandez-Gonzalez, D. (2011). Device-associated infection rates in adult intensive care units of Cuban university hospitals: International Nosocomial Infection Control Consortium (INICC) findings. International Journal of Infectious Diseases, 15(5), e357-e362.
Hanneman, S. K., & Gusick, G. M. (2005). Frequency of oral care and positioning of patients in critical care: A replication study. American Journal of Critical Care, 14(5), 378-386.
Jones, H., Newton, J. T., & Bower, E. J. (2004). A survey of the oral care practices of intensive care nurses. Intensive and Critical Care Nursing, 20(2), 69-76.
Kaibut, K. (2008). Effects of promoting clinical practice guidelines implementation on nurses' practices and incidence of ventilator - associated pneumonia in a General Hospital. (Master of Nursing Care for Patient with Infectious Disease and Infection Control). Graduate School, Chiang Mai University. (in Thai)
Karaoglan, H., Yalcin, A. N., Cengiz, M., Ramazanoglu, A., Ogunc, D., Hakan, R., . . . Mamikoglu, L. (2010). Cost analysis of ventilator-associated pneumonia in Turkish medical-surgical intensive care units. Le Infezioni in Medicina, 18(4), 248-255.
Kawinam, P, Nguegngam, T, & Assawapalanggool, S. (2018). Effects of the development for promotional program for the implementation of ventilator associated pneumonia prevention-guidelines. Journal of Nursing Division. 44(3). 34-57. (in Thai)
Kobayashi, N., Yamazaki, T., & Maesaki, S. (2006). Bacteriological monitoring of water reservoirs in oxygen humidifiers: Safety of prolonged and multi patient use of prefilled disposable oxygen humidifier bottles. Infection Control & Hospital Epidemiology, 27(3), 320-322. (in Thai)
Kotwal, A., & Taneja, D. K. (2010). Health care workers and universal precautions: Perceptions and of non-compliance. Indian journal of community medicine: Official publication of Indian Association of Preventive & Social Medicine,35(4), 526.
Ling, M. L., Apisarnthanarak, A., & Madriaga, G. (2015). The burden of healthcare-associated infections in Southeast Asia: A systematic literature review and meta-analysis. Clinical Infectious Diseases, 60(11), 1690-1699.
Rello, J., Diaz, E., & Rodriguez, A. (2005). Advances in the management of pneumonia in the intensive care unit: Review of current thinking. Clinical Microbiology and Infection, 11(5), 30-38.
Safdar, N., Dezfulian, C., Collard, H. R., & Saint, S. (2005). Clinical and economic consequences of ventilator-associated pneumonia: A systematic review. Critical Care Medicine, 33(10), 2184-2193.
Sawasrak, K, Unahalekhaka, A, & Lertwatthanawilat, W. (2015). Barriers to and facilitators of infection prevention practices among professional nurses in tertiary care hospitals. Nursing Journal. 42(4), 25-35. (in Thai)
Sartsil,T. (2008). Impacts of Ventilator-associated pneumonia in a hospital in Bangkok. (Unpublished master thesis), Chiang Mai University, Thailand.
Sawawibul, et al. (2016). Incidence of ventilator-associated pneumonia in intensive care unit, Wachira hospital, Wachira Journal. 60(3), 201-209. (in Thai)
Tablan, O. C., Anderson, L. J., Besser, R., Bridges, C., & Hajjeh, R. (2004). Guidelines for preventing healthcare-associated pneumonia, 2003. Morbidity and Mortality Weekly Report, 53(RR-3), 1-36.
Werarak, P., Kiratisin, P., & Thamlikitkul, V. (2010). Hospital-acquired pneumonia and ventilator-associated pneumonia in adults at Siriraj Hospital: Etiology, clinical outcomes, and impact of antimicrobial resistance. Journal of the Medical Association of Thailand, 93(Suppl 1), S126-S138. (in Thai)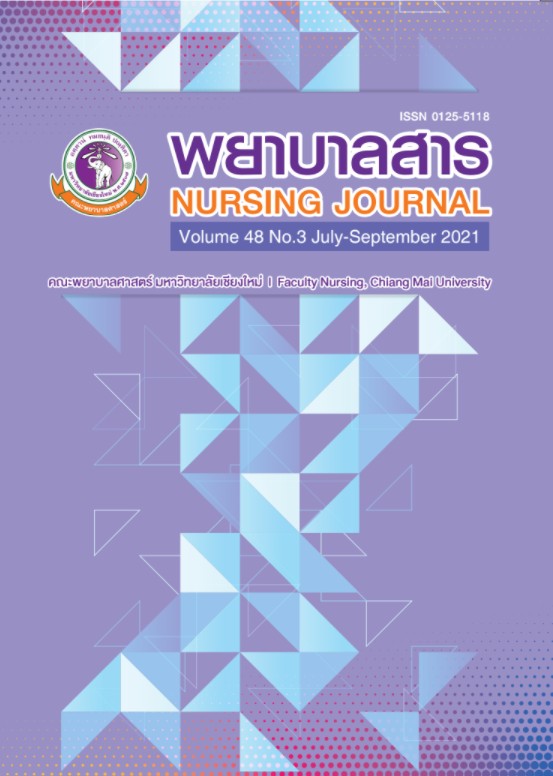 Downloads
License
บทความที่ได้รับการตีพิมพ์เป็นลิขสิทธิ์ของวารสารพยาบาลสาร
ข้อความที่ปรากฏในบทความแต่ละเรื่องในวารสารวิชาการเล่มนี้เป็นความคิดเห็นส่วนตัวของผู้เขียนแต่ละท่านไม่เกี่ยวข้องกับมหาวิทยาลัยเชียงใหม่ และคณาจารย์ท่านอื่นๆในมหาวิทยาลัยฯ แต่อย่างใด ความรับผิดชอบองค์ประกอบทั้งหมดของบทความแต่ละเรื่องเป็นของผู้เขียนแต่ละท่าน หากมีความผิดพลาดใด ๆ ผู้เขียนแต่ละท่านจะรับผิดชอบบทความของตนเองแต่ผู้เดียว