Effect of Multimodal Strategies on Practices for Tuberculosis Prevention Among Registered Nurses, Outpatient Department, at a Regional Hospital
Keywords:
Infection control, Tuberculosis, Outpatient department, Multi-modal intervention, Registered nurse
Abstract
This quasi-experimental research with one group pretest-posttest design was used to compare the practice of tuberculosis (TB) prevention among registered nurses in an outpatient department at a regional hospital. TB prevention practices were measured before and after implementation of strategies based on the PRECEDE-PROCEED Model by Green and Kreuter (1991). The sample consisted of 11 registered nurses working in the outpatient department and a screening point from August to October 2017. Strategies and methods of promotion consisted of the following three types of factors: 1) Predisposing factors using TB prevention practice education including lectures, discussions, demonstrations, and a return demonstration of the Handbook of Tuberculosis Control Practices; 2) Reinforcing factors using feedback on tuberculosis prevention; and 3) Enabling factors such as providing adequate support for respiratory equipment for both patients and registered nurses. Data were collected using questionnaire and observation of tuberculosis prevention practices. The instrument was tested for content validity and the data collectors were tested for interrater reliability. Data were analyzed by frequency, percentage, mean, and standard deviation by using the chi-squared test statistics or Fisher's Exact Test.
          The study found that after the intervention, the overall performance of the nurses improved from 38.3% to 69.9% which was statistically significant. When analyzed by sub-categories, patient isolation was most widely practiced (86.2%), followed by counseling for patients and relatives while in the examination room (78.3%), patient screening (71.1%), and counseling for patients and relatives in their home (37.9%).  However, the use of respiratory protective equipment (63.0%) and hand hygiene practices (39.3 %) did not significantly changed.
          The study shows that the intervention based on the PRECEDE-PROCEED model resulted in an increase tuberculosis prevention practices among registered nurses.  However, further study is needed to find other strategies to promote the practice of hand hygiene and wearing of N 95 masks.
Downloads
Download data is not yet available.
References
American Thoracic Society. (2003). Treatment of tuberculosis. American Journal of Respiratory and Critical Care Medicine, 167, 603-662.
Chu, L-M. K., & CHU, G. S. F. (1991). Feedback and efficiency: A staff development model. Nursing Management, 22(2), 28-31.
FitzGerald, G., Moore, G., & Wilson, A. P. R. (2013). Hand hygiene after touching a patient's surroundings: The opportunities most commonly missed. Journal of Hospital Infection, 8(1), 27-31.
Green, L. W., & Kreuter, M. W. (1991). Health promotion planning: An educational and environmental approach. Mountain Veiw: Mayfield.
Griffith, C. J., Malik, R., Cooper, R. A., Looker, N., & Michaels, R. (2003). Environmental surface cleanliness and the potential for contamination during handwashing. American Journal of Infection Control, 31(2), 93-6.
Hayden, M. K., Blom, D. W., Lyle, E. A., Moore, C. G., & Weinstein, R. A. (2008). Risk of hand or glove contamination after contract with patient colonized with Vancomycin-Resistant Enterococcus or the colonized patient' environment. Infection Control and Hospital Epidemiology, 29(2), 149-154.
Tudor, C., Van der Walt, M., Margot, B., Dorman, S. E., Pan, W. K., Yenokyan, G., & Farley, J. E. (2014). Tuberculosis among health care workers in KwaZulu-Natal, South Africa: A retrospective cohort analysis. BMC public health, 14(1), 891. doi: 10.1186/1471-2458-14-891
Tunsuwat, S., Picheansathian, W., Klunklin, A. (2014). Development of clinical pathway for the prevention of tuberculosis on the out-patient department in a general hospital. Nursing Journal), 41(4), 1-10.(in Thai)
Watanawong, S. (2001). Adult learning psychology. Chiang Mai: Lanna printing. (in Thai)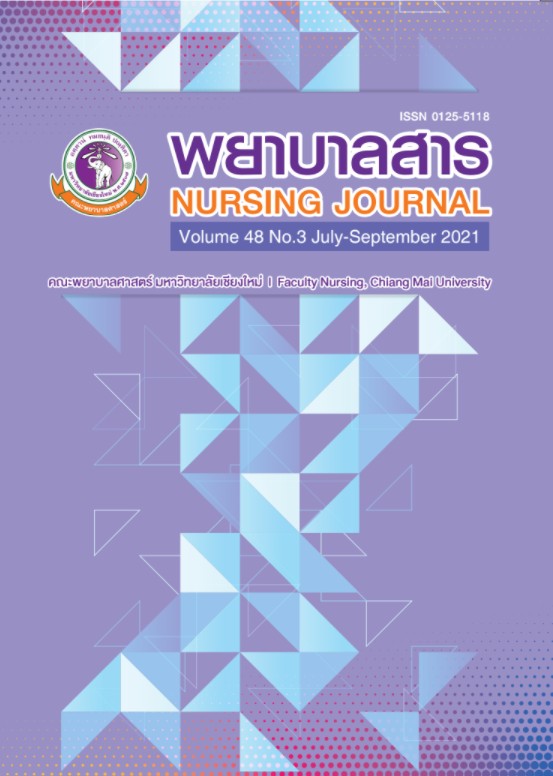 Downloads
License
บทความที่ได้รับการตีพิมพ์เป็นลิขสิทธิ์ของวารสารพยาบาลสาร
ข้อความที่ปรากฏในบทความแต่ละเรื่องในวารสารวิชาการเล่มนี้เป็นความคิดเห็นส่วนตัวของผู้เขียนแต่ละท่านไม่เกี่ยวข้องกับมหาวิทยาลัยเชียงใหม่ และคณาจารย์ท่านอื่นๆในมหาวิทยาลัยฯ แต่อย่างใด ความรับผิดชอบองค์ประกอบทั้งหมดของบทความแต่ละเรื่องเป็นของผู้เขียนแต่ละท่าน หากมีความผิดพลาดใด ๆ ผู้เขียนแต่ละท่านจะรับผิดชอบบทความของตนเองแต่ผู้เดียว