Preparedness of Tertiary Hospitals in Preventing Emerging Infectious Diseases
Keywords:
Preparedness, Tertiary hospitals, Emerging infectious diseases
Abstract
Outbreaks of emerging infectious diseases are likely to increase. Hospitals should be prepared to prevent and control outbreaks. This descriptive research study aimed to investigate preparedness for preventing and controlling emerging infectious diseases in a tertiary hospital based on the thirteen aspects of preparedness by the World Health Organization. The sample included 49 chief infection control nurses from a tertiary hospital. Data were collected using self-administered questionnaires developed by the researcher consisting of questions about the hospital's preparedness for the preventing emerging infectious diseases. The content validity index of the instrument was .89. Data were collected during March to June 2017 with a response rate of 83.7% and then were analyzed using descriptive statistics.
The results revealed that the tertiary hospital was most prepared in terms of isolation precautions (100%) followed by early recognition of emerging infectious diseases (98.6%), preparation of personal protective equipment (96.9%), transportation of patients (93.6%), environmental controls for aerosol-generating procedures (92.7%), occupational health of health care workers (88.8%), advice for family members and visitors (85.4%), triage area designation (83.7%), duration of infection control precautions and patient discharge (83.4%) and cohorts and special measures (79.7%). In contrast, the areas with the least level of preparedness were: placement of patients and spatial separation (78.6%), specimen collection (77.4%), and mortuary care of dead bodies (67.7%).
This research suggests that tertiary hospitals should be prepared to prevent and control emerging infections disease, especially with regards to standard placement of patients and spatial separation and having specific areas for storing specimens. Training should be provided on the collection and sending of the correct specimens for healthcare workers. Also there should be written guidelines for post-mortem examination, which will improve the quality of prevention and control of nosocomial infection. Further study should be conducted on the development of prevention measures, such as the development of the placement for care of patients with emerging infectious diseases to prevent and control infection as well as on the development of guidelines for mortuary care of dead bodies.
Downloads
Download data is not yet available.
References
Centers for Diseases Control and Prevention. (2014a). Infection prevention and control recommendations for hospitalized patients with known or Suspected Ebola Hemmorrhagic fever in U.S. Hospitals. Retrieved from http//www.cdc.gov/vhf/ebola/hcp/infection-prevention-and-control veconmendations.html
Chan, M. (2014). Ebola virus disease in West Africa-no early end to the outbreak. New England Journal of Medicine, 371(13), 1183-1185.
De Jong, M. D., Reusken, C., Horby, P., Koopmans, M., Bonten, M., Chiche, J. D., ... Goossens, H. (2014). Preparedness for admission of patients with suspected Ebola virus disease in European hospitals: A survey, August-September 2014. Euro Surveill, 19, 48.
Department of Disease Control. (2017). Influenza situation reports. Retrieved from http://beid.ddc.moph.go.th/beid_2014/node/253
Department of Disease Control. (2021). Covid-19 situation reports. Retrieved from https://covid19.ddc.moph.go.th/en.
Dikid, T., Jain, S. K., Sharma, A., Kumar, A., & Narain, J. P. (2013). Emerging & re-emerging infections in India: An overview. The Indian Journal of Medical Research, 138(1), 19.
Jirasak, S. (2005). Preparedness for Avian Flu in a community hospital. Bangkok: Institute of Public Health Sciences Research. (in Thai) Retrieved from https://doi.nrct.go.th//ListDoi/listDetail?Resolve_DOI=10.14457/CMU.the.2005.298
Kim, K. H., Tandi, T. E., Choi, J. W., Moon, J. M., & Kim, M. S. (2017). Middle East respiratory syndrome coronavirus (MERS-CoV) outbreak in South Korea, 2015: Epidemiology, characteristics and public health implications. Journal of Hospital Infection, 95(2), 207-213.
MacIntyre, C. R., Chughtai, A. A., Seale, H., Richards, G. A., & Davidson, P. M. (2014). Respiratory protection for healthcare workers treating Ebola virus disease (EVD): Are facemasks sufficient to meet occupational health and safety obligations. International Journal of Nursing Studies, 11(51), 1421-1426.
Matanock, A., Arwady, M. A., Ayscue, P., Forrester, J. D., Gaddis, B., Hunter, J. C., ... De Cock, K. M. (2014). Ebola virus disease cases among health care workers not working in Ebola treatment units- Liberia, June–August, 2014. Morbidity and Mortality Weekly Report (MMWR), 63(46), 1077-81.
Rungronnachai, J. (2004) Factors supporting prevention and control of infection for hospital accreditation of regional hospitals in southern Thailand. Songkhla:
Prince of Songkhla University. (in Thai) Retrieved from http://kb.psu.ac.th/psukb/handle/2553/3167
Thammachart, K. (2006). Preparedness of regional hospital for acute respiratory diseases. Chiang Mai: Chiang Mai University. (in Thai) Retrieved from http://dric.nrct.go.th/Search/SearchDetail/176214
World Health Organization. (2021). WHO Coronavirus (COVID-19) Dashboard. Retrieved from https://covid19.who.int/
World Health Organization. (2014). Infection prevention and control of epidemic-and pandemic-prone acute respiratory diseases in health care: WHO interim guidelines. Retrieved from http://apps.who.int/iris/bitstream/10665/112656/1/9789241507134_eng.pdf
World Health Organization. (2015) Promoting strategies and initiatives for priority emerging and re-emerging epidemic diseases. Retrieved from http://www.who.int/csr/disease/WHO_ PED_flyer_2014.PDF
Zumla, A., & Hui, D. S. (2014). Infection control and MERS-CoV in health-care workers. The Lancet, 383(9932), 1869-1871. doi: http://dx.doi.org/10.1016/S0140-6736(14)60852-7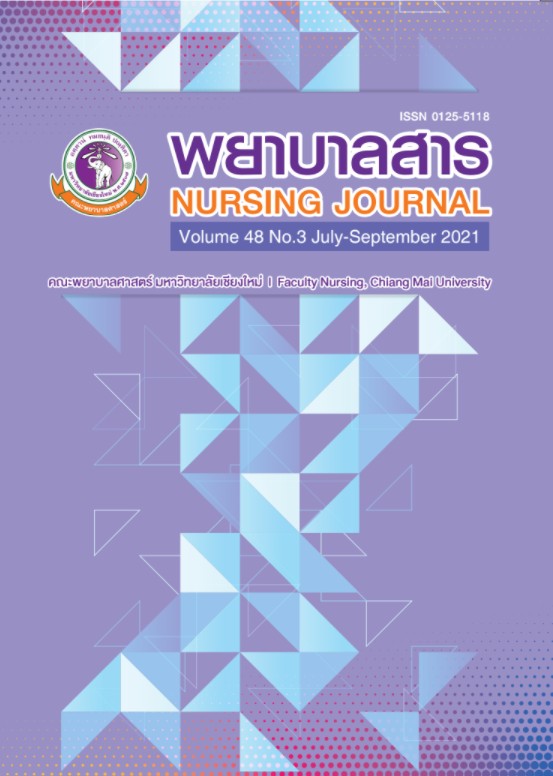 Downloads
License
บทความที่ได้รับการตีพิมพ์เป็นลิขสิทธิ์ของวารสารพยาบาลสาร
ข้อความที่ปรากฏในบทความแต่ละเรื่องในวารสารวิชาการเล่มนี้เป็นความคิดเห็นส่วนตัวของผู้เขียนแต่ละท่านไม่เกี่ยวข้องกับมหาวิทยาลัยเชียงใหม่ และคณาจารย์ท่านอื่นๆในมหาวิทยาลัยฯ แต่อย่างใด ความรับผิดชอบองค์ประกอบทั้งหมดของบทความแต่ละเรื่องเป็นของผู้เขียนแต่ละท่าน หากมีความผิดพลาดใด ๆ ผู้เขียนแต่ละท่านจะรับผิดชอบบทความของตนเองแต่ผู้เดียว